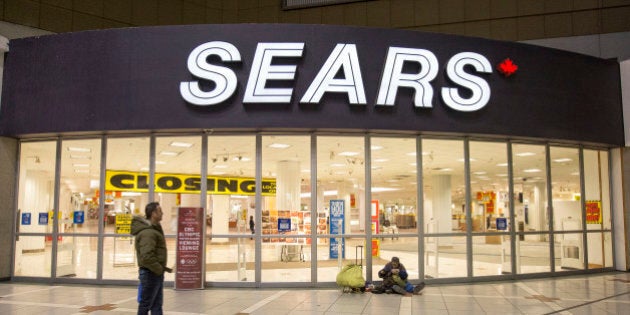 This post is based on Blueprint's CTV News interview of November 17, 2014.
There are signs of an extraordinary upheaval happening in big box retailing and Sears Canada could be the canary in the mineshaft for a potential future bloodbath.
The new CEO of Sears (its fourth CEO in three years), possibly paraphrasing a quote from Monty Python's Holy Grail, assured the Financial Post "We're not going anywhere" in a recent interview. To prove his point, Sears produced a video for YouTube in which Mike Myers asks his brother, a Sears employee for 32 years, if Sears is going away. Myers' brother tells him that nothing could be further from the truth. Yet the evidence is piling up to the contrary:
Sales have fallen in Canada for eight straight years
It lost almost $120 million in its most recent quarter (August to October), with sales plummeting by 15 per cent over the same period last year
2013 revenues were down 8.2 per cent to $3.99 billion, which is about two-thirds of its $6.2 billion in sales in 2005
Its workforce is less than half now of what it was in 2005
It is being drained of operating capital by its American parent, which is in even more trouble than Sears Canada
Retail analyst Robin Lewis was quoted as saying "the sea water is now chest high as the Titanic heads for the final plunge."
But Sears Canada isn't the only victim in the Canadian retail marketplace:
Target has struggled since it entered the country
Walmart has laid off 1,000 employees this year
Chapters/indigo, Danier, Reitman's and Bikini Village are all closing stores
Jacob's, Bowrings and Bombay are operating under court proceedings
Two factors are hitting retailers at the same time, creating the perfect storm for a retail bloodbath:
Oversaturation: There are too many retailers chasing too few dollars in Canada. Compounding the oversaturation problem is that the majority of the spending power in Canada is concentrated in an area that is a few thousand miles long and a hundred miles wide, which is expensive to service.
Digital Retailing: Although we spend a third online of what Americans spend, digital retailing is taking a big bite out of bricks and mortar retail sales. This will get way worse over time. If medium and large retailers can't figure out a way to make their online offering pick up the slack of its offline sister, expect them to continue to shutter stores, lay off employees and become targets for cheap acquisition.
We predict three outcomes if medium and large retailers can't effectively address oversaturation and the digital threat:
A culling of the marketplace: Chains will merge, be acquired, go bankrupt or leave Canada until some sort of economic equilibrium is achieved.
Commercial real estate drop: If stores continue to close and retail tenants can't be replaced fast enough, the public companies that own many of our malls (commercial real estate investment trusts or REITs), will have to compete more aggressively for a shrinking pool of major tenants. "Compete more aggressively" usually means lower their rents, resulting in lower revenues for mall owners. This will put downward pressure on the share prices of normally stable REITS.
Supplier chaos: Behind every retailer that is suffering stands hundreds or thousands of its suppliers who are suffering too. For many of these suppliers, the chain that is failing is their biggest client. Suppliers' orders get reduced, their payment schedules get stretched, wreaking havoc with their cash flow, and any future certainty of repeat sales disappears as retailers plan on a month to month basis.
How does a retailer become a winner in this environment?
There will obviously been some winners among the losers in this shakeout, so the critical question is how does one become a winner?
These companies are going to have to counter a major disruption with a major disruption of their own. Most of the retailers who are in trouble are tinkering around the edges: a few more glitzy end aisle displays here, another rebrand there. Stripped down to its simplest form, these stores are glorified shelvers of stuff. This business model is under attack and even after the oversaturation battle is over, the bigger enemy -- online retail -- will be like a boa constrictor relentless choking the life out of tradition bricks and mortar. Apple, Loblaws, Nike and Whole Foods have proven that creating an entertaining and educational shopping experience brings people into stores in droves. This is but one strategy traditional retailers can look to in order to fundamentally change their business models.
A new business model will give them a substantial basis on which to differentiate. Rather than offering similar products to competitors and having differentiation based on communications messaging, these companies will truly know what makes them uniquely remarkable and will be able to communicate far more value in their advertising. This won't solve all of their problems but having a clear, concise and compelling answer to the question "Why should I choose you?" is the most important first step in the difficult road back to financial health.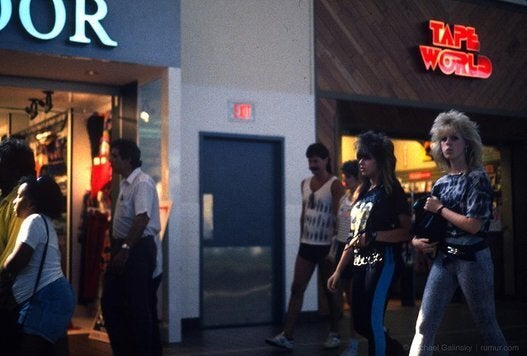 What Shopping Malls Looked Like In 1989
Popular in the Community