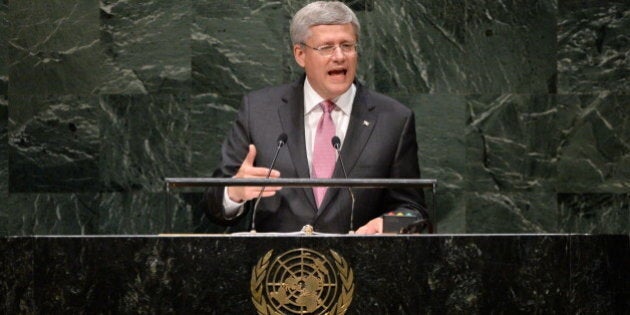 Canada was one of just three nations to vote against a resolution at the United Nations last Friday to fight the "glorification of Nazism."
But a spokesperson for the department of Foreign Affairs says, despite the vote, Canada remains "strongly opposed" to all forms of racism and concerned about the rise of neo-Nazism in different parts of the world.
The resolution was brought forward by Russia at the UN General Assembly's Third Committee, which deals with human rights. It calls on nations to combat "glorification of Nazism and other practices that contribute to fuelling contemporary forms of racism, racial discrimination, xenophobia and related intolerance." It also urges countries to take legislative measures to end all forms of Holocaust denial.
The United States and Ukraine joined Canada in voting against the resolution, but 115 other countries — including Israel — voted in favour. There were 55 abstentions.
Foreign Affairs spokesperson François Lasalle told The Huffington Post Canada via email Wednesday that while Canada has a "longstanding and consistent record" of protecting the rights of all persons, the resolution contains references "counterproductive" to that goal.
Lasalle said the resolution seeks to "limit freedom of expression, assembly and opinion," but did not elaborate on those infringements.
The resolution calls on countries to "improve national legislation aimed at the prevention of hate speech" and expresses concern about the use of the Internet to propagate racism. It also cautions against advertising "aimed at exploiting the suffering of victims" of the Nazi regime during the Second World War.
Lasalle also said Canada did not support the resolution because it referred to the "highly politicized and anti-Semitic outcomes" of the 2001 World Conference Against Racism in Durban, South Africa.
"Given its narrow focus and these concerns, Canada did not vote in favour of the resolution," Lasalle concluded.
The U.S. and Israel both pulled their delegations from that conference, saying at the time that Arab and Islamic nations were attempting to smear Israel over its treatment of Palestinians
Canada was also one of nine countries to boycott the 2009 World Conference Against Racism. Former foreign affairs minister Maxime Bernier said at the time that the decision was made because of the "open and divisive expressions of intolerance and anti-Semitism" at the 2001 conference.
The representative from Ukraine said before the vote last week that despite opposing Nazism, he could not support the resolution because it did not condemn Stalinism in equally strong terms.
The U.S. representative said she questioned the "overt political motives" behind Russia's resolution and similarly could not vote in favour.
Russia has claimed for months that neo-Nazis and right-wing extremists are working with Ukrainian nationalists. Last April, Russian President Vladimir Putin claimed his troops intervened in Crimea because he could see "neo-Nazis rearing their heads" in the Ukrainian government.
And, earlier this month, Putin told a German television program he was concerned right-wing nationalists in Ukraine could cause the country to "drift toward neo-Nazism."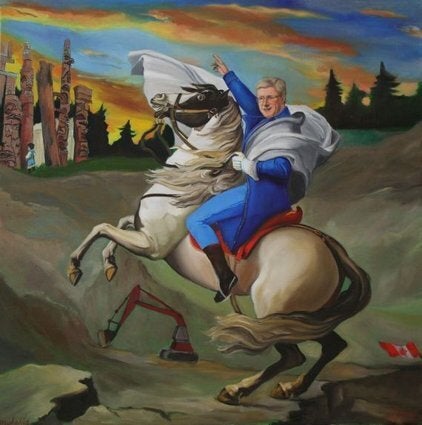 Not-So-Flattering Portraits Of Harper
Popular in the Community