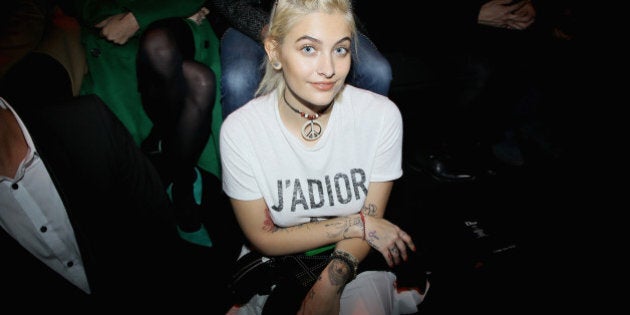 Michael Jackson will forever be one of the most influential entertainers of all time. He got more eccentric over time but when he made the decision to have Debbie Rowe be the surrogate mother of his children, his fans and the entertainment industry were pretty much in shock. When the paparazzi spotted him in public with his children, Michael would hide their faces with blankets, and it added fuel to the fire of controversy at a time when surrogate births were uncommon.
More recently, his daughter Paris Jackson is under the spotlight for recent statements that she made in an interview with Rolling Stone magazine. She finally broke her silence after 18 years of public speculation on her and her family. As she was describing the relationship with her father, Paris stated, "I consider myself black." He "would look me in the eyes and he'd point his finger at me, and he'd be like, 'You're black. Be proud of your roots.' And I'd be like, 'OK, he's my dad, why would he lie to me?' So, I just believe what he told me. 'Cause, to my knowledge; he's never lied to me."
Did Michael Jackson raise his children this way to protect them from discrimination? Did his personal, cultural identity issues get in the way? The real reason for Michael Jackson raising his children to believe they are black is unknown but think about it this way. If Paris went in the opposite direction with her identity and told the media she thinks she is white and denied her black heritage, people would still have an opinion on her personal choice of racial affiliation.
The reason people disagree with Paris Jackson's statement on her identity is that she wears her hair blonde now and to some, she appears to be Caucasian. Now, if we start to look at other biracial celebrities, Mariah Carey openly refers to herself as an African American woman but let's be honest. If Mariah were a non-celebrity that we saw walking down the street, most of us would think she is a white female.
At the end of the day, if she completely denied her black ethnicity and decided to "pass as white" the blogs would be on fire, and it would be on every news station. If Paris Jackson decides to call herself black, no one can take that away from her because no one knows her personal experiences in life. If she wants to respect the way her father raised her, we have to give her that right.
Wendy Williams Thinks It's Cute
On January 25th during a hot topics segment on the Wendy Williams Show, Wendy decided to weigh in on Paris Jackson's comment, and it was ugly. Wendy Williams stated "I get that she considers herself Black and everything, but I'm just talking about the visual because, you know... Black is not what you call yourself; it's what the cops see you when they got steel to your neck on the turnpike. It's what they see. But that's cute, and good for her."
"She seems to think about the family a lot considering she makes all these claims about us. why are we on her mind so often."
The Love & Hip Hop: Atlanta star Joseline Hernandez was a co-host on The Real TV show last week, and she didn't hold her tongue on the matter either. In complete disbelief Joseline mentioned "listen, she is still white, though. I understand that she's saying that her dad never lied to her, but your dad lied to you because let's just keep it real. She's a white girl. She needs to stay real with herself whether her dad was her real dad or not."
Who Is Paris Jackson's Biological Father?
There is speculation that the birth father of Paris and her brothers were Michael Jackson's physician, dermatologist and long time friend Dr. Arnold Stein who died on October 19, 2015. Entertainment sources stated that Prince Jackson demanded a DNA test be performed on Arnold Stein's body after he died.
The reason people were speculating Arnold may have been the father is because of a statement he made in 2008 on The Larry King show. He mentioned, "I still can't answer [the paternity question] absolutely one way or another. I once donated to the sperm bank. To the best of my knowledge, I am not the father. It's no one's business." He went on to state that he believes Michael and the alleged surrogate mother Debbie Rowe did have sex.
Twitter Blows Up with Mixed Reviews
Although there are not many celebrities that are coming to Paris Jackson's rescue to defend her with the decision that she has made on her identity, there have been mixed reviews on Twitter by the black community. There are critics that believe she needs a reality check; some are proud to see she is identifying with one side of her heritage, and others demand a paternity test is performed to end the worldwide speculation.
In Paris Jackson's and many other people's circumstance, being biracial isn't easy. The reality is there are people in the black community who will simply not accept her as being "black," and some white people will think of her as being mixed race. One thing is for sure; it seems that now she is an adult and has had a bit of time to live her life, she wants the world to know that she is black. Can we let the girl live?
Follow HuffPost Canada Blogs on Facebook
Popular in the Community