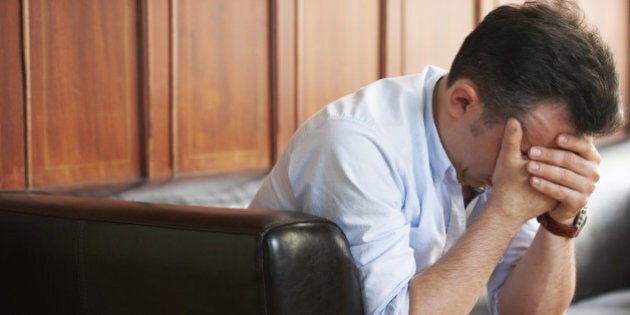 It must be a huge relief for the members of a jury when an eight-week trial ends, but even so, it's not often that half-a-dozen jurors dissolve into tears and sobs in the courtroom immediately after announcing their verdict.
That's what happened on April 26 after the Lethbridge, Alberta jury found David and Collet Stephan guilty of failing to provide the necessaries of life for their son Ezekiel. The 19-month-old boy died in 2012 after contracting meningitis and spending eight minutes without air in an inadequately equipped ambulance taking him to hospital.
One courtroom observer (a friend of the Stephans) told me six of the twelve jurors cried, some quite loudly. Global News reported that "several jurors" cried. The Canadian Press said two. The CBC -- the news source that had consistently painted a negative portrait of the Stephans throughout the trial -- didn't bother mentioning jurors crying, saying in its online coverage only that Collet Stephan and "people in the courtroom's gallery" cried.
My observer told me other details that went largely unreported: the jury foreman had announced the verdict in a choked, hoarse voice. The judge, too, appeared emotionally affected. He looked shocked, appeared to wipe a tear from his cheek, and was similarly hoarse with emotion when he spoke. He refused the crown's request that the Stephans be forced to immediately surrender their passports. "I have come to know the Stephans," he explained.
This was clearly a sad case, but it seems unlikely that the jurors were crying over Ezekiel's death at this late stage. That had happened earlier on, during the replaying of the Stephans' urgent calls to 911.
It's illegal for jurors to disclose what happened during their deliberations, so we'll never know for sure what distressed them so. However, my suspicion is that they cried for two reasons.
First, like the judge, they had gotten to know the Stephans during the trial and felt enormous sympathy towards them for what will now happen to them and their three other children. They realized that the Stephans are not the callous ignoramuses who tried to cure their child's meningitis with maple syrup, as some news reports keep repeating. They are caring, loving parents who had already paid mightily for any apparent failings.
Second, jurors probably disliked the horrible feeling that they had been forced to convict this couple when they would have preferred not to.
Rare, controversial cases like this demonstrate a little-known void in Canada's criminal law. We lack two features that some other jurisdictions have: the right for juries to judge not only the facts but also the law, and the right for juries to know about this power.
These concepts date back to Bushell's Case, an English case decided in 1670. A jury acquitted two men of offences related to the public preaching of Quakerism. However, the judge wanted a conviction. He locked the jurors in overnight without food, water or heat. Still they acquitted. He then fined them for contempt and imprisoned them until they paid their fines. One stalwart juror, Edward Bushell, refused to pay. A higher court eventually freed him, establishing the principle that jurors cannot be punished for their conscientiously held verdict.
Some U.S. states have even incorporated this principle into their state constitutions. For instance, Maryland's constitution says this: "In the trial of all criminal cases, the Jury shall be the Judges of Law, as well as of fact..."
Often called "jury nullification", this process of judging the law and acquitting was widely used during Prohibition to invalidate alcohol control laws that jurors felt were unjust.
Canadian juries actually do have a similar power to exercise their consciences and rebel against what they see as an unjust application of the law. Mandatory jury secrecy ensures this--provided a juror is sufficiently independent-minded and logical to figure it out. The problem is, jurors can't be told about it. Lawyers who tried to encourage such juror mutiny would be in contempt of court.
It's an interesting contradiction. Citizens are ultimately the source of our laws. We trust them to make new laws and change old ones by voting for representatives in parliament, or becoming representatives themselves. But when it comes to making law in the courtroom, we deny them the knowledge of their power.
Follow HuffPost Canada Blogs on Facebook