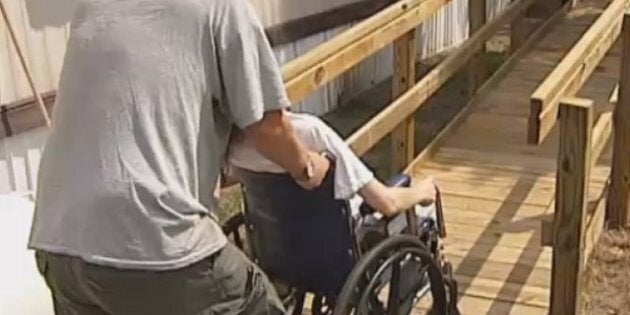 They found an emaciated Dorcas Mburu tied up in the corner of a room.
For years, Dorcas Mburu's 80-year-old mother had kept her locked in the house, humiliated by her own daughter's existence, and the mental disability from which her daughter suffered. After years of neglect, villagers of Kabuku in Kenya broke down the front door to save the woman.
We read news reports of Dorcas Mburu while travelling in Kenya this spring. Her story caused a national uproar, and rightly so. She is one of many people around the world affected, ignored and even punished for having a disability. Unfortunately, hers is not a unique situation.
The challenges of having a disability in Canada can be great -- on both those who have a disability, as well as for their families and support systems. Yet, in the developing world, the complexities and challenges are even greater.
For many, disability is both a reason for and a consequence of being poor. Many parents are pushed further into poverty in their attempts to care for their children. On the other hand, many people have a disability due to health problems, impoverished living conditions and poor nutrition.
In our own work abroad, we've seen the incredible challenges that those with disabilities face in developing countries. In Kenya, where Dorcas Mburu suffered at the hands of her own mother, we have witnessed children with learning and physical disabilities who struggle to fit in at schools -- if they are even lucky enough to be able to go to school. Many children with disabilities face corporal punishment in a school system where teachers and classmates see kids with disabilities as people who simply don't work hard enough.
Stigma and prejudice continue to run deep.
"Sadly, in many countries, having a child with a disability is a source of shame and embarrassment," says Nora Groce, professor and chair of the Leonard Cheshire Disability and Inclusive Development Centre at University College London, one of the few research centres in the world that specializes in the health and well-being of those with disabilities in low-income countries. "Despite the fact that things are improving, this is a largely overlooked population."
In June, the World Bank and the World Health Organization released the first-ever global report on people living with disabilities. The findings were surprising. More than one billion people -- or about 15 per cent of the world's population -- live with a disability. Of these, a staggering 80 per cent live in low-income countries.
At its heart, the report tells us that persons with disabilities have much less access to health care and education, and are more likely to be excluded from society, much like Dorcas.
But a report of this kind not only brings together years of research, it provides a road map for governments, development agencies and community organizations alike to move the agenda forward on equality for people living with disabilities.
Consider the example in the report of Mobility India, a local NGO that works in Karnataka, India, to build toilets for people living with disabilities. In one year, they built a modest, but life-changing 50 toilets. The NGO also raises awareness about proper sanitation through street plays and wall art. Not only did the project increase better sanitation practices in the community--and thereby reduce risks of related health issues -- it gave independence and dignity back to those who had, until then, been forced to crawl or be carried to access toilets.
Malaysia's Persons with Disabilities Act, passed in 2008, is another success story. It is now mandated for those with disabilities to have full access to public facilities, buildings and public transport. The government requires architects to follow strict codes, which undergo an "access audit" by persons with disabilities themselves. But accessibility remains far from universal as many older buildings have yet to be converted.
In Eastern Uganda, in Tororo district in the 1990s, deaf people were unable to access key information about health and education in their communities. But by building capacity in sign-language amongst service providers, deaf people -- among the most illiterate and impoverished people in the region -- were able to receive the programs promised to all citizens. The report highlights the impact on Okongo Joseph, one of the beneficiaries, who was grateful "for the development you have brought to me as a deaf person and to my family members at large... I am now not a primitive person like before."
Though these changes are occurring slowly, especially for individuals like Dorcas, they're steps in the right direction. And with the help of the findings and recommendations in the report, we've raised the bar on seeing disability not just as an accessibility issue, but also as a human rights issue.