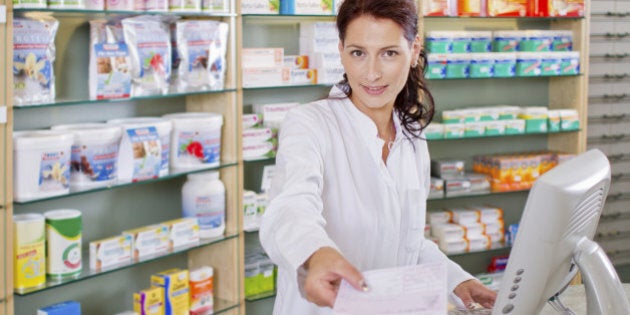 "Government! Three fourths parasitic and the other fourth stupid fumbling."
From 2007 to 2013, it was my pleasure to be the Board Chair of the Georgian Bay Family Health Team. I'm quite proud of the work that was accomplished by the team, under the leadership of their amazing executive director Marie LaRose.
However, the most significant accomplishment was one that I cannot take credit for. That was the development and implementation of electronic prescriptions (ePrescribe). Headed by our IT Team Lead Dr. James Lane, over a six-month period, the team rapidly achieved milestone after milestone.
First, 22 different medical office databases were merged into one centralized database with a server housed in the local hospital.
This was followed by the development of a module that allowed secure communication between all the local pharmacies and local family physicians.
Finally, approvals were received from both the College of Physicians and Surgeons, and the College of Pharmacists to allow an electronic signature (that requires two step authentication) to be acceptable for all prescriptions.
This pilot project was so successful, that when it ended in 2009, the physicians and pharmacists refused to give it up, and petitioned the two colleges for an exemption to allow them to continue. It continues to operate on that basis.
So what's so good about this project? First, it allows pharmacists to message physicians securely, in the patient's chart. Essentially this means the physician can't look at a message without looking at the patient's chart. This sounds like something that common sense dictates should happen anyway, but the reality is that it doesn't happen with faxes. This means that the physician has, right at their fingertips, all the patient information necessary to make an informed decision about how to proceed next.
Similarly, the pharmacist now has a limited access to relevant parts of the patient's chart. By seeing current prescriptions, allergy information and relevant blood work, the pharmacist can ensure there is less potential for adverse drug related events with new prescriptions.
It was anticipated that the system would increase the timeliness of responses from physicians, and it has. It was also anticipated that if a patient got a new prescription from a specialist, the pharmacist would then be able to easily update the family physician, and that too has been happening.
There also was, as predicted, reductions in adverse drug effects. Pharmacists now just messaged physicians if they had questions about dosing, or concerns about interactions -- and got timely responses back.
There were significant unanticipated benefits to the system as well. Physicians, who are normally a conservative lot, started to realize that it was in fact, a good thing, to share appropriate information with allied health care professionals to improve patient care.
"It remains, to this day, from a patient care standpoint, by far the most cost effective dollars ever spent by taxpayers on health care during my 24 years of practice."
This led to there being no resistance when the same concept behind this project (secure messaging on a patients chart) was used in some of our local nursing homes. Physicians actually want MORE homes to be involved, which is a huge shift in thinking from previous.
There was an unexpected, and remarkable reduction in drug diversion (people attempting to use illicit prescriptions to get narcotics). The most recent estimate was that diversion was reduced by 92%. This is likely because the prescription was directly sent to the pharmacy to verify, and not a paper one that could be misappropriated.
Another benefit was that it improved the ability of physicians to do chart reviews. Because the message from pharmacy comes on the patient's electronic chart, it forces me to look at the chart (well, duh). But, prominent on the chart is the reminder field. See the anonymized screenshot below.

As you can see, while I have to decide if it's appropriate to renew this fellow's medication, I'm automatically reminded that he is due for a number of other screening tests. I've personally caught a number of serious illnesses in the early stages because of this.
Sounds expensive doesn't it? Actually, the whole project cost under $100,000. It wouldn't have even made the Sunshine List (the list of all public servants who make more than $100,000 per year).
It remains, to this day, from a patient care standpoint, by far the most cost effective dollars ever spent by taxpayers on health care during my 24 years of practice.
The real tragedy here is that while we've had it since 2009, the rest of the province doesn't have this system by now. This is due to a combination of multiple bureaucratic agencies in health care protecting their turf, inept and lackadaisical health care managers, and a number of Health Ministers who simply don't understand their portfolios.
It is certainly not for a lack of money. According to the Ministry of Health's own numbers, we taxpayers paid $500 million last year for eHealth Ontario. That doesn't include the IT budgets for LHINs, CCAC, and Hospitals, and God only knows how many other information technology departs in all the various allied health care agencies.
And yet, for six years the Ministry of Health has known that this system has, at little cost, saved lives and improved patient care. Sadly, it is but one of the many examples of the incredible waste and mismanagement of the health care system. Small dedicated investments are avoided, in order to create bigger projects such as the current medication management system, that cost exponentially more, but more importantly, provide jobs for bureaucrats.
The fact that patients won't be helped is not relevant.
Ontario deserves a Health Minister that can stand up to the bureaucrats who promote large wasteful projects, and ignore small successful ones. Based on the evaluations given to him by Quantum Transformational Technologies, even the current health care leaders recognize that Eric Hoskins is not that person.
The unfortunate reality is that as a result, even more money will be diverted from front line care, and wasted on bureaucracy. The 2018 Provincial Election can't come soon enough for me.
Follow HuffPost Canada Blogs on Facebook