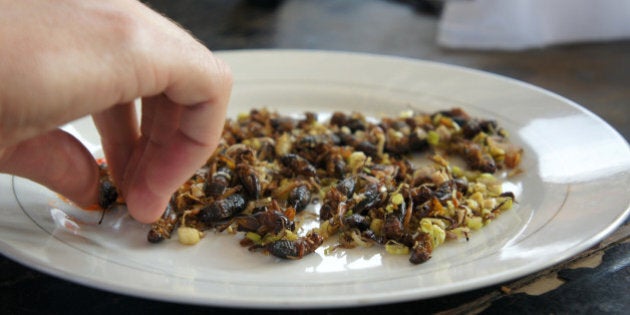 When I started writing about food trends way back in the last century, the conversation was simple: People wanted to learn what gourmet restaurant chefs were making and how those lofty creations could be made in home.
Fast forward 20 years and interest in food trends has changed significantly. Instead of being asked how trends can be adapted for home cooks, reporters and consumers now ask where and how they can find an authentic version of trending food experiences.
So, for the curious, here's a sampling menu of emerging foods that you can try right now:
Crickets Step up to Bat: From spiced whole crickets and cricket flour enhanced cooking sauces, alternative proteins derived from sustainable insect sources are getting attention from fear factor fans and sustainability advocates alike. Want to experience the trend yourself? Check out Gryllies cricket-based products and the Bug Bistro Hot Dogs at the CNE.
Animal Free Substitutes: Sauces emulsified with chickpea soaking water instead of egg yolks; dairy free 'cheese spreads' and Alfredo sauces; and tofu textured meal worm crumbles are just a few new products being made by entrepreneurs who work at Food Starter, the Toronto based food business incubator I run.
Cellar Masters: Move over wine bottles, pickle bottles are the new cold cellar royalty. From traditional dills and sauerkraut to kimchi and Indian lime pickle, sour, pungent condiments are the kings of the pantry because they combine the local food trend with health benefits and international flavours.
While talking about the new things people are eating is great fun, I'm equally fascinated in how flavours and foods go from novelty purchase to shopping list stand-by. In recent years, there has been a major focus on elevating cultural cuisine, giving Canadians easy access to a wide variety of international palettes. The steady rate of Asian immigration into Canada for example, is heavily influencing our diet and thus has had a significant impact on local grocery stores.
Seafood and pork -- both common foods in Asia, are becoming wildly more popular than classic Canadian beef, and fresh sushi has become a grocery store staple, which wouldn't have been the case five or ten years ago. Even popular snack brands like Lay's have tapped into this insight with its Lay's Do Us a Flavour contest, inviting Canadians to vote on 12 flavours from around the world.
The three winners: Canadian Bacon Poutine, Thai Sweet Chili and Cheese & Onion from the UK is simply another reflection of how Canada's cultural mosaic and our celebration of different cultures has had a massive influence on our taste buds.
As you can see, examining how food trends emerge and evolve provides a myriad of insights. The early adopters who eagerly buy and try new foods such as crickets are fascinating and make for the best cocktail party stories.
However, understanding the consumers who take time to cast a vote to choose a new nationally distributed product -- especially one that incorporates international flavours, is also an important study. These mainstream consumers represent an economic opportunity that exists today while early adopters show us an opportunity that could become high value in the future.
Follow HuffPost Canada Blogs on Facebook
Popular in the Community