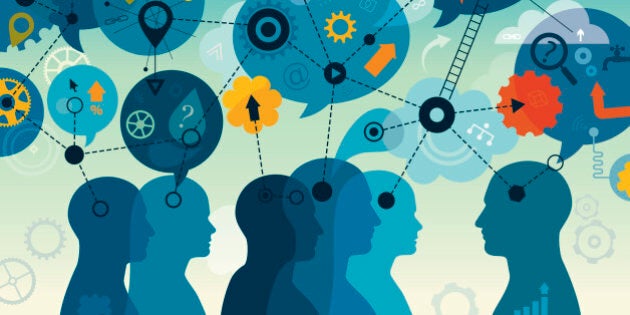 The Canadian job market is in a state of flux, with the explosion of the on-demand economy and part-time employment increasingly becoming the norm for many workers. As a result, we're seeing more Canadians turn to entrepreneurship or self-employment for financial stability than ever before. In fact, full and part-time freelancers, independent contractors and on-demand workers are projected to comprise up to 45 per cent of the workforce by 2020.
This means that students today are graduating and entering a labour market that's nearly unrecognizable from the market the previous generation entered. Gone are the days of joining a company straight out of school and spending your career in one place. It's a dynamic, exciting and uncertain new world order.
I recently had the opportunity to judge the Enactus national competition, organized by Enactus Canada, and witness firsthand the next-generation of entrepreneurial leaders and their fierce passion to advance the economic, social and environmental health of Canada. This competitive process got me thinking about how we as a national community should be fostering entrepreneurial ambition among today's youth and equip them with the hard skills they need for success.
Despite the shifting economy, our colleges and universities are still geared towards training people to be great at one thing. While we'll always have a need for specialized professionals - like doctors, engineers, or teachers - the fact is that for many workers, long-term success won't come from mastering a single skill, but by being prepared to navigate an ever-changing world.
Long-term success depends upon anticipating change, adapting your skillset and creating your own opportunities. In the words of Milton Berle, "If opportunity doesn't knock, build a door."
Here are a few ways we can better encourage today's youth to build these doors and set our future business leaders up for success from the very beginning.
Nurture lifelong learning
Formal entrepreneurship courses in MBA programs are undoubtedly valuable, but fostering the self-sufficiency and drive paramount to entrepreneurship needs to begin earlier and continue throughout your entire career.
That's why we're working with organizations like Junior Achievers, who created an 18-week flagship program for students, helping them to ideate and launch their own business. The program also teaches students to track their finances, equipping them with cloud-based tools like QuickBooks Online to hone their financial management skills from the very beginning.
As well, online learning tools like LinkedIn's Lynda.com can help close gaps between the skills students are taught and those needed for entrepreneurial success, offering skills-based training like how to raise startup capital and pitching to investors. Local education and training courses, such as Launch Academy and BrainStation, also empower professionals and would-be entrepreneurs to compete in an increasingly technological and creative economy.
This is a promising start, but we still have a long way to go in bringing entrepreneurship skills to students across the country when they are at their most creative and inspired age. The Knowledge Society (TKS), an after-school innovation program for students aged 13 to 17, aims to do just that, "training the future Elon Musks of Canada." We need more organizations like TKS to show kids the various pathways to entrepreneurial success and celebrate creativity and innovation from an early age.
Stress the importance of financial literacy from the start
Poor financial literacy is a leading cause of new business failure, and one of the top reasons that small businesses struggle to get funded.
Although Canadian youth are among the world's top-performing students in terms of financial literacy, there's still a significant gap. A recent study found that 82 per cent of Canadians millennials felt they lacked financial knowledge and investing confidence.
We must continue to stress the importance of financial literacy and make these skills more accessible to every student in the country. By incorporating financial management skills education into secondary school curriculums, we can empower young entrepreneurs earlier on with the confidence they need to make better decisions and ultimately fuel business success. The Ontario government is rolling out pilot projects at 28 high schools to lay the groundwork for financial literacy to become part of the curriculum. This is a welcome first step, and I hope to see programs like this rolled out nationwide.
Embrace Design Thinking and Experiential Learning
We can further kick-start students' entrepreneurial dreams by devising new ways to teach old ideas. The idea of "learning by doing" - also known as experiential learning - has proven a learning valuable tool in any educational environment but is especially relevant for self-employment programs, where new ideas can be tested with a mock or even real business.
Governments and education institutions are already realizing the value of this approach. Last month the Ontario government unveiled its Career Kick-Start Strategy to create development opportunities for students at all education levels and better prepare them for the workforce. As part of this strategy, the government is working with Canadian employers to launch workplace learning initiatives so students and recent grads can build their skillsets through real-world experience. Rolling out similar initiatives tailored to empower would-be entrepreneurs will help today's youth better understand what it takes to launch their own venture.
Additionally, Design Thinking, which is solution-driven process drawing on logic, imagination, intuition and systemic reasoning, offers a structured framework for understanding and driving innovation to contribute to a business' growth. Encouraging our educational institutions to adopt this problem-solving technique can cultivate more agile student mindsets, and equip them with the problem-solving tools they need to flourish in a world of self-employment.
The traditional classroom-based educational techniques that have worked for decades are showing their age. As the employment landscape continues to evolve, our education system will have to follow suit. How do you think curriculums need to adapt to accommodate the workers' changing needs? I'd love to hear from you in the comments.