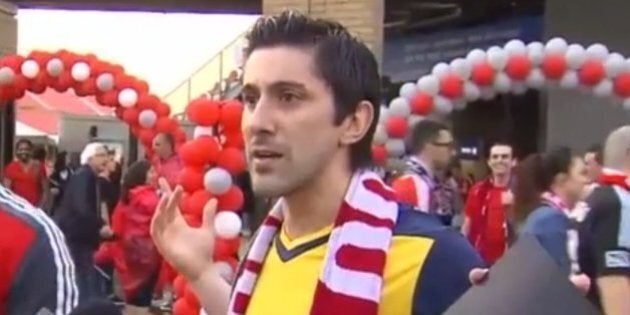 It happened very quickly. Shortly after a viral video showed CityNews reporter Shauna Hunt confronting a group of men whose friend yelled "F*** her right in the p****" (FHRITP) on-camera, one of the men in that group, Shawn Simoes, was fired from his job at Hydro One.
People are now asking whether or not he deserved such a harsh punishment. I'm firm on this: he did.
Let's review Simoes's role in that video. While he doesn't actually yell FHRITP, one of his friends does, and when Hunt asks his group to explain why, Simoes interjects.
"It's f***ing hilarious, I don't care what you say," Simoes said. "I don't care, it is f***ing hilarious! We're not the only people. It happened in England. It's been, like, a year. You're lucky there's not a f***ing vibrator near here, like in England, because it happens all the time. It's f***ing amazing and I respect it all the time."
Then Hunt asks him what his mother would think if she saw him yell FHRITP on camera.
"Oh, my mom would die laughing eventually," Simoes said.
I don't know who Simoes is. I only know how he acted on camera. On that front, note how he's yelling and interrupting Hunt, which people often do when they need to establish dominance and all they've got is a weak argument.
What's ultimately captured in the video is his ardent defense of FHRITP. He doesn't care that the language and subtext of the phrase are inherently sexist, specifically targeting women in a degrading way. There are no nuances to extract from his ramblings -- he thinks FHRITP is funny and he fully endorses it.
So with that in mind, consider these questions.
How could Hydro One know for sure that this behaviour would not seep into his work life? He was irresponsible enough to make a passionate case for FHRITP on camera -- what prevented him from making similarly inappropriate comments at a work function? Was it sensible to expect his coworkers to shrug it off?
How could Hydro One know that this event wasn't a precursor to sexual harassment in the workplace? If Simoes were to tell them he'd never do that, could they believe him when it's my impression his on-camera stint strongly suggests he really doesn't care how his conduct affects women?
How did his female colleagues feel working around him after the video went viral? How would Hydro One justify potentially making other employees uncomfortable by keeping Simoes on staff?
While Hydro One is on record as saying that what prompted Simoes's sacking was their "core values," a factor that I believe likely contributed to their reasoning was embarrassment. Hydro One probably didn't want to be associated with someone who justified a movement that's rightly criticized and disparaged, let alone employ that person with a significant job and salary. As a crown corporation, it looks bad.
By firing Simoes, Hydro One is at least admitting that an individual's private and professional lives are never truly separate because the same person occupies both spaces. We're living in a post-Jian Ghomeshi setting, and while Ghomeshi hasn't been convicted, what he's accused of happened both at work and at home. The idea that one affects the other isn't far-fetched.
In an interview with the National Post, Hydro One CEO Carmine Marcello said Simoes's behaviour was "reprehensible" and that the company didn't "want it in the workplace." So whatever your opinion on the matter may be, for this company, there is no line between professional and personal. While his outburst didn't happen in the workplace, for Hydro One, that doesn't mean it won't.
Simoes's choice to defend #FHRITP resulted in consequences that, I believe, fit his crime. Why should his coworkers -- male and female -- be forced to do their jobs around someone who's that irresponsible? They managed to have a sense of decorum, why couldn't he?
When I saw Hunt's video, the thing I found staggering was how young these men she confronted were. We like to think that sexism is a generational thing, that younger people are more enlightened and less susceptible to dated notions around gender roles. The video served a stark reminder that no generation is immune to this level of sexism. Some are even willing to express it shamelessly and in broad daylight.
The silver lining is that Hydro One's decision is already having a ripple effect. It sends the message that this behaviour is categorically not okay. Eventually, everyone -- young and old -- will start to believe it and stop behaving that way.
In that world, reporters will never have to confront a group of young men for shouting disgusting things at them. And those young men will never claim their mothers would laugh about those disgusting things...some day.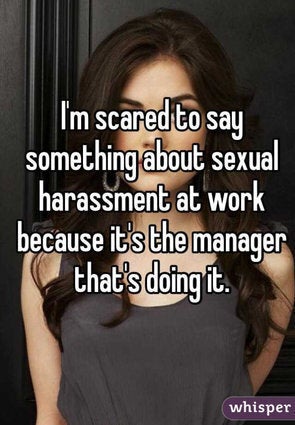 Tales Of Sexual Harassment At Work
Popular in the Community