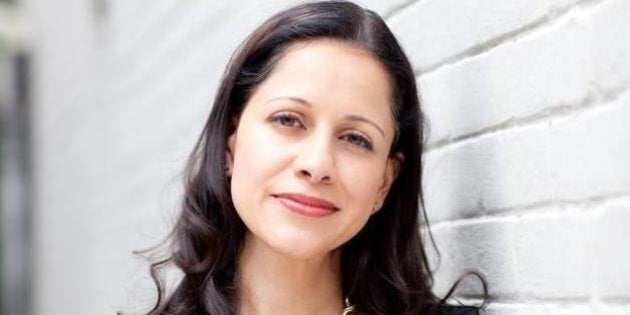 Yesterday I went into the CBC building and for the first time in the six years that I've been back in Canada, I didn't feel the pang of stress at the thought of running into Jian. Or see the giant image of his smiling face looming above me.
I debated all week whether or not to write this for all the same reasons that most women don't publicly or even privately share similar experiences: judgment, online trolls, the questioning of all your other choices, the accusation that it wasn't that bad, that it was so long ago, and the fact that I don't have the time and ultimately, is there any value in adding my voice or story in a public domain?
The reason I ultimately decided to share this is two-fold: The first is that it shows a pattern that has certainly escalated since I knew him.
Additionally, I feel that while it is exceedingly difficult to publicly put your name forward and open yourself up to all of the accompanying criticism, if you are in the position that you can do so without fearing the ramifications in terms of your family, marriage, personal or professional trauma, then you should do it. Having this conversation can help build a public understanding of the complexity around these issues.
I've been married for 11 years to an incredible man. We have three kids, and I know that I am very lucky to be at that place where this feels possible.
I also decided not to write about this experience abstractly, as I had initially planned. I care deeply about my three boys, who are two, five and eight, and making them understand when they are older that a woman shouldn't be made to feel ashamed of something a man does to her without her consent. I want them to understand that every woman they meet is someone's daughter, mother or sister and they need to remember that. Always.
I first met Jian in the late spring of 2002. I was 26 and after two years with the firm, was just leaving a job as a Bay Street lawyer (ironically at what is now Dentons, the firm Jian has retained for his case). I was about to start a job at Toronto City Hall as well as a Masters in Trade and Competition Law at Osgoode. I share this because one of the themes that his supporters seem to suggest is that the women now accusing him all wanted something professionally from him at the time or were somehow star-struck by him.
When we met, Jian was hosting a show on CBC called "Play" that I'd never heard of before. I wasn't overly into the music or arts scene and had been too young for the Canadian heyday of his band, Moxy Fruvous. My world at the time was far more about law and politics. The men I tended to date were also engaged on those fronts.
I met Jian at the old Loblaws on the Danforth on a weekend afternoon. We started talking in the water aisle. He was very funny and charming and invited me to come to a taping of the show (which I think was at the old Movenpick restaurant downtown). I never bothered to go to a taping, but I did agree to meet him a few days later for a week night dinner on the Danforth.
We met at the restaurant and it was fun. I remember he thought I was Persian (I'm South Asian) and I think we talked about immigrant parents, sex and shame, as well Love In The Time Of Cholera. After dinner I just walked myself home.
Over the course of the summer we hung out very occasionally. I went to a couple of parties with him and watched a movie at his house. It was all very low key. I was seeing other people and I'm pretty sure he was also.We never talked about anything related to BDSM and had only very casually fooled around -- a bit of kissing.
The incident that changed everything was on a Sunday night. Oddly, I actually remember exactly what I was wearing and the purse I had with me. The evening started out fine. We had a drink, we smoked some pot and we hung out chatting. A while later we started kissing. Suddenly, it was like he became a different person. He was super angry, almost frenzied and disassociated.
I distinctly remember the jarring sense of suddenly being abruptly shaken out of my reverie. I remember thinking "what the fuck is going on here? What's wrong with him?" Jian had his hands around my throat, had pulled down my pants and was aggressively and violently penetrating me with his fingers. When it was over, I got up and it was clear I was really angry. My sexual interactions until then had always been consensual, enjoyable and fun.
I remember he gave me some weird lines about how he couldn't tell if I was actually attracted to him or not, and somehow this was meant to explain his behaviour. I called a cab and I left right away. In the car, I remember feeling sort of stunned, like I couldn't wrap my head around what had just happened. He acted like it was all totally normal and came to the door to watch me go down the stairs and get into the cab.
So why didn't I do anything?
This is the part that I think is so important to understand if we are ever going to change the context in which rape culture and violence against women is perpetuated. I didn't do anything because it didn't seem like there was anything to do.
I hadn't been raped. I had no interest in seeing him again or engaging the police in my life. I just wanted to continue on with my life as it was. And even if I had wanted to do something, as a lawyer, I'm well aware that the scenario was just a "he said/she said" situation. I was aware that I, as a woman who had had a drink or two, shared a joint, had gone to his house willingly and had a sexual past, would be eviscerated. Cultural frameworks on this are powerful.
Equally important, however, was that it also didn't feel like it was worth my effort. Most of my girlfriends had a story about an uncomfortable, sleazy, angry or even scary encounter with a guy. No one really did anything other than avoid them and tell their girlfriends to also stay away. And that's what I did. I never intended to see him again. I felt fine. I was busy and I just put the night and him out of my mind. I ignored his calls and messages over the next few weeks.
It was maybe six or seven weeks later that I next saw him. My mom was in town to attend my call to bar the next day and she was staying with me. We were on our way out when the phone on my desk rang. Without thinking, I picked it up. It was Jian. I told him I couldn't talk since I was going with my mom to get a bottle of wine for a dinner she was attending that night.
A short time later, Jian turned up at the LCBO on the Danforth. I remember being both annoyed, confused and creeped out at him for doing that.
I don't remember much about what was said at the LCBO. We left the store fairly quickly. The next year I got married and moved to the U.K. It was only when I came back to Toronto in 2008 that I realized he was now a huge CBC star. We have never spoken directly since. He once reached out to me on Twitter with a "Hi" and I responded really neutrally, mentioning my three boys.
Last year while my husband was running for the Liberal nomination in Don Valley North, I ran into Jian at a Persian Community event. We were seated at adjacent head tables. His body language made it clear that he recognized me. He seemed angry. I avoided him and we left as soon as it was appropriate to do so.
This morning, I listened to Lucy DeCoutere on The Current sharing her remarkably similar experience and calling for women to not be afraid to tell their own stories and, if they can, share their names. After much thought, I decided to answer her call. I hope it helps in some way.
To contact an editor at Huffington Post Canada, email us.