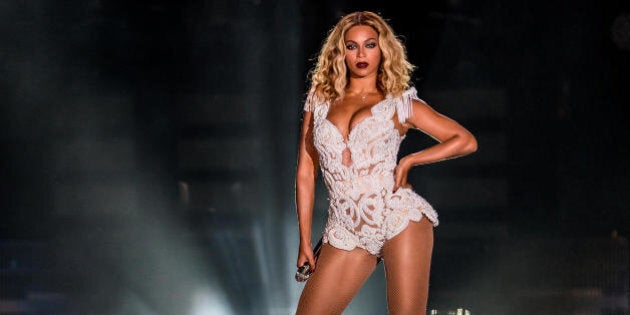 Who are the most influential storytellers of the 21st century?
Like it or not, Beyoncé's name must be mentioned in any credible answer. She uses visuals and music to tell young people around the world what it means to be a woman, wife, mother and feminist.
That's why I'm teaching a drama course at the University of Waterloo this fall called "Gender and Performance" that will analyze Beyoncé's latest album.
She's won 20 Grammy Awards, sold over 118 million albums worldwide, and she has more than 37 million followers on Instagram -- and yes, social media presence absolutely matters in discussions about influence in the 21st Century.
In fact, in an unprecedented move, Beyoncé launched her last album with an innovative marketing campaign that relied solely on Instagram. Late one night in December 2013 a short video was uploaded to her account, it was captioned "Surprise!" and announced that her album was available for sale. Despite the absence of any other publicity, it reached number on on iTunes in 104 countries within three days. That's groundbreaking in a music industry struggling to keep pace with the digital era.
Also of note, Beyoncé Giselle Knowles Carter is an African-American woman steering the cultural zeitgeist from the United States of America, where the politics of race range from the bizarre to the horrific.
Bizarre? The unfolding story of Rachel Dolezal, President of the Spokane Chapter of the NAACP and professor of Africana Studies who is allegedly a white woman who has pretended to be a black woman for the past decade.
Horrific? The extrajuridicial murders of Black people by white people and/or law enforcement officials in the past couple of years as evidenced by the deaths of Eric Garner, Rekia Boyd, Michael Brown, Tamir Rice, Renisha McBride and Trayvon Martin--to name but a few.
These deaths, combined with the disproportionately high rates of incarceration, poverty and unemployment of African-Americans, as compared to white Americans, expose a grim picture of systemic racial inequality.
Against this complex backdrop of racial politics in the USA Beyoncé's successful 20-year career signals longevity in a notoriously fickle and patriarchal industry. Her company, Parkwood Entertainment, creates, produces and markets the stories she wants to tell and then disseminates them directly to an online audience bigger than the population of Canada.
Beyoncé is an obvious, compelling and somewhat unremarkable case for the study of gender and performance in a liberal arts program at a post-secondary institution. In fact, courses on the mega superstar have already been taught at the University of Victoria and Rutgers University.
But the media attention, online comments, and feedback from colleagues since the announcement of my course last week, have demonstrated that the study of Beyoncé in a university setting is divisive.
Some call it a gimmick. Some ask if it's a joke. Others predict that a course on Kim Kardashian will be next. Some reminisce about university courses that taught Pride and Prejudice, while others express longing for a course on Sojourner Truth instead. Many decree it marks the end of post-secondary education.
Much of the bewilderment is about social class. Popular culture is maligned as low brow art and universities have historically defined an elite artistic cannon. Some of it's about the role of universities in Canadian society--specifically the value of the humanities at a moment when the emphasis tends to be on science, technology, engineering, and mathematics.
But, I think that one of my friends best articulated the subtext of the consternation about my course when she said, "[Beyoncé's] just a glorified stripper."
Well, understand this, if Beyoncé's a stripper then she's the one who also owns the strip club, the land that it's on and voting shares in the hydro, water and internet companies that service it.
She combines her voice, appearance and public persona with an astute manipulation of audio and visual media to tell the stories that she wants to tell to the audience she wants to reach.
That's a remarkable amount of power for a 33-year-old, African-American woman to have amassed in an industry predominantly run by men in a country that is predominantly white.
New York Times Magazine critic-at-large Jody Rosen argues that multiple meanings can be read into Beyoncé and her work, "The question these days is not, What does the new Beyoncé record sound like? It's, What does Beyoncé mean?"
At this point, people's personal opinions of Beyoncé are irrelevant. Her influence is undeniable and that alone makes her a legitimate person of study for scholars and students interested in gender and performance in the 21st Century.