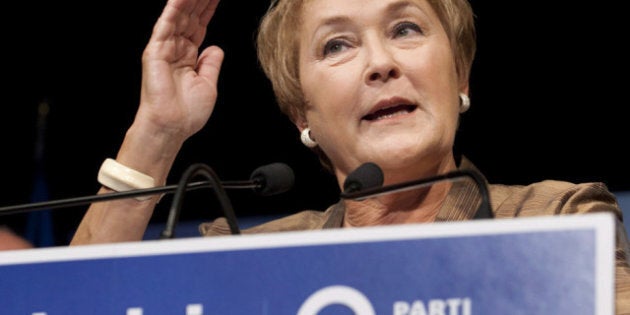 Jean-François Lisée, star candidate of the Parti Québécois, embraced the same doctrine as his leader, Pauline Marois, this week when he divulged the PQ's vision on the radio (minute 7:15). The party, which proclaims to want to carve Québec out of Canada has set the objective of "maintaining a majority of native French-speaking citizens on Island of Montreal."
Lisée wanted to announce the PQ's intentions in light of the "linguistic threat" on the day of the 35th anniversary of Bill 101, a law which forces French school on allophones in order to assimilate them to the language and culture of "purelaine" quebecers.
According to the Champion of the French Language, a PQ government would favour an immigrant from Bordeaux (France), who speaks French at home, over a French-speaking Shanghai immigrant wishing to settle in La Belle Province.
As for Francophones from China, like most immigrants from Asia, Africa, the Caribbean and South America, they most likely converse in a foreign language at home no matter how impeccable their mastery of Molière might be. Like the former Governor General Michaelle Jean named to the Ordre des Chevaliers de La Pléiade by the internationale Assemblée of French language parliamentarians, who spoke creole at home when it is landed in Thetford Mines, or multilingual MPs Maria Mourani (Arabic), Paulina Ayala (Spanish), Sana Hassainia (Arabic), Laurin Liu (Cantonese), Hoang Mai (Vietnamese), all have earned their equal place in Québec society and all deserve the same respect.
In addition, the theory that Québec should encourage immigrants who share their French lineage and their "homeland" shows ignorance of history. For example, Québec City welcomed so many English speakers -- especially the Irish -- that the city was majority anglophone at one point in the 1800s. The majestic fortification ramparts baptized Hope, Kent and Prescott testify to the anglophone presence in La Vieille Capitale. The Eastern Townships have a rich anglophone heritage as well. Not to mention the Aboriginal peoples, who migrated from Asia, who form an integral part of Québec and Canada's heritage. An immigrant from Asia is entitled to be considered on an equal footing with the fictional "Bordeaux immigrant."
Unquestionably, Québec society is the fruit of a multitude of sources, efforts and collective contributions. Moreover, Québec's future growth and strengthening within a strong Canada depends on the same plurality.
The method of assessing future immigrants proposed by Lisée can barely veil the discriminatory drifts repeatedly displayed by the Parti Québécois. This political division, this ethnic hierarchy and this neo-colonial theology fails to embody a province which proclaims itself "open to the world." Quebecers deserve better.
Popular in the Community