It was November 22, 1981. Domestic workers from the Philippines, Caribbean and the UK had gathered in a protest of thousands in downtown Toronto.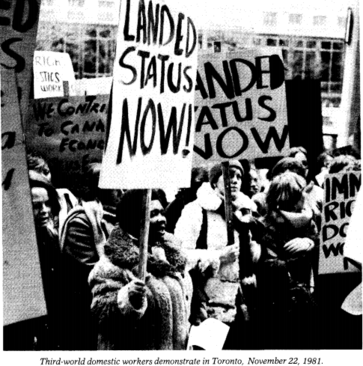 "We scrub the floors, we cook the meals, we raise the children -- why aren't we good enough to stay?" asked Eulene Boyce, a West Indian domestic worker.
"We are here ... united in our stand ... calling for an end to the system of indentured servitude which, since 1973, has denied over 60,000 domestic workers the right to landed status in Canada," added a spokesperson for INTERCEDE (International Coalition to End Domestics' Exploitation)
Four days later, on November 26, then-Immigration Minister Lloyd Axworthy, bowing to nearly a decade of mobilizing by immigrant women, created a path for domestic workers to gain permanent residency.
Yesterday, Prime Minister Stephen Harper turned back the clock.
As of November 30, only 5,500 domestic workers will have the right to apply for permanent residency each year. All the rest, just like those 60,000 between 1973 and 1981 will be rejected. Likely, many will be deported.
And what is this world of 1973 that Harper is sending us back to? To understand it, we have to go back a little further. Domestic workers started coming into Canada around 1901. They arrived with full citizenship rights. That was perfectly OK for decision makers because at that time Canada had a Whites-only immigration policy, and most of these workers were of European descent.
Domestic workers of colour from the Caribbean and the Philippines started arriving in the late 40s, and unlike their white counterparts were largely denied citizenship rights. Following the end of White-only immigration policy in 1967, new policies were created in 1973 that denied permanent residency to domestic workers. 1973 was the also the year when the roots of the current Temporary Foreign Worker Program were laid. Thus the creation of the "temporary" migrant worker programs were at their very core a policy rooted in racist exclusion. And that's exactly where the clock is being turned to today.
The shutting out of thousands of racialized women from permanent immigration status is being strangely spun as a step forward. Immigration Minister Chris Alexander insisted, "We are saying to the whole Canadian population, to caregivers above all, the time of abuse and vulnerability is over".
Fay Faraday, a lawyer and visiting professor at Osgoode Hall Law School who has written leading reports on migrant worker rights, disagrees, "Access to permanent residence has become precarious and unpredictable. Workers won't know at the outset whether they are on a route to permanence or a revolving door of temporariness. This will leave them considerably more vulnerable than they were before."
Migrante Canada, a cross-Canada alliance of migrant groups, added, "Migrant workers will continue to endure low wages, difficult working conditions and family separation in the hope of becoming a permanent resident, but their dreams will not be realized."
The policies coming into force are accompanied by Harper and Alexander acceding to a long-term demand of Caregivers -- the forced requirement to live in employers homes is now voluntary.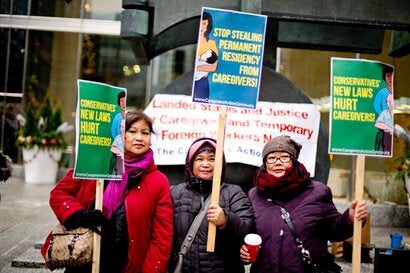 But Caregivers are not fooled. As Caregiver Action Centre organizer, and former Live-In Caregiver Liza Draman explained, "The only thing that is good about the announcement is the end to the live-in requirement. If the minister is serious about improving the condition for the caregivers, he should grant them status upon arrival."
Poet, activist and feminist researcher Salimah Valiani explains that the end of Live-In requirement is not all it seems. "Many migrant caregivers may elect to live with employers given that carework is poorly remunerated. Living independently is costly when added to other obligations typically carried by migrant workers including recruitment fees and remitting money to family back home."
Even though Caregivers won the right to permanent residency in 1981, the fight hasn't entirely been won. Excessive requirements were placed on those applying for residency. A series of intense organizing efforts led to the easing of some of these restrictions but permanent residency is still difficult to access. Restrictive and exclusionary provincial laws add to the injustice, denying protections from recruiters, health and safety benefits and access to effective protections from reprisals to Caregivers who are on provisional temporary immigration status for 4-10 years.
"Caregivers are right up against the wall when it comes to completing the required number of work hours within 48 months," notes Geraldine Pratt, professor of feminist geographies at the University of British Columbia. "If they become ill or need to change employers, they may end up staying with the last employer, regardless of abuse and exploitation, in order to complete the program requirements and apply for permanent resident status."
While the requirements have meant that many Caregivers could not access permanent residency already, what changes today is that even if Caregivers fulfill the exclusionary requirements, they may be barred from permanent residence.
But Caregivers are not giving up hope. Caregiver organizer Pura Velasco who has been actively working for Caregiver rights since 1989 insists, "We are resilient and strong. Caregivers will continue to stand up and fight for status and respect, no matter how long it takes us. Open the door!"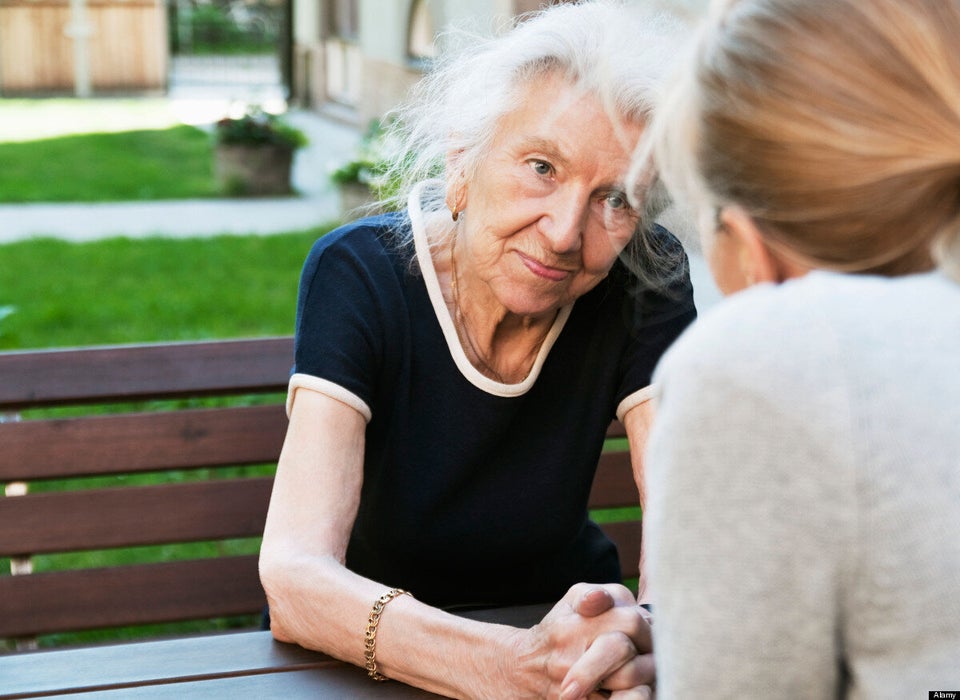 7 Tips For Caregivers