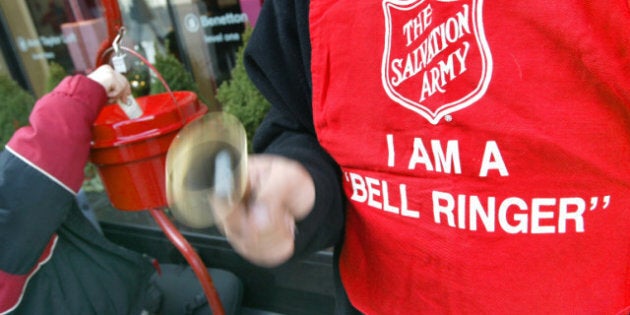 On January 6, some 60 workers at the Booth Centre, a Salvation Army-owned shelter in the city of Ottawa's Byward Market, walked off the job and began an ongoing strike for an end to poverty wages. The workers -- a group that includes cooks, housekeepers, maintenance workers, front line staff, case workers, and addictions counsellors -- had been trying to negotiate better pay since their last contract ran out in March 2011.
The Booth Centre provides services for some of the most vulnerable in Ottawa's downtown core and its operator, the Salvation Army of Canada, claims to be "the largest non-governmental direct provider of social services" in the country. Given this, the thousands upon thousands of Canadians who make donations every year to the Salvation Army would likely be surprised to learn that many employees at the Booth Centre earn a poverty wage.
Under the current hourly pay scale, cleaners and kitchens assistants at the Booth Centre start at $10.90 and top out at $11.31. Similarly, maintenance workers start at $12.22 and top out at $12.63. On an annual basis, these top hourly wages amount to between $23,500 and $26,300.
In its 2011 Dignity Project report, the Salvation Army in Canada asserts that "it is extremely difficult for a family of four to live on less than $40,000 per year in an urban area." True enough, yet it is difficult to see how the salaries the Salvation Army pays some of its own workers at the Booth Centre are in line with the organization's prescriptions.
Moreover, the above-mentioned Booth Centre wages are less than the ACORN Canada living wage for Ottawa, which is set at $13.50 per hour. According to ACORN, those earning less than this amount in the nation's capital may have to rely on food banks, subsidized housing, and other such social services.
The final offer from the Salvation Army -- namely, a $500 signing bonus and wage increases of two per cent, 2.5 per cent, and three per cent over the next three years, respectively -- was rejected by a strong majority. Striking workers say that the proposed raise is simply not enough to make ends meet.
Indeed, in dollar terms, a two per cent increase on an hourly pay of $11.31 means an additional 23 cents per hour. Over a regular work day, this barely adds up to an additional $1.80 before taxes, just enough to pay for a medium cup of coffee. Moreover, a two per cent increase does not account for the rapidly increasing cost of living. In November, for instance, Statistics Canada reported that the price of food in the country increased by some 4.3 per cent over the previous 12 months, a trend that is likely to continue.
In response to the workers' request for better wages, the Salvation Army of Canada has responded that it cannot afford to make a better offer, a dubious claim for a number of reasons. For one, workers at the Shepherds of Good Hope -- a neighbouring shelter located just 500 metres from the Booth centre --earn between $2 and $5 more per hour for comparable work. For example, at the Shepherds cleaners top out at $13.53 (versus, as mentioned, $11.31 at the Booth Centre) while maintenance workers top out at $17.38 (versus $12.63).
So why is it that the Shepherds of Good Hope is able to offer much higher wages than the Salvation Army? After all, both shelters receive the same transfers from the city and province -- amounting to $43 per client, per night -- to run their operations. Furthermore, the fact that the Shepherds of Good Hope is a relatively small, local organization, certainly unable to boast the financial prowess of the Salvation Army, is worth reviewing here.
According to its 2010-11 annual report, the Salvation Army in Canada reported assets of $1.5 billion and revenue of $539 million. This latter sum includes $204 million from government transfers, $12 million in profit from Thrift Store operations and $182 million in donations from Canadians. Meanwhile, the surplus for the year was pegged at over $35 million. Hardly a struggling charity.
Moreover, the Salvation Army in Canada's refusal to offer more money is particularly concerning when one considers the salaries of its top managers. Again, according to its last annual report, its top 39 managers earned an average salary of $131,625, with one executive earning $239,081.
Popular in the Community