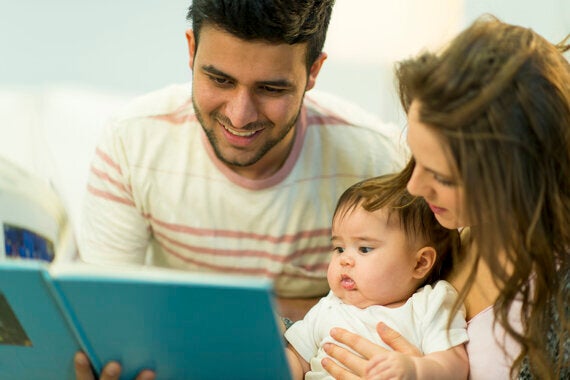 My first child and Harry Potter and the Half-Blood Prince debuted to the world within a few hours of each other. I admit I was a bit surprised when my husband left me and our sleeping newborn at the hospital so he could pick up our pre-ordered copy at the bookstore. When I awoke from a nap, I found him sitting in the vinyl hospital chair, swaddled daughter cradled in one hand and hard cover Harry propped open in the other. He was reading aloud, and our new baby was mesmerized.
During those bleary days of our babymoon, this became our daily routine. As I was navigating the transition to full time milk supplier, my husband found that what he could give our baby, apart from clean diapers, was storytime. By the time her umbilical stump had fallen off, they had finished Harry Potter, everything by Barbara Reid, and fifteen rounds of One Gray Mouse.
Sometimes we didn't get a lot of feedback from our baby when we read to her in those first days. But at birth an infant's vision is focused enough to see her parent's gaze from breastfeeding distance, and it was often clear that she was studying our faces as we spoke, sang, and read to her. Newborns can recognize their mother's speech patterns at birth, too, and she would pause in her sucking, as if to say, "I'm listening. Tell me more."
Our persistence paid off, and when we emerged from the haze of those first few months, she was sleeping longer at night and our book habit was well-established. Those were cozy dozy days of cuddling in the rocking chair as we talked about the pictures in her expanding library. Soon, coos and gurgles made way for batting and chewing so that her first favourites were literally devoured (as all good books should be). At nine months she could isolate her index finger and point to pictures herself. That's when the conversation really got rolling. "Where's the green sheep? There he is!"
If we had waited until we had a squirmy twelve month old, I'm not sure our introduction to books would have been as easy. But in fact, books made everything easier. Bath time, mealtime, potty time -- our (let's face it, sometimes boring) routines were both reassuring and more interesting when set to the rhythms of "Hickory Dickory" and Mabel Murple.
By the time our daughter became a big sister, she had grown into a toddler bookworm. We kept board books in every room, and reading to her was a great way to give her attention while I was feeding her baby brother. I tried to bring home only books I enjoy (thankfully there are many), because her favourites got read over and over. And you couldn't skip. Not. One. Word. Toddlers learn by repetition and that meant that the whole family could recite Brown Bear, Brown Bear in their sleep. Brother number 1 and then number 2 reminded us that children need to move to learn and books were no longer just for quiet times. Often, they would wiggle and run, darting back and forth to see the pictures, as I Gruffaloed on.
"As I was navigating the transition to full time milk supplier, my husband found that what he could give our baby, apart from clean diapers, was storytime."
Truth be told, I was committed to sharing books with my children long before Harry Potter entered my delivery room. Talking to parents about reading to their children has become the standard of care for paediatric providers. As a paediatrician, I often ask parents if they've had a chance to start reading with their baby yet. Some are surprised to hear that you can read to babies before they can talk. Some, like my husband, weren't read to as children themselves, and they're not sure how to begin. All want to give their child the best start possible and feel supported as their child's first teacher.
Of course, parents have been reading to children for generations, but now basic science backs up what Mother Goose and Dr. Seuss already knew. Early brain development happens through relationships. Real, back and forth, serve and return relationships with loving caregivers. It doesn't happen on screens. Positive interactions need to be repeated and reinforced to promote optimal neural connections. During the first few years of life, safe, stable, and nurturing relationships promote healthy brains by decreasing toxic stress and encouraging foundational mental skills.
In the early years of children's lives, parents are their most important teachers and the verbal environment they provide by talking, reading and singing to their children sets the stage for children's language learning. Parents tend to use more complex and descriptive language and ask more questions while reading aloud than they do during other daily activities. In fact, children's books contain 50 per cent more rare words than prime-time TV or even college students' conversations.
Reading aloud can help your baby enjoy time with you, practice language and learn about the world. This love of books, language and communication will help your child be ready to learn and ready to read in school.
In my clinic, it's infrequent that a parent shows up with a book in their diaper bag, though I try to ensure they all leave with one. What most parents do have is a hand-held screen. I've even seen babies with their own smart phone MacGyvered to their pacifier lanyard. While these devices haven't been around long enough for us to know their long term effects on young children, it's clear that the best Facebook for babies is their parent's face and a favourite book.
Like most parents I've doubted some of my decisions, but I've never regretted surrounding our family with books, words, and songs. This past year, my youngest cracked the code and we became a family of independent readers -- easily my favourite milestone and one to make this Family Literacy Day extra special.
With my children I am both sentimental and practical. Outgrown clothes were lovingly packed and handed down to friends. I fairly skipped to the donation centre with the baby swing that saved our sanity but took up so much floor space in the kitchen. But with those first books, I am at a loss. Those early years were a whirlwind of firsts and milestones, and our humble storytimes were the anchor. Bathed and 'jammied, bedtime stories were a sacred time when any misdemeanors of the day were forgiven.
My baby girl is now a lanky double digit, long ago able to read Harry Potter on her own. We still read together though, as I hope we always will, taking turns through the chapters.
Dr. Alyson Shaw is the CPS Literacy Champion and Paediatrician at the Children's Hospital of Eastern Ontario (CHEO) in Ottawa.
Follow HuffPost Canada Blogs on Facebook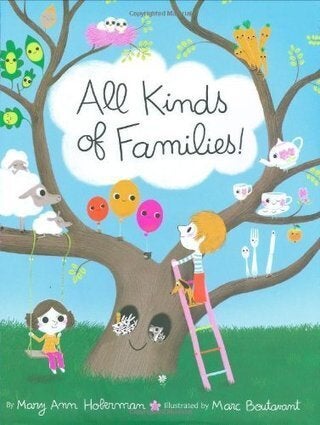 13 Children's Books That Celebrate Diversity