It's been six weeks since the crush of September hit and 12 weeks since the wheels touched down on the tarmac, marking my return from a perfect vacation -- and I'm feeling due for another.
Ah, the power of being relaxed. Thinking back on the glow I had post vacation, it was noticeable; I could handle anything. My son running wild? No problem. Water in the basement? Again? I can handle it. Deadlines looming without a plan we love yet? Let's bring out the magazines and brainstorm old school! Nothing can stop me. I've got ideas and energy to give in spades!
But in the face of the heady September schedule of back to school, back-to-back meetings and evening events, my aching feet need refuge (I still love you heels, it's not you, it's me!). Something tells me I just might be hearing the warning signs.
Maybe it's because lately I can't seem to go a day without reading about "burnout." Like when my well-intentioned mother put an O Magazine article in front of me, on "How to Handle Burnout"?
Can you hear the warning signs?
The last time I heard the siren's call it was May and I was daydreaming about sleep. So I spent time doing research, gazing longingly at luxurious ocean views on exclusiveresorts.com and in no time at all, the pull of Real del Mar in Punta Mita had me booking a week-long trip.
I had heard that Mexico was good for the soul, and, well, I was pretty sure that I could find plenty of fish tacos and margaritas (staples for nourishment, I'm sure) not to mention breakfast service every morning and any amount of activity or spa I was up for; all things I knew were the type of restoration and joyfulness I was seeking.
This Thanksgiving weekend, as we dive into a time of family rituals, driving from one side of town to the other, cooking for an entire day and navigating the heady waters of our loved ones special qualities, take time to give thanks to yourself this weekend and go book a holiday for you, a really good one, with luxury written all over it.
I don't think I'm alone in this, but sometimes I feel like a slow learner, or is it stubbornness? But I'm always convinced I can push on and dig deeper, as I am well versed in the school of "when the going gets tough...the tough gets going." I think it's because I have a lot to do.
Not just in my career, but in life. I have a business, a two-year-old, and big plans for all of it. There's no time to waste, right?! But what I know (even if it's hard to admit sometimes) is that we all need time to incubate, process, think, and rest.
So I start by making space to dream about those places.
When I realize that I don't have time to dream, or when dreaming resembles anything close to taking a nap, I book a vacation, or even just a spa appointment (great advice given to me by Carol Stephenson, former Dean of the Ivy School of Business).
So start dreaming about treating yourself.
Rounding into the first holiday weekend of the sweater season, it's a good time to look back on the healing powers of a good vacation and start to dream about the next one.
Today I'm dreaming about Tahoe (at least until there is solid snow on the ground in Colorado).
Let's give thanks to ourselves for all our hard work and tired bones; let's take a deep breath, relax our shoulders from up beside our ears; sign up to have someone take care of us for a change, and book ourselves a vacation.
Exhale. Feels good doesn't it?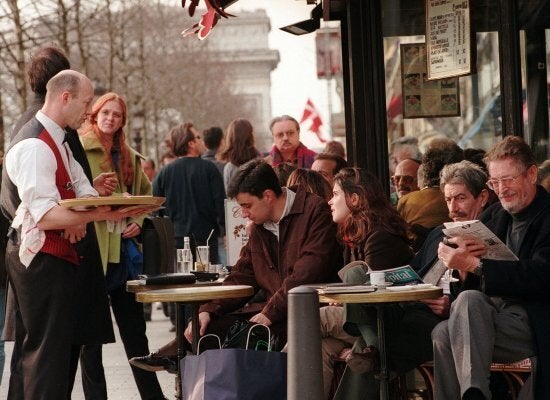 Countries With The Best Work-Life Balance