If oil prices continue their slide downward, the cancellation of high-cost oilsands projects are likely, but just because prices rebounded in the past and investment returned, does not mean that is a guide for the future, warns James Leaton, research director of the Carbon Tracker Initiative.
Thursday night at the Royal Ontario Museum in Toronto, Leaton told the crowd of over 170 people the Alberta oilsands are a big target for investors looking to reduce risk because of the high capital expenditure (capex) costs.
"The oilsands are Canada's elephant in the atmosphere," said Leaton, an originator of the "carbon bubble" theory. "We see investors moving away from high-cost, high-carbon projects, so there is a challenge that capital is not going to automatically flow to Alberta anymore."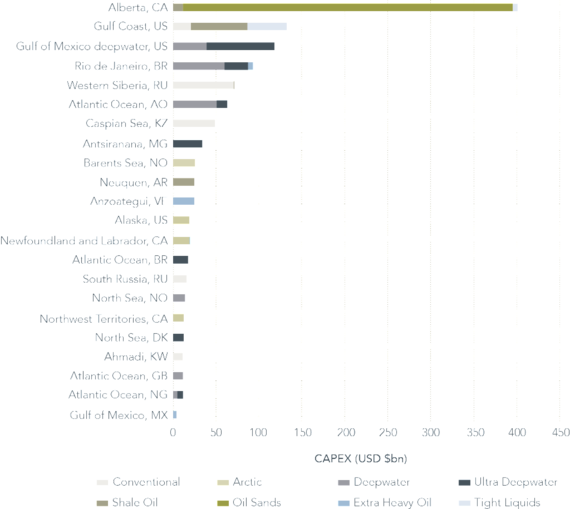 Investors and oil companies may de-leverage their portfolios of risky projects in the face of new carbon regulation or even from other factors like the decreasing costs of renewable energy, vehicle efficiency improvements in key markets, and economic growth rates in China, Leaton said.
In a media conference yesterday finance minister Joe Oliver said the federal government has taken the drop in oil prices into account in its fiscal forecasts.
"When we took into account the oil price decline which had already occurred, we made the assumption that the prices would stay at the low level for the entire period," Oliver said.
The sinking oil price provides companies an opportunity to re-evaluate the resiliency of their business models and projections that oil demand will keep growing, Leaton told DeSmog Canada in an interview after the talk.
Carbon Bubble theory impacting oil firms
The carbon bubble theory argues oil companies are overvalued based on their proven fossil fuel reserves -- a large amount of their resrves are stranded assets because they cannot be burnt if the world is to avoid catastropic climate change.
Once the carbon bubble, like the tech or housing bubble, pops it would bring dramatic re-evaluation of oil companies, resulting in massive layoffs and major industry restructuring. In Canada, the oilsands represents two per cent of the country's GDP and 90 per cent of the economic benefit goes to Alberta.
Pressured by activist shareholders, ExxonMobil and Shell have publicly rejected this theory. Shell told their shareholders the methodology underpinning the carbon bubble "has significant gaps," arguing energy demand growth will keep the world wanting oil for years to come.
"If some of your biggest shareholders write to and say: 'we are worried about how you are spending capital', you should be able to write back on two sheets of paper and explain how you are spending capital, rather than 30 pages of fluffy stuff," Leaton said.
"This shows the investors are not satisfied with the response because it didn't address their issues," Leaton said.
Ontario is working with Carbon Tracker
In attendance at the talk, Ontario Environment and Climate Change Minister Glen Murray told Desmog Canada afterwards that his government was conducting extensive stakeholder discussions about a new approach to price carbon in Ontario.
Included in those discussions are conversations with the financial industry about potential stranded assets. Three of Canada's five big banks are the largest investors in the oilsands.
"We are working with Jim and Carbon Tracker to develop that policy discussion..." to bring forward to the financial industry, Murray said.
The Canadian Association of Petroleum Producers predicts oilsands production to double from nearly two billion barrels a day to over four billion by 2025.
Tim Grey, executive director of Environmental Defence, who also spoke at the talk told Desmog Canada the public doesn't want the pipelines to help fuel the rapid expansion of the oilsands.
"There are two billion barrels of production there a day and that will continue to generate revenue," Grey said. "Those are relatively low cost assets... why not use the wealth being generated from the current level of development to invest it that [low-carbon economy] transition."
"What the Carbon Tracker Initiative has done is show that putting all of our eggs into the tar sands basket is a very risky economic move," Keith Stewart, climate and energy campaigner with Greenpeace Canada, said. "We could end up with multi-billion dollar white elephants which are weighing our economy down and miss out on the green-energy revolution which could lift us up."
The event was organized by Environmental Defence and The Pembina Institute.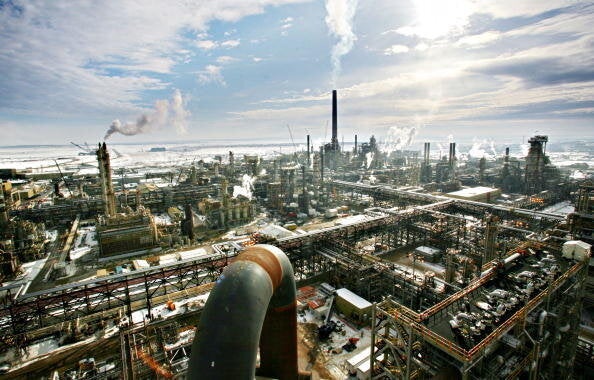 Wildest Pictures Of The Oil Sands
Popular in the Community