For the first time in history a plus-size, female athlete has landed on the cover of a conventional fitness magazine. Women's Running magazine made a bold move by stepping out as the first to recognize, publicly, that runners come in all shapes and sizes.
Personally, I know what it's like to be met with surprise around my body size and my athletic pursuits. As a plus-size fitness trainer, runner and advocate for athletes of size, I have interacted and trained thousands of plus-size women. My daily reality shows me that plus-size women are very athletically capable.
So when I saw the cover of Women's Running, I was elated to see a plus-size athlete finally getting the spotlight in mainstream fitness media.
But when I realized the story was becoming an international media piece, it got me thinking: Why is a plus-size runner a global news story?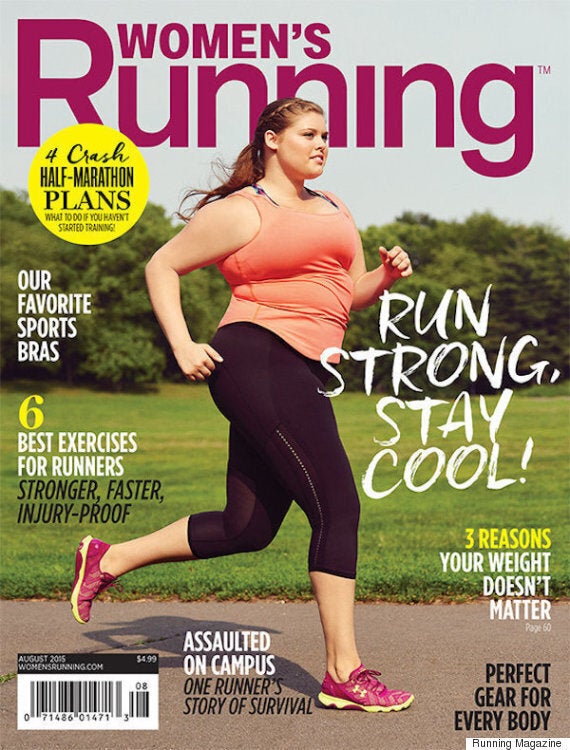 Here are my conclusions on why Schenk has become a media sensation:
Society is accustomed to hearing negative media around larger bodies and often not exposed to celebratory articles championing size-diversity in athletics. It's foreign for most people to associate health and athletics with larger bodies due to our overwhelming psychological and societal conditioning.
For over 100 years, those of us who sit outside a certain BMI calculation have been deemed part of a problematic population. One that is unhealthy, lazy and indifferent to self-care. These assumptions have been applied to the big-bodied masses and because media backs it up almost daily, plus-size individuals have lost their right to non-biased judgment and individual assessment.
To many people, plus-size women running is a new and revolutionary concept, contrary to our usual doom and gloom headlines of epidemic and health crisis stories.
The response to Women's Running magazine shows me that the female population is ready for more.
Conventional athletic brands don't align their products with body-size diversification, despite the market that waits. When bias conditioning is at play, coupled with negative media messaging, we can't blame major brands for staying clear of larger bodied representatives because every message that's presented before us tells us that big bodies can't be athletic or healthy.
The risk associated with overturning this message is often too much for most brands to hazard, especially for public companies with a fiscal responsibility to shareholders or sponsors.
Although a collective effort, the media and societal bias must change before the brands can take that risk and follow.
More than half of North American women represent the plus-size demographic, making up hundreds of millions of women, yet only one fitness magazine in history is bold enough to showcase a plus-size woman on the cover.
The average size of most fitness models featured on the cover is between a size two and four, which means that major fitness magazines do not represent approximately 75 per cent of North American women.
Despite a massive plus-size population, we rarely see the plus-size woman in any capacity, in media, television, movies or sport (unless you're Melissa McCarthy).
Most often, the plus-size woman is excluded as a representative of health and fitness brands unless she is presented as the rejected "before" picture in weight loss advertising.
We keep women of size behind a curtain like she doesn't exist or matter when the reality is she is athletic, fashion-conscious, and pop-culture savvy with incredible buying power. When we see something different, like the cover of Women's Running Magazine, it creates an uprising and liberation to those who feel sidelined; hence, a global media sensation.
Jean Batthany is a creative director at DDB Chicago; she is also a revolutionary in pushing gender equality in the advertising world.
"Women make up only 11 per cent of creative directors in the United States. Women make on average 85 per cent of purchase decisions in the home yet the majority feel alienated by advertising. The hope is that if more women are leading the creative charge the messages and images can and will be even more representative and persuasive to women. And that's just good for business.

With men as the majority, women are viewed and portrayed through the 'male gaze' - a 'lens' through which we view visual pop culture. More specifically, it's the idea that films and advertisements were created to please a heterosexual male audience."
The reality is, plus-size women run and perform all kind of athletics.
Women's Running editor-in-chief Jessica Sebor echoes this message in an interview with the US morning program, The Today Show:
"There's a stereotype that all runners are skinny, and that's just not the case," Sebor said. "Runners come in all shapes and sizes. You can go to any race finish line, from a 5K to a marathon, and see that. It was important for us to celebrate that."
Sport England recently launched the highly successful campaign, This Girl Can, which beautifully showcases size diversity in fitness and sport. The campaign's intention is to inspire women to wiggle, jiggle, move and prove that judgment is a barrier that can be overcome.
Like Women's Running, their campaign also became an international news sensation with over 10 million hits to the campaign's YouTube Channel.
We can no longer deny that the plus-size woman owns a big part of changing the conversation.
My hope is that others stand up and follow the lead of Women's Running magazine and This Girl Can. It is in these bold moves that we rise up and change the world for every "body."