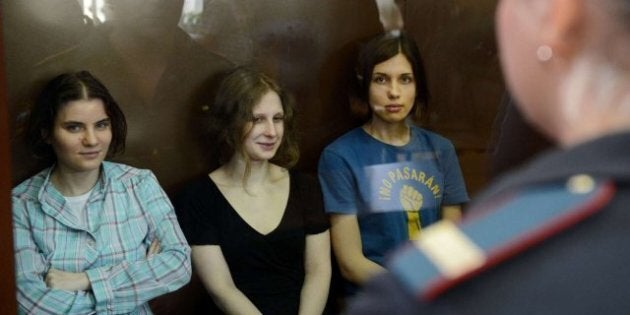 Who is Pussy riot and why should we care?
If you have Internet access you've likely heard of Pussy Riot. They 're a Russian female punk rock band, comprised of ten members aged 20-33, formed apparently in response to Vladimir Putin's 2011 decision to run a third time for President of Russia, and -- like punk rockers the world over since the Sex Pistols sang "God Save the Queen" in 1970s Britain -- performing with eccentric and provocative theatrics and costumes accompanying biting lyrics to convey a particular message.
You've probably also heard that three members of the group -- Yekaterina Samutsevich (age 30) , Maria Alyokhina (age 23), and Nadezhda Tolokonikova (age 22) -- were recently sentenced to two years imprisonment, after already being detained in jail cells for five months prior to their trial.
What were the charges? They were charged with crimes under Russia's criminal code for committing "hooliganism motivated by religious hatred." Why? Because the three women entered Russia's Orthodox Christ the Savior Cathedral, and apparently performed in protest of the link between the Church and Mr Putin's candidacy, using lyrics such as "Virgin Mary, Get Putin Out." In other words, the expression of the three Pussy Riot members has been characterized as a crime, further as a crime of religious hatred, and warranting a severe sentence.
Why should we care about Pussy Riot? Short answer -- freedom and democracy. Around the world supporters have protested their detention, conviction, and sentence by saying "I am Pussy Riot." They are right.
Freedom of expression is the cornerstone of a free and democratic society. It is a right upon which the enjoyment of other fundamental rights guaranteed in international law are based. The scope of the right in Article 19 of the International Covenant on Civil and Political Rights ("ICCPR") - which both Canada and Russia have ratified -- encompasses the right to criticize politics and even to criticize religion. In other words -- political dissent or even religious criticism is not only not a crime -- it is part of a healthy democracy. In this case, the three women have argued they were not even criticizing religion -- but rather criticizing the Russian Orthodox Church's support of Mr. Putin prior to the elections.
Political speech -- including dissent -- has value. In a free and democratic society, political speech is necessary to enable people to assemble information, form opinions, make informed choices, and to demand accountability and transparency from their government.
To call for the separation of Church and State, or to criticize a politician, or even to criticize a Church, is not criminal activity in a free democracy. Any restrictions upon freedom of expression should be absolutely necessary to protect national security or public order -- according to the ICCPR Article 20 -- such restrictions should not be a veil to stifle or silence those seeking to exercise their right to freedom of expression, and should not impede political debate.
There are high thresholds to meet in order to show that one's freedom of expression seeks to incite hatred --- the "punk prayer" performed at the altar at the Church does not seem to meet threshold of being a threat to national security or public order or health or morals.
Pussy Riot's "punk prayer" may, however, have been deeply offensive to many. The band members may have even literally "crossed the line" by entering into an inner sanctum off limits to the public -- but the punishment for such an action is trespass or misdemeanor. It should not rise to the level of a serious crime punishable by years of imprisonment -- in a democracy.
The real danger here is the threat that laws seeking to target real religious hatred or extremism, are being misused to silence dissent -- which is protected by the ICCPR, and also by the European Convention on Human Rights which applies to Russia. To stifle dissent is antithetical to democracy.
So why should Canadians care? Canada is a co-party with Russia to the ICCPR. According to the UN Human Rights Committee -- the treaty body of legal experts that interprets the ICCPR -- every State Party has a legal interest in the performance by every other State Party of its obligations.
Canada has boldly spoken out in the past to uphold freedom of expression in other parts of the world. As Canadians we have a stake in freedom and democracy everywhere, including in Russia, and in the case of Pussy Riot.
We cannot turn away from the criminalization of freedom of expression however offensive that expression may be to some -- we cannot allow dissent to be silenced as "dangerous" -- the real danger is tolerating repression of democratic rights. We are all Pussy Riot.
Popular in the Community