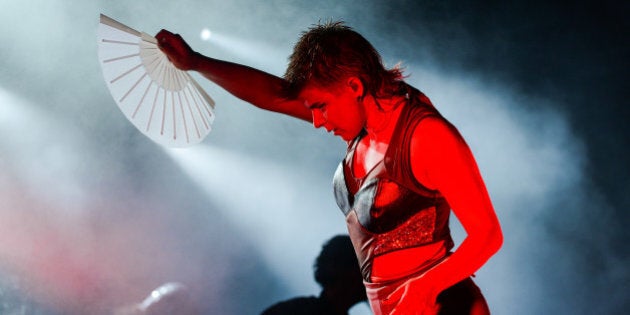 Robyn is a lover and a fighter. Dressed in boxing shorts and a silver space top, the future-forward Swedish singer is hugging herself during "Dancing On My Own" like six thousand fans aren't watching the weirdness from the sands of Toronto's Echo Beach.
Suddenly the small blonde begins punching the air like a prizefighter and then slides across the stage on her knees as the crowd joins her en masse in belting out the cathartic, communal chorus. Turns out, no one is on their own at a Robyn show.
This late-summer concert was the end of a triumphant tour with friends and (now-retired) collaborators Röyksopp to celebrate their joint-EP "Do It Again." The record and its anthemic electro-pop title track made both our best album and best song lists, and their tour doubled as the year's best dance party, an unexpected win in a year marked by massive EDM fests.
Or maybe not that unexpected. After all, the sound of 2014 *was* the sound of Robyn, even if "Do It Again" wasn't the omnipresent radio smash it deserved to be. Top 40 dance-pop by the likes of Calvin Harris, David Guetta and Katy Perry feels like reductionist takes on the more complex, emotion-soaked fusion that Robyn has been releasing independently for a decade, ever since her major label rejected her too-prescient move into electro-pop.
Then there are the artists she directly inspired, like Tove Lo, a fellow Swede who hit it big with "Habits (Stay High)," and Canadian 90s throwback Keisza, whose "Hideaway" was inescapable. Or the ones that her acclaim has helped opened doors for, like art-pop up-and-comer Charli XCX.
Even Taylor Swift's "Welcome To New York" was sonically reminiscent of Robyn and her album "1989" was co-written with Max Martin, the famed Swedish popsmith who worked with a then-teenage Robyn on her initial 90s breakthrough "Show Me Love."
HuffPost Canada spoke with Robyn about the importance of those "shite" early days, the impact of EDM and why she no longer cares if her pop songs get played on the radio. After all, why would a former champ need another title fight when she's got this much love outside the ring?
Considering your pop star start in the '90s and critically acclaimed comeback as an outsider act, how are you feeling about how you built that success back up?
I feel like I'm really lucky to be able to do what I want. I've been able to take something out of the first ten years of my career, like experience and some money, and that made everything easier for me when I started my own record company. If you start from scratch with no funds it's much harder. I was able to turn all of that shite that happened to me in those first 10 years into something good.
So I feel very lucky, and I feel like there's so much more. I've just kind of started, actually. There's a lot of things that I haven't done yet, that I would like to do. And I feel like, not that I'm running out of time, but I feel a little stressed, too. I feel lucky and stressed.
It's interesting that you started out working with Max Martin, who now writes every nine out of 10 songs on the pop charts.
He did that already back then.
But that was the beginning, right? You and Britney, the Backstreet Boys. But it's interesting that now the stuff that he writes sounds a lot more like what you've been doing like the last five years. Hell, all of pop music is sounding a lot more like what you were doing five years ago.
I hope I don't sound like that. [laughs]
I just mean that when you started in the mid-90s, pop music and electronic music were over here and over there. That's not the case anymore.
Right. It's an interesting phenomenon
Of course, Europe never really saw the same separation we had here in North America. There, it never left the charts after the initial '80s, early-90s dance-pop boom.
What's cool about Europe, in that sense, is that a lot of kids who are fans but not like super music nerds, they're still exposed to music that has roots in something that's not commercial at all. That's because of the rave culture and because of people who create their own little worlds in the underground where it's about communities. That's really influenced the European music market in a way that it maybe hasn't here. Hip-hop has done that in North America but you don't have these local underground scenes influencing what's on the charts in the same way, I think.
I've never understood why European hits like "With Every Heartbeat," "Dancing On My Own" or "Do It Again" can't get much airplay here compared to, say, Rihanna or Gaga. Why do you think you're perceived as "underground" when your sound would surely be accessible to people if they just heard it? Why hasn't corporate radio picked up on your music?
Maybe because they don't feel safe that I will deliver the commercial-like space that they need to be able to really put their money into it. With all of these other artists there are so many other things — they are like fashion brands, they sell perfumes, they're in newspapers all the time and talk about their love lives, you know?
It's an industry around them that I'm not providing. I think that helps radio stations and other commercial entities to trust that those artists are gonna deliver something that they are going to make money off of.
So you're delivering the songs, but you're not delivering the brand.
Maybe, it's just a thought. I have no idea actually. But I really let go of that a long time ago. I feel like I'm not interested in resolving that problem anymore. We don't have to either because we have our own audience we need to work for.
That's true, and you're not the only ones; Pearl Jam sells out arenas without being part of the industry, Metric, a Toronto band, have built up enough of an audience that they can sustain themselves without having to play that game. Is that the future? Creating your own rules?
I think that's how it is right now.
How has EDM impacted you? Not the way you make your music but how it's received or your audience size?
Well, I don't know if it's made a difference because our music isn't played on the radio here anyways. I think the big part of it was that the R&B and hip-hop scenes started to incorporate sounds that got people introduced to electronic music, in a different way. Now they're used to that sound. It's something they recognize. Something that makes them feel comfortable. It's not weird anymore.
I think that's probably why it's easier for people to get into a dance scene, it's not strange. But I don't know how that's affected my career because I think, for me, it's the arrangements of the actual songs that are more commercial than the way it sounds.
Popular in the Community