Hollywood loves a good remake, but no fairy tale adaptation has been more important than Rodgers and Hammerstein's "Cinderella."
The 1997 musical reimagining was originally made for TV and starred singer Brandy as the title lead and Whitney Houston as her fairy godmother. While the basic storyline is the same as Disney's 1950 animated classic, there are three important reasons the 1997 version has maintained relevance today.
Diverse movies can be successful, and Rodgers and Hammerstein's "Cinderella" is proof of that. Just one look at the film's trailer shows a beautifully multi-racial cast, including a black princess (Brandy), a black fairy godmother (the late Houston), an Asian prince (Filipino-American actor Paolo Montalban), a mixed-race King and Queen (Victor Garber and Whoopi Goldberg) and multi-racial stepsisters (Natalie Desselle and Veanne Cox).
Whoopi Goldberg agreed, saying the interracial cast "makes perfect sense."
"Before, it was either all-black or all-white, but never a normal mix of people," she told Jet magazine in 1997. "This integrated cast is how the real world is. This is more normal than being part of a cast that doesn't have any colour in it."
Goldberg was certainly right, as the film is a powerful example of why representation matters.
On Twitter, fans who grew up with the film have continuously praised the movie for its inclusiveness of different races, which allowed some to see themselves onscreen for the very first time.
With so much talk about the lack of diversity in Hollywood these days, Rodgers and Hammerstein's "Cinderella" is a shining example of the diversity we need.
Disney movies and fairy tales are often sexist, with girls portrayed as helpless beings who need a man to save them. Luckily, the 1997 "Cinderella" combats stereotypes about what it means to be a girl.
In the film, the Prince tells Cinderella that a girl should be treated "like a princess." When she quickly corrects him saying, "No. Like a person, with kindness and respect," he tells her she's "not like most girls."
By showing us Cinderella taking offence to this comment, we can see she has a mind of her own and can stand up for herself. Her comment about treating everyone equally also reveals her feminist attitude, which is more important today than ever.
While most Disney films are about following your dreams, the message in the 1997 "Cinderella" has one big difference. Instead of teaching kids to "keep on believing," it teaches them that dreams only come true if you make them happen for yourself.
Not only is this type of go-getter attitude strikingly different from the laidback message of the animated version, but it is an empowering message that anyone can learn from. After all, you are your own biggest obstacle to achieving your dreams.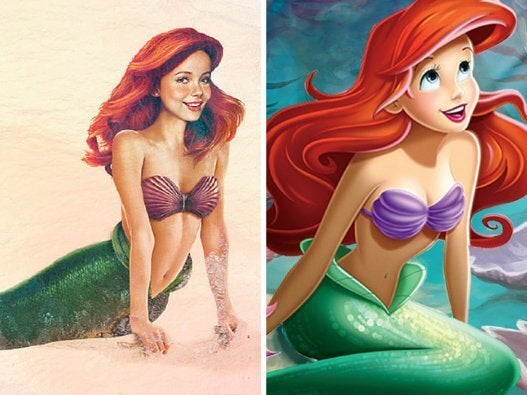 What These Disney Characters Would Look Like In Real Life
Popular in the Community