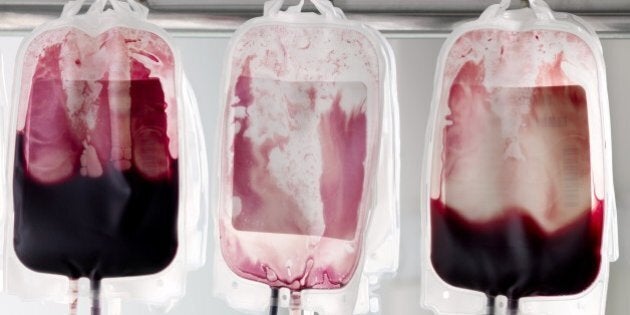 A start-up company is looking to establish a new business model in Saskatchewan. In worsening economic times, that might seem like great news. But if their business model is one that takes advantage of people's poverty and may undermine voluntary blood donations, then the prospect is far less appealing.
Last year Canadian Plasma Resources came under scrutiny after they set up three clinics for paid plasma donation in Ontario. One clinic was located beside a methadone clinic and the other a homeless shelter. The company's for-profit model led to public outcry, with concerns about the safety and the ethics of this practice. Ontario Health Minister, Eric Hoskins, upon introducing a bill last summer to shut out paid-for blood clinics, said "This government feels it's extremely important to put in place legislation that safeguards the integrity of the voluntary system that exists and has existed for so long in this province. It's a bit of a slippery slope once you start offering people compensation for donating."
A voluntary blood supply is deemed the safest and most reliable system of plasma and blood collection by the World Health Organization, the International Federation of the Red Cross and Red Crescent Society, the International Society of Blood Transfusion, the International Federation of Blood Donor Organizations and was the recommendation of the Krever Inquiry into the tainted blood scandal of the 1980s.
If Canada did need to collect more blood, opening for-profit clinics is not the way to do it. Instead of encouraging more people to donate by incentivizing them, countries that introduce paid blood donation see a drop in volunteer donor numbers. According to the WHO, countries with paid donation have on average 0.9 per cent of their population sell their blood. Countries with voluntary, non-remunerated collection systems see over 3 per cent of their population donate. If Canada needs more blood products we should open more non-profit collection facilities and keep our system one of the safest in the world.
Proponents of allowing Canadian Plasma Resources to operate in Saskatchewan have stated this would help overcome the fact that 80 per cent of the plasma used for patients in Canada is imported from paid donors in the United States. Intuitively, that makes some sense, but it's a red herring. Canadian Blood Services, the organization established to manage Canada's blood supply in the aftermath of the tainted blood scandal, has made it clear that they have no plans to obtain plasma from Canadian Plasma Resources. None of the plasma obtained by the company will directly benefit patients; it will be sold for a profit to pharmaceutical companies and researchers.
If Canada wishes to be self-sufficient in plasma, first we need to maximize the amount received. A plasma collection facility in Thunder Bay, ON, was closed just a few years ago, citing that there was no longer enough demand for plasma due to replacement products being used in hospitals.
The practice of for-profit plasma donation centres in the United States has been called into question, with frequent donors experiencing a variety of physical complaints, and reports of questionable adherence to screening guidelines. In Saskatoon, Canadian Plasma Resources has chosen to locate their services near a disadvantaged area of the city with a high concentration of pawnshops and payday loan stores. People in poverty are already at high risk of illness; this practice can pose further health risks. As well, the high rate of blood borne illnesses like HIV and Hepatitis C in inner-city Saskatoon is cause for concern if a business was not as stringent as possible in its screening and preparation process.
The only impetus for changing the practice at this time seems to be that a new company has seen a way to make money by paying for plasma. That seems the wrong driver for a major shift in policy around something as sensitive as blood products. Rather than giving a green light to this practice with no public consultation or debate, the Government of Saskatchewan should follow the example of Quebec and Ontario, ban paid plasma donation, and show Canadian Plasma Resources the door.
Ryan Meili is a Family Physician in Saskatoon and vice-chair of Canadian Doctors for Medicare. Adrienne Silnicki is the National Coordinator of the Canadian Health Coalition.
Follow HuffPost Canada Blogs on Facebook
Popular in the Community