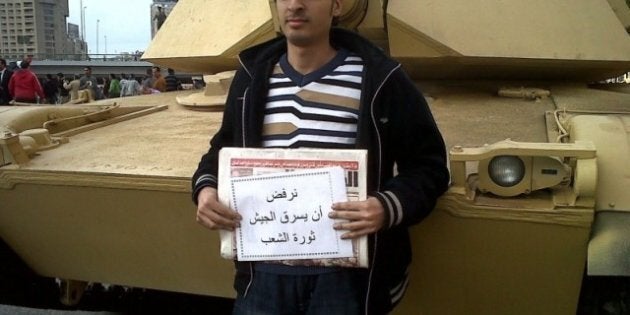 Irwin Cotler and Maikel Nabil Sanad have never met. They are two very different men in two very different situations. Cotler is an international legal scholar, distinguished member of Canada's parliament, and once served as Minister of Justice. Sanad is a young Egyptian blogger who at this very moment is waging a four-month-long hunger strike in the depths of the Elmarg prison in Cairo. His life hangs in the balance.
Sanad was sentenced to three years in prison for the "crime" of insulting the Egyptian military. Though his case made headlines for a short time, it quickly disappeared amidst chaos, protests, and revolution. A military court recently reduced Sanad's sentence to two years in prison. The Egyptian regime is trying to break the prisoner and force him to apologize publicly. It also hopes the world forgets about Sanad and his fellow political prisoners.
Irwin Cotler is almost single-handedly preventing that from happening. It was fitting that Cotler first approached me to contact Sanad after we attended a speech by Natan Sharansky in New York City several weeks ago. Decades earlier, Cotler represented the former Soviet dissident who spent nine years in prison and helped launch a global advocacy campaign to gain his freedom.
Sharansky has long believed that Western pressure is what saved his life and ultimately helped bring down the evil empire. He wrote, "In 1986, the Soviet dissident Anatoly Marchenko died in the infamous Chistopol prison after a long and futile hunger strike for improved conditions. Three years earlier, I had gone on a similar hunger strike in the same prison and been subjected to the same tortuous conditions by KGB thugs. But the authorities eventually gave in to my demands. Why? Because my nine years of imprisonment were accompanied by a relentless worldwide campaign and steady, unambiguous pressure on the communist regime by leaders of the free world. The regime knew that it would pay a heavy price if I were to die. With Marchenko, it was confident that the world did not care enough to do much more than mount a formal protest."
This narrative was confirmed to Cotler by none other than the man who ultimately released Sharansky, Mikael Gorbachev. The former Soviet leader told Cotler in 1997: "I never knew anything about Sharansky. I never even knew the name. I came to Canada when the minister of agriculture and I appeared before a Canadian parliamentary committee on agriculture, but instead of getting questions about agriculture, I got questions about Sharansky. I left the parliament building and saw placards of Sharansky. Wherever I went, I was confronted by Sharansky. So I came back to the Soviet Union and I said, 'Who is this guy Sharansky?' I got the files and said, 'Well, he might have been a troublemaker, but he isn't a criminal. So we ordered his release.'"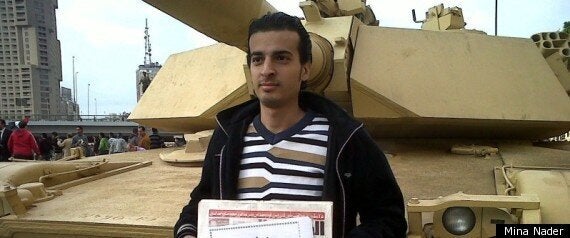 On November 9th, Cotler told me simply, in response to a query about representing Nabil - and with characteristic humility - "I would be honored to serve as international legal counsel to Maikel Nabil Sanad." I breathed a sigh of relief, for if anyone has the power to free Sanad, it is Cotler. The indefatigable legal scholar and human rights activist literally does not stop until all options have been exhausted. Cotler's lined note-pad on which he passionately scribbles thoughts before meetings and speeches should strike terror into the heart of any tyrant.
On their first conference call, the imprisoned blogger's brother, Mark, expressed profound thanks to Cotler as he outlined the campaigns and legal mechanisms that could be used to pressure the Egyptian government. Cotler engineered an 11-point plan to return Sanad's name to the international spotlight.
In the past month, he has galvanized parliamentarians from Lithuania to Australia to take up Sanad's case. Senator Mark Kirk of Illinois and British parliamentarian Denis MacShane, to name just two examples, are Cotler's erst-while allies in this campaign to free Sanad. Cotler spoke repeatedly of the blogger in parliament and received strong assurances of support from Canadian Foreign Minister John Baird and from the Canadian Minister of State of Foreign Affairs, Diane Ablonczy that Sanad's release was of the highest priority to the Canadian government. The Canadian Foreign Minister met with the Egyptian Ambassador, and called for Nabil's release. Cotler moved a motion unanimously adopted by the Subcommittee on International Human Rights calling for the immediate release of the blogger. He called for Nabil's release at the Annual Inter-Parliamentary Hearing at the United Nations. He met as well with the Egyptian ambassador and is submitting a petition to the UN Working Group on Arbitrary Detention. The Parliamentary Forum of the Community of Democracies has also made his case a priority. Equally, the Canadian Member of Parliament has met with NGOs in Canada, U.S., Europe, and the Middle East to take up Nabil's case, and has already published three op-eds on the imperative of saving Nabil, including in the Huffington Post.
When Egyptian ambassador to Canada, Wael Ahmed Kamal Aboul Magd, met with Cotler he wondered aloud why Sanad needed a lawyer outside of Egypt. "For a political prisoner to have international l legal counsel -- to internationalize the advocacy -- is not unusual," Cotler responded. "I also served as international legal counsel to Egyptian democracy advocate Professor Saad Eddin Ibrahim during his imprisonment and filed a brief before the Egyptian Cour de cassation, while making representations internationally. Sanad understandably is not prepared to recognize the validity of the military tribunal, nor would I. There is no presumption of innocence given the 93% conviction rate with the 12,000 people having come before the tribunal. There is no allowance for the consideration of the evidence. There is no right of appeal. There is no right to a fair hearing before an independent and impartial tribunal as guaranteed by the international treaties to which Egypt is a signatory."
Cotler continued: "At the end of the day, Sanad should be released as a matter of justice and humanity. But you should be releasing him in Egypt's self-interest. Everyday he's in prison it is costing Egypt. It would be a tragedy if he died, and on your watch."
Nelson Mandela, Natan Sharansky, Saad Eddin Ibrahim and the many other dissidents Cotler has represented are living exemplars of the power of freedom to overcome tyranny. Sanad's freedom is a litmus test for Egypt's future. So far it is failing miserably.
David Keyes is the executive director of Advancing Human Rights and cofounder of CyberDissidents.org.