If the City was trying to create massive congestion downtown on Saturday afternoon, it executed the plan flawlessly. I was trying to get from Harbourfront Centre to City Hall and it took 50 minutes to go 12 city blocks. I actually got out of the car and walked the last three blocks, knowing it would be faster.
Anyone who has been down to the Harbourfront recently knows that Queens Quay is under construction. The streetcar tracks are being replaced and Waterfront Toronto is building a new tree-lined promenade that will be spectacular once complete, but creates traffic chaos in the meantime. Although I expected the construction on Queens Quay, nothing prepared me for the trifecta of traffic interruptions that followed.
Traffic was already heavy because it was the season home opener for the Argos. That would have been fine, if the rest of the transportation network had been working.
We made our way to John street only to discover that one lane was partially closed for a movie shoot. Once we got clear of the set, there was an illegally parked car blocking the lane close to King street. The intersection of King and John was so congested, the lights became meaningless because buses and streetcars would enter the intersection and get stuck, preventing traffic from moving the other way. After finally getting through the intersection, we crawled up John to Adelaide and remembered that John is closed from Adelaide to Queen to permit restaurant patios throughout the summer. This forced all the northbound traffic to turn right on Adelaide.
That rerouting plan would have worked -- if two lanes on Adelaide hadn't been closed off because of sidewalk construction AND the fact that Adelaide was closed because of the International Lion's Day parade.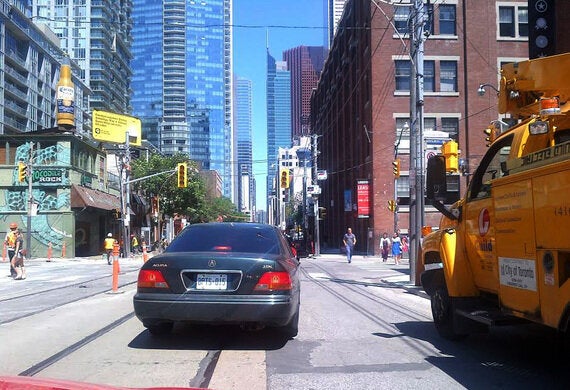 Adelaide down to two lanes -- right before a complete road closure -- on a busy Saturday afternoon
By the time we realized that Adelaide was closed, I got out of the car and walked to City Hall.
I have never been more convinced of the need for a Transportation Czar in Toronto. If one person had oversight of the transportation system the movie set, street closings and sidewalk construction would have been coordinated. The parade route would have taken consideration of the competing uses of that area and could have been re-routed, the sidewalk construction could have been scheduled around patio season, and traffic enforcement should have been onsite to keep traffic moving and prevent illegally parked cars.
At a minimum, there should be an app that highlights congested areas and identifies alternate routes based on information provided by the City.
I decided I would walk to the Argos home opener from City Hall because it would be faster and less frustrating than getting stuck in traffic again.
Imagine my surprise when I was walking to the stadium and discovered that there was incomplete sidewalk construction two blocks south of Adelaide, on Wellington. Not only were the sidewalks incomplete, there was no sign of activity on-site. Perhaps instead of messing up traffic on Adelaide, the construction crews could have finished the sidewalks on Wellington.
If there was ever a case to be made for a Transportation Czar, Saturday was it.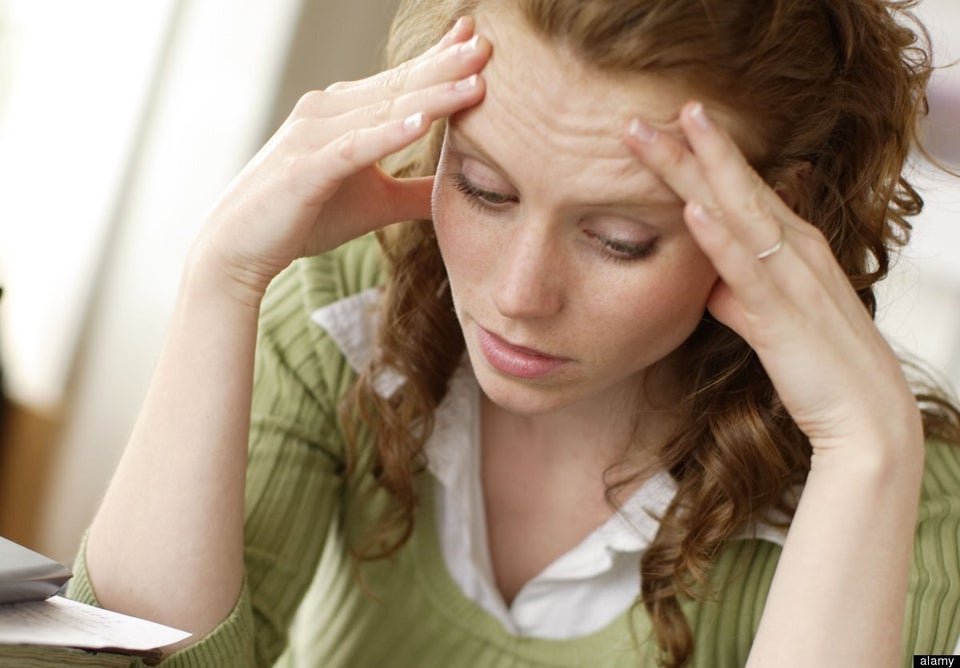 Health Effects Of A Long Commute