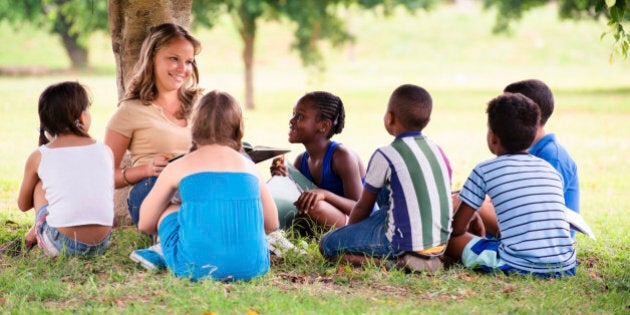 In this day and age where oil spills are decimating wild life, where Black community members are systematically gunned down, where Aboriginal reservations are declaring a state of emergency, you know what is truly dangerous? A kid on a bicycle.
A year ago, I was approached by Flamingo Rampant publisher S. Bear Bergman to be part of its first season of LGBTQ kids' books. Even as the invitation was expressed, I already knew what I was going to write about. As a queer single mama, my daughter, Arden and I would march together at Pride. When she was four and five years old, she was the Tyke on a Bike for the Dyke March, riding her pink bicycle down Yonge Street while waving her pink Stetson hat in the air for all to see. This memory became the picture book M is for Mustache: A Pride ABC Book which told the story of Arden and her Pride shenanigans with our chosen queer family in an ABC format.
This past May, I was excited as heck when the book was finally published and printed, in my hands and ready to show the world. Only -- not everyone in the world wanted to see it, and most certainly not the school within my district.
At Charlottetown Junior Public School, I approached my daughter's former kindergarten teacher about doing a reading to her students. I volunteered to simply come in, read the book in its entirety and do a couple of circle time songs. She was thrilled for many reasons: She was touched that a book immortalized Arden's renowned involvement in the queer community, and that she could trust my circle time to be a fun one given I am a theatre practitioner and I am the owner of a home daycare. Her Vice Principal, Marlie Delicieux, did not feel the same. Shortly after, I was told by the teacher that the VP said "not now" citing that the timing would likely create a backlash due to the introduction of Ontario's new progressive sex education curriculum.
I emailed the VP explaining this was simply going to be a reading of a book which shows positive reflections of a queer family during Pride and not sex education. I sent her a PDF of the book in its entirety as well as a list of my credentials as an artist who has been working with youth all over the world since I was a teen, as a twice published playwright and home daycare provider. I left a message for her on the school voice mail welcoming discussion. Save for doing handstands and back bends, I did everything possible to volunteer to do this circle time for her students. I heard nothing from Vice Principal Marlie Delicieux, although in a recent Daily Xtra article written about this unfortunate event the Toronto District School Board spokesperson was quick to defend, stating "The timing did not work given that it was getting close to the end of the school year, which is a very busy time." Uh huh. So...a month preparation for a ten minute voluntary reading? I highly doubt it.
After what was clearly an act of homophobia, I posted on facebook to my many parent and educator friends asking "Who wants a free reading of a great book about queer families?" My friend and ally, Corrie Sakaluk arranged for me to read at the daycare operated within Nelson Mandela Park Public School on both June 15 and July 20. Chuffed to bits and beaming with pride, my four home daycare kids and I travelled from Scarborough to the downtown school, read for the daycare kids (a raving success, I might add, complete with kids playing on imaginary guitars and painting rainbows in the air with their fingers). It went so well, we were invited minutes after to read the book to the kids at the Parenting and Family Literacy Centre down the hall. This time, though, there were parents present. These same parents complained to the coordinator about the LGBTQ content in the book and the next thing I knew, not only were the parents in an uproar that some homo just read a book about her homo life to their kids, but the daycare itself was considering cancelling the July 20th reading.
What was meant to be a triumphant return to the land of human kindness and acceptance ended up being yet another ticket to the fringes with my unacceptable sinful self. My face was hot and red. My heart was heavy. I just wanted to scream from the top of a mountain "Holy jeez, it's about a girl on a bicycle celebrating her family!" I was incredulous. In the midst of Pride season, I thought how ridiculous it was that we were given the brief privilege to march and be who we are, but god forbid we sit in a classroom and read a book to children in hetero-normative families. I thought of how ridiculous it is to have such a courageous and progressive sex education curriculum and have administrative staff reveal their own phobias while attempting to implement it.
Since the Daily Xtra article was published, the daycare within Nelson Mandela Park Public School has revisited the issue of me reading my book and has invited me back this July 20th. I have read successfully and drama free at Eastview Junior Public School and Lord Landsdowne Junior Public School (days before school has been let out by the way). Charlottetown Junior Public School, remains aloof.
I think often of how easy it was for my daughter to be proud during our marches, with Stetson hat and bicycle riding down Yonge street. If only it were that easy for us adults to be free of oppressive thinking, to be truly accepting of others. If only I was simply living as many do, making an honest wage and spending time with my daughter -- heck, even doing my laundry or eating ice cream -- rather than writing this article telling all of you about the cartwheels I had to do just to read a story about my family. As my book reads, "D is for Doesn't Matter. Like, it doesn't matter where we came from or what body parts we have, we are beautiful."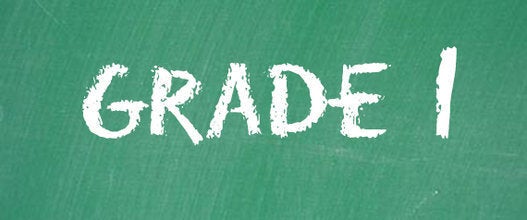 Ontario Sex Education By Grade