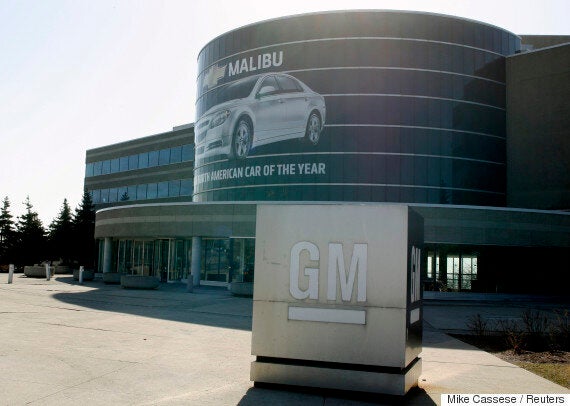 The entrance of the General Motors of Canada head office is seen in Oshawa in 2009. (Photo: REUTERS/Mike Cassese)
Nothing focuses the mind like a looming deadline.
The deadline forces both sides to put aside their wish lists and concentrate on getting a deal that works for both sides. It's an efficient, disciplined, accountable system that our union has used many times before -- and we remain fully committed to in this round of bargaining with the Detroit Three automakers.
Picking a company is never easy. I can tell you I have weighed the decision to focus the 2016 negotiations on General Motors (GM) very carefully, and only after a great deal of input from the excellent negotiators and bargaining committees that we have working with us on behalf of Unifor members employed at Fiat Chrysler, Ford and GM in Canada.
The one factor that did not come into play was whether one company or another could offer the richest deal.
Many factors were weighed to make this decision. There were, in fact, very good reasons to pick any one of the Detroit Three, but the decision had to come down to picking just one.
The one factor that did not come into play was whether one company or another could offer the richest deal. The biggest factor was which company we felt offered the best chance to reach an agreement addressing the needs of all of our members across the Detroit Three. That's because the agreement reached with General Motors will set the pattern for workers at Fiat Chrysler and Ford when negotiations turn to those companies.
For this round of negotiations, the top priority is to secure investment in Canada. This priority is about the future and it takes on added significance at General Motors, where the future of its operations in Oshawa have been the focus of much discussion in recent weeks.
We need to remember that GM is doing incredibly well financially. The company recorded $10 billion in net profits last year. Canada has played a major part in that success, with North America responsible for 86 per cent of GM's global profits.
GM has done well in Canada, both in manufacturing and in sales. We know it will want to continue with that.
GM committed to $8.3 billion in specific investments and product allocations at 24 assembly, powertrain and parts plants during negotiations with the United Auto Workers in the U.S. last fall. Canadian workers should expect nothing less.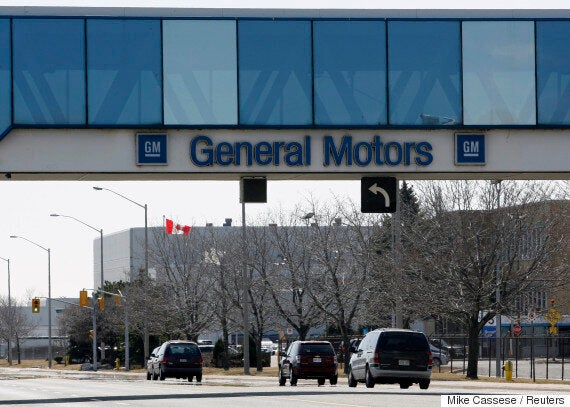 A view of the General Motors of Canada assembly plant in Oshawa in 2009. (Photo: REUTERS/Mike Cassese)
There are many good reasons for GM to want to invest in Canada.
Its operations here win disproportionately more awards for quality and productivity than others in its worldwide operations. That's no mistake. Unifor members are and continue to be dedicated to building the best vehicles in the world, and that is reflected in the quality of the vehicles GM and the other Detroit Three automakers sell.
It is also the reflection of more than a century that GM has spent establishing its presence in this country, building state-of-the-art manufacturing facilities -- including its flex and consolidated lines in Oshawa -- and training workers to build its products. Over that century, with the good jobs it created and the spin-offs from those jobs, GM helped to create the middle class in Canada, one that could afford to buy its products.
GM will no doubt want to build on that century of investment by committing to new product during this round of bargaining.
These negotiations are about the future of the auto industry, and securing an investment to ensure we can continue to have strong local communities, a thriving Canadian economy and good jobs for workers, now and for the next generation.
Unifor understands the needs of GM and we are ready to achieve a fair settlement for the workers and for our future. A settlement reached will set the stage for continued success in Canada.
Now, let's roll up our sleeves and get the job done.
Follow HuffPost Canada Blogs on Facebook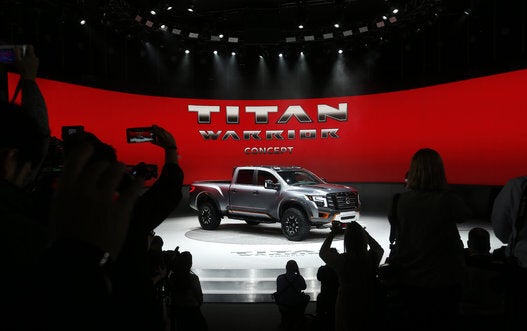 Detroit Auto Show 2016
Popular in the Community