The slap of the shoe on the pavement, the swing of one's arms, the gag-inducing pace, the hop to clear the curb, the bounce on the balls of the soles as the hill crests. The efficiency and speed, plodding by some, effortless by others. The repetitive motion and the heart rate that is awakened from a slothful existence.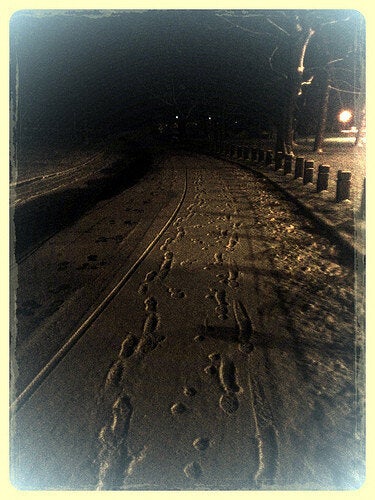 The act of running has me moving at a speed that is so different than on bike, car or transit, and although it's not so much faster than a brisk walk (by scale), the speed in which you travel -- real movement with the heart, legs, muscle in interplay -- have a way of activating my soul.
While I am moving while running, it is running that moves me in deeper ways that meditation could never give me. Running is my way to confront the self, but to find more that is hidden within me. I am seeking, striding, solving, negotiating, hurting, conquering, coping and -- ultimately -- living.
Just this past week, the Wall Street Journal ran an op-ed by a man who can't stand the 26.2 stickers, the 13.1 labels he sees on car bumpers. Chad Stafko, in essence, says running is an act of self-absorption, for showing off more than anything else.
I have a theory. There is no more visible form of strenuous exercise than running. When runners are dashing down a street in the middle of town or through a subdivision, they know that every driver, every pedestrian, every leaf-raker and every person idly staring out a window can see them.
We run because it reminds us what it is to live. And for the community it brings. The picture below is of the burial of Jim Kelley, a runner who died after being hit by a car while running. The mourners wore running clothes to his funeral, and followed him to the burial site.
It was Jim's last group run. It was exactly the way he would have wanted it, everybody enjoying the camaraderie. He would have thought it was the coolest thing on the planet. Read the rest here.
Running is a metaphor for life, says Haruki Murakami, in What I Talk About When I Talk About Running.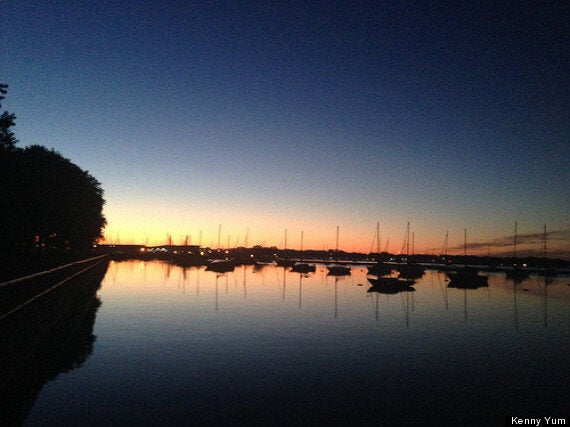 "People sometimes sneer at those who run every day, claiming they'll go to any length to live longer. But don't think that's the reason most people run. Most runners run not because they want to live longer, but because they want to live life to the fullest. If you're going to while away the years, it's far better to live them with clear goals and fully alive then in a fog, and I believe running helps you to do that. Exerting yourself to the fullest within your individual limits: that's the essence of running, and a metaphor for life -- and for me, for writing as whole. I believe many runners would agree"
A lot more than you think happens during a run.
I watched a remarkable film the other day. Two filmmakers interviewed people while they were running. It's an amazing depiction of how running strips down so much, you're left with your true self. Any runner would identify with the thoughts of the interviewees, many topics or things we think about when we run. They talk of love, loss, the search for meaning and reflection.
The film makers caught up to a man running with headphones, and asks him: "Who's your favourite person in the world?"
He runs, pauses, strides, looks down. Between huffs and puffs, 8 seconds later, he responds.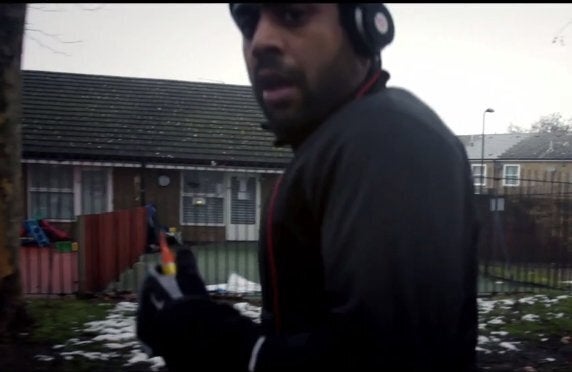 "It's because of him I'm here talking to you. He just had a stroke, just before the New Year and suffers from dementia. So I'm running the marathon this year for dementia."
"I love him.. he's the most important thing in my life man, and he's not well I wish you could understand. At the moment, he doesn't remember f**k all, and it breaks my heart."
I run circles around the neighbourhood to end up where I started, but when I arrive, I am in a different 'place' than when I left. The purpose of every trip varies. Sometimes it's to expend frustration, sometimes it's to test what is the maximum of my own abilities, sometimes it's to celebrate the fact I can move 26.2, sometimes it's to have some unplugging time and other times it's because I simply want to run.
Kenny Yum is the managing editor of HuffPost Canada and a 26-time marathon runner. He blogs on running at A Whole Lot Of Soles, where this was originally posted.