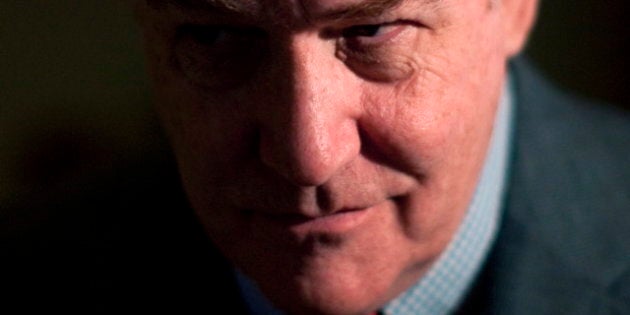 To sue or not to sue: Apparently, that's a question that often, it seems, preoccupies Conrad Black. Indeed, Black appears to relish suing or threatening to sue journalists, editors and others whom he believes have aggrieved him in one way or another.
I suppose I'm risking the same fate as several of my colleagues who have been sued recently by the ex-Canadian, who renounced his citizenship to take a seat in the British House of Lords in October 2001.
Black has the fortune (estimated publicly at $80 million) and the right to sue. But I hope (wishful thinking) that after reading the ideas expressed here, he refrains from instinctively reaching for his counsel's number, and chooses instead to engage in a largely civil, if pointed exchange, devoid of his usual dose of gratuitous remarks about an author who challenges him.
I say this because most writers and journalists know that journalism can be a rough-and-tumble enterprise. I spent 20 odd years as an investigative journalist at a variety of top-flight media outlets, and I know that my work more often than not invited bricks rather than bouquets. (I am certain this piece will prompt Black to hurl a brick or two my way.)
One discerns early in a career in journalism that all this unpleasantness comes with the prickly terrain. I'm surprised that Black -- who for many years was a major media proprietor and who clearly believes that he remains a journalist -- hasn't developed a hardier skin, particularly since he was recently described as admirably "tough."
Moreover, it's abundantly clear that in his voluminous writings, Black revels in proffering sometimes blunt epithets about his many adversaries in and out of the media. He often does this in his characteristic florid prose style. Yet, regrettably, he can't seem to take what he dishes out.
Well, so much for the tough guy.
Black has also been described as someone who doesn't whine. And yet he has been relentlessly insisting throughout his long odyssey through the American judicial "gulag," that he was a victim of over-zealous U.S. prosecutors. Time and again we have heard this tiresome "victimhood" refrain. I may be wrong, but to my ear, it certainly sounds like whining.
In any event, my challenge here is not directed principally at Black. Instead, it is directed to what I have dubbed his "literate cheerleaders" who rushed and gushed to his defence on the eve of his arrival in Canada on May 4 from a Florida jail cell after he served 37 months of 42-month sentence on fraud and obstruction of justice charges.
Collectively, their defence of Black was, simply put, hagiography. According to Wente, Atwood and Black are now "BFF." (Examples of this reverential treatment are catalogued in my July 6 Ottawa Citizen piece.)
In that piece I publicly challenged these high-profile journalists and writer to break their silence in light of the fact that Black filed a $1.25 million defamation suit against some of this nation's most respected editors and journalists a mere 45 days after his controversial return.
To date, I have had no response. I'm not surprised.
Among the individuals named in Black's defamation suit, however, are, as I have alluded to, some of Canada's most accomplished editors and journalists, including Random House vice-president and publisher Anne Collins, editor Ken Alexander, and author Bruce Livesey, whose best selling and much praised book, Thieves of Bay Street, is the source of Black's latest legal salvo against journalists.
Full disclosure: Anne edited my book about the sordid underbelly of Canada's spy service, Covert Entry. Ken was the editor of several investigative pieces I penned for Walrus magazine, back when it routinely published such work. Bruce is an award-winning reporter who is well known among the investigative fraternity for exposing the netherworld of Canadian finance.
Many writers with much higher profiles than mine can confirm that Anne and Ken are great editors. That's not hyperbole. It's the truth.
Despite Black's legal assault against Anne, Ken and Bruce, Atwood and company have chosen to conveniently look the other way on this important score. In fact, so has the Huffington Post, which provides Black with space for a regular column on its popular website.
Let me be clear, my intent here is not to muzzle Black (as if that were at all possible by this relatively obscure scribe) but to censure him and, most notably, his aforementioned supporters. Their failure as I see it -- notwithstanding their unbridled affection for Black -- is to remain silent in the face of this blatant attempt to silence his critics that, if successful, will inevitably have a chilling impact on the fourth estate, of which they and the Huffington Post are members.