It all comes down to hunger, really. Hunger for food, hunger for love, hunger for more. As lovers of snacks and of cultural critique, we know many hungry women -- those who are aware of their cravings and those who are not.
We've struggled with our own interests in cooking in a time when equality between the sexes is assumed but women still bear the brunt of domestic work. We know young women bouncing back from eating disorders, trying to renegotiate their relationships with food and their bodies, and mothers trying to square their nurturing instincts with their identities outside the home. We saw a society full of complicated tensions between women and food, simmering with expectations, appetites, guilt, gluttony and desire. But we found that many women were talking around those complexities without actually talking about them.
That's why, about two years ago, we decided to create a literary cookbook to explore the relationship between women and food. We wanted to cook up a conversation with some seriously smart ladies in which we'd munch on the most relevant aspects of consumption and control and croissants and cookery culture and ask, "Really? Why?"
We talked about who does what in today's kitchens, eighty years after the foundational domestic manual The Joy of Cooking, fifty after the desperate housewives-revealing feminist text The Feminine Mystique and about fifteen since overtly sexual food references became standard fare in pop culture (Lil Wayne gave us a whole new spin on lollipops, Sex and the City's term "funky spunk" gave us . . . well, you can Google that one).
We talked about why these roles and relationships still matter: because for all the ground gained by women, in the realm of food and beyond, it's apparent there's still a need to push, to poke and to question.
We teamed up with a small press called Feathertale, publisher of the National Magazine Award-winning Feathertale Review. Known for its daring satire and incredible design, Feathertale had in recent years faced some criticism for the lack of gender balance among its writers. You know the story: too many men, not enough women. Luckily, the Feathertale team not only understood our vision for the book but also wanted to grow their writer and readership in an X-chromosome direction. And with their support, this tasty conversation became possible and EAT IT: Sex, Food & Women's Writing was born.
When we opened the call for EAT IT submissions, a cohort of amazing writers served us a spread of new and brave and surprising ways that gender complicates the world of comestibles. Ways newer and braver and more surprising than we could have ever imagined.
Journalist Sarah Barmak plumed the depths of history for dark and delicious tales of women poisoners. Former Beijinger Maya Reid brought us the tale of a woman dining on animal penis as she considers her dwindling youth and promise for a romantic tomorrow. Writer and dancer Samantha Mehra explored her biracial identity through different ways to prepare potatoes, from scalloped to samosa. In "I Could Have Been a Dairy Queen," Lori Weidenhammer, lover of cream, shared the disappointment and frustration she felt when she tried, but couldn't, breastfeed.
We received submissions from celebrated fiction writers Sarah Selecky, Kathryn Kuitenbrouwer, Jessica Westhead and Amy Jones, and comedians Sara Hennessey, Rebecca Kohler and Evany Rosen, and periodically pinched each other to make sure it was all really happening.
What have we learned? Feminists, and feminist theorists, have long fought against the idea that biology determines destiny, often setting biology aside in order to investigate the myriad ways culture constructs gender. But as the stories in our collection make clear, women continue to have a unique relationship with food, which comes in part from their ability to provide nourishment for other human beings with their bodies. This biology is rooted in a long cultural history in which women were seen as either mothers, and therefore cooks, or objects of desire who better watch what they eat to maintain their figures. Despite all the progress made in terms of gender equality, these concerns persist, and have a significant impact on the lived experiences of women today.
EAT IT hit bookstores this week, where you can find it shelved among the literary journals. The collection's thirty-one pieces reveal that for many women, food is about love but also about power, biology, social obligation, experimentation, nourishment, pleasure and pain. Between our covers you'll find poison, potlucks and practical tips on the art of love; fast food, fine dining and feasting on one's young; intoxicants (good and bad), international experiences, and inspiration from organic veggies. Oh yes, and a deer heart.
Don't look so queasy! We're just a bunch of ladies in the kitchen, with a cleaver and a cause. You can trust us. Really. We just want you to laugh, wonder and rethink some of the familiar ingredients in your lives.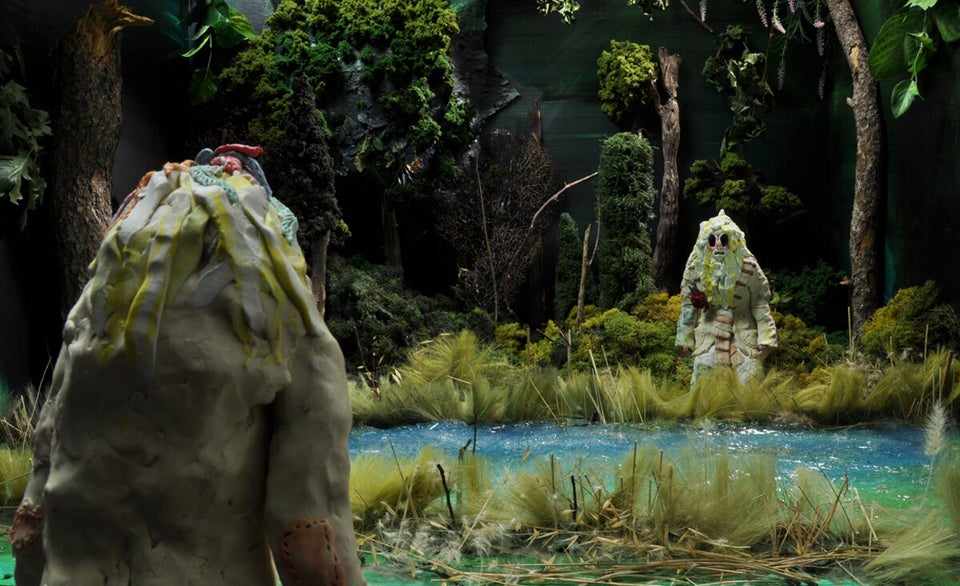 10 Female Artists To Watch
Popular in the Community