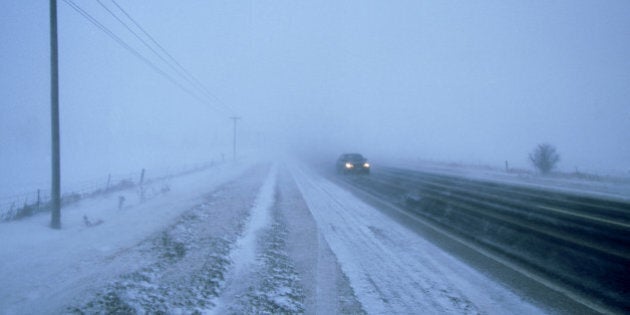 Weather is wilder than ever in 2015 and El Nino-induced Hurricane Patricia was the first major storm of the season. Recently in Toronto, we had heavy rainfall and high winds - the tail end of Patricia. Though the upcoming Canadian winter is supposed to be milder in temperature, some parts of the country could experience increased ice storms, and if these storms are as extreme as hurricane Patricia was, we're in for some trouble.
According to The Weather Network, in parts of eastern Canada and the Maritimes, winter will start off mild then come to a "cold conclusion". Before February, "an extended period of classic winter weather" will hit Manitoba through to the Maritimes, and above average participation - including ice storms - is expected for Atlantic Canada.
Emergency Necessities and Preparedness
The thought of winter ice storms brings back the memory of the horrific ice storms of 1998 that brought six days of frozen rain to eastern Ontario, southern Quebec, parts of Atlantic Canada, and the American eastern seaboard. Three million people were left without power and heat, some died, and hundreds were injured. The storm caused over five billion dollars in damage.
One of my friends who lived through the storm in Montreal told me that she remembered feeling trapped in her home. "We were lucky to find friends to host us because we lost power quite early," she said, "If our apartment building had had a generator, we would have been okay because we ran on gas."
Generators can be life-saving implements, and Americans who experienced Hurricane Katrina understand their worth. The U.S. survivalist site, Happy to Survive, is a hub for survival articles and this post is a good no-nonsense approach to generators, how to use them, and how to care for them. The author of this article says that generators are necessary for preparedness. "Think of them as a form of insurance: an investment that can help you in the future if something goes wrong. Acquiring one before a natural disaster occurs can give owners peace of mind which is well worth the cost."
I know extreme winter weather because I'm from Saskatchewan. Smart prairie drivers keep an emergency kit in the trunk of their car for winter driving because they know that if anything goes wrong out on a desolate highway, they could easily perish in the cold if they don't have proper supplies. The government of Canada has excellent emergency preparedness information on their website, and this page is dedicated to winter driving conditions and what to do if your car gets stuck in the snow. (The government site is excellent for emergency preparedness in general.)
There is no doubt that Canadians like their outdoor gear, but stores like Mountain Equipment Coop (MEC) offers much more than apparel. MEC also sells survival gear including knives, water kits, fold up blankets, canned candles, and the like. Though these may be aimed at outdoorsy types in general, it couldn't hurt to have a look to see if any of their items have potential for you. There are a lot of other online Canadian companies that sell survival clothing and gear, so there are many options for people who feel the need to go that distance.
•Having a plan for all members of your family, including the elderly and people with disabilities, is important for disaster preparedness. St. John's Ambulance offers some good advice for emergency planning for people with special needs.
•Businesses can also be affected by emergencies, and BDC for entrepreneurs offers an eight step plan to deal with disasters because as they say, "in an emergency situation, your employees may not be able to come to work. Your suppliers may face a shortage of the materials you need to continue your business activities, or demand for your services may simply decline."
These are just a few options for emergency preparedness; for those who wish to do heavier research into their specific needs, the internet has plenty of options.
We can't stop winter, but as it marches towards us, it is better to be safe than sorry.