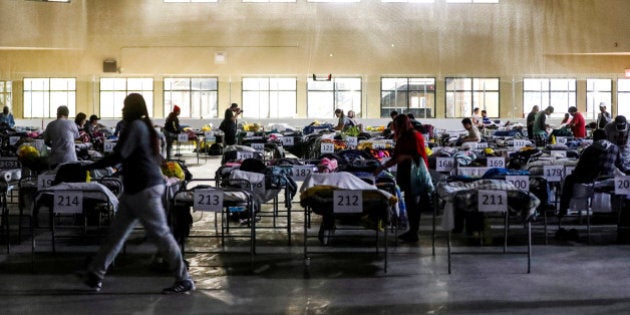 As I write this Fort McMurray, Alberta is burning. My twitter and Facebook feeds are full of images of terror and heartbreak, as a wildfire tears through the community and tens of thousands of people (currently estimated at 80,000) are displaced. It breaks my heart and it has me (along with many of you) wondering, how can I help?
The reality is that our compassion and zeal to lend a hand can often cause more harm than good. I love how our communities rally and step up to provide in a time of need, please take a moment to consider how you can best direct your efforts.
I have been fortunate to be able to assist on the ground with disaster relief in communities across Alberta including the Slave Lake fire in 2011 and the Calgary floods in 2013, and I've learned that cash donations, even small ones, are by far the most effective way to help those recovering from a disaster.
Right now the true needs are unknown. We look at the images coming through the media and our minds tell us, these people have lost everything. Unfortunately, we won't know the true status for a few weeks to come, and the areas of need are often much different then we perceive. Our compassion tells us we need to help these people get back on their feet, replace the things they've lost. So we start collecting food, clothing and household items for them.
We don't realize that it could be two years before they have a place to put them. We don't realize that someone will have to sort, warehouse and distribute what we collect. We don't realize that for heath and safety reasons a lot of what we collect cannot be distributed. This often leads to our own heartbreak when our hard work is turned away. In these first few weeks emergency shelters are equipped to provide the necessities of life: food, clothing, and shelter. Regardless of whether you are staying in a shelter or not, you can go there to gain access to these basic services.
An example of unforeseen need is that during a wildfire, electricity to the community is lost. This means that even if a home was not affected by the fire, every single fridge and freezer will need to be replaced. We are talking tens of thousands of appliances. This is not something that can be donated, shipped, sorted and tested. It takes extreme buying power, manufacture negotiations and logistical coordination at a global scale. This is why organizations like the Red Cross, in cooperation with government, are powerful tools in times of disaster.
No one wants to make the decision to throw away a community's good will.
Unfortunately, in recent years Alberta has seen more than its fair share of disasters. In 2011 a wildfire in northern Alberta forced the evacuation of Slave Lake, Alberta and dozens of smaller communities. In true Canadian fashion the support was enormous and donations started pouring in, but what happened next could surprise you.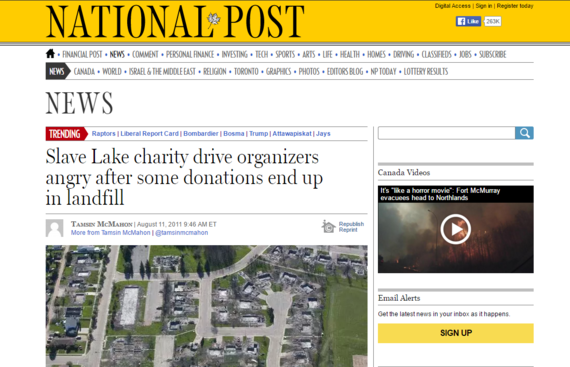 "They tried to give the excess donations to local charities, but none would take them. They eventually gave them to a local waste collection company to hand out to local groups. But there were so few takers that the company eventually dropped them off at a landfill."

National Post, August 11, 2011
During the Slave Lake fire response, many good willed organizations and trucking companies loaded up truck after truck with donated goods to be delivered to the community, only to find out there is nowhere to take them. If Calgary was overwhelmed with goods 550 km away from Slave Lake, you can imagine the impact on the community itself. No one wants to make the decision to throw away a community's good will.
Why organizations don't accept physical goods
This may have you wondering why more organizations don't accept physical goods. Here are a few reasons why:
Warehousing and sorting donated goods is a logistical nightmare
Individuals affected often don't have anywhere to store donated items
The majority of donated items are not fit for redistribution for health and safety concerns
Costs for shipping and storing donated items often outweigh the cost of buying new
Donations rarely fill the actual need at the moment
NGOs such as the Red Cross have pre-existing agreements in place to fulfill the basic needs of food, shelter and clothing
The collective buying power of an NGO can stretch your dollar further
If you are going to donate physical items the best avenue is to donate them to an organization you usually would on an individual basis. These organizations are well networked and will help to fulfill the need where needed, but are often not equipped to receive truckloads at a time.
1. Make a financial donation to an NGO involved in the relief effort
We always have a hard time with when it comes to giving financially to an organization but this is the absolute best thing you can do. The Canadian Red Cross does need assessments on every individual and endeavours to provide for their specific needs. This includes getting them back to work by providing items like work boots and specialty items such as prescription eyewear or medical aids. Their support often stretches out for years and when you donate to a financial appeal the money is earmarked for that and only that.
The Canadian Red Cross has setup a financial appeal for the Alberta Fires and you can donate here
The Salvation Army also has an appeal here.
2. Help others on an individual basis
If you see a direct ask or need from a family or individual and you have the means to provide it, please do so. Just be cautious about spreading the word and collecting more then they need.
This can be tricky as everyone wants to help but in these times skilled and highly trained individuals are required. Keep an eye our for calls for volunteers from reputable organizations and remember that volunteers will be needed for months to come.
I can tell you from personal experience that volunteering during a disaster is extremely taxing. You work long hours, get very little sleep and being there for people affected means you also carry their emotional burden. Volunteers may not always be willing to talk about their experiences but taking the time to thank them for their service can provide much needed energy and prevent burnout. During the Slave Lake fires comedian Tracy Morgan invited volunteers to attend his show free of charge and it gave me the mental break I needed to push through another week.
Thank you for your support!
Your compassion and desire to help shows the best of humanity. No matter how you choose to give, you will make a difference in someones life, you will make it better. Thank you for choosing to be amazing.
Follow HuffPost Canada Blogs on Facebook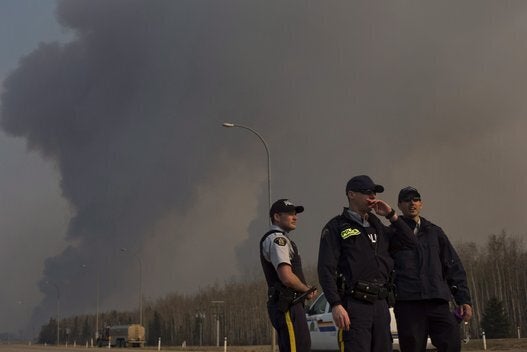 Fort McMurray Wildfire (May 2016)