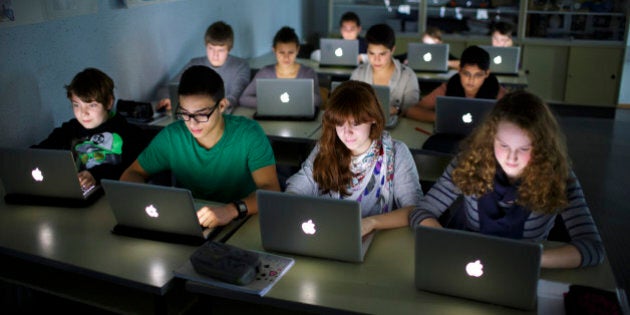 Concerned with the effects Wi-Fi in schools may have on their children's health, some Alberta parents are fighting to have better wireless management protocols in place.
Edmonton parent and public teacher Marcey Kliparchuk says she started to investigate the dangers of Wi-Fi four years ago, when a cell phone tower was going up next to her school.
"I quickly learned that many many medical organizations have put out warning and cautions about this issue," she told CBC News.
At Kliparchuk's urging, Edmonton Catholic Schools are now looking into any potential hazards Wi-Fi — which is carried by electromagnetic radio frequency signals — may pose in classrooms.
ECS trustee Marilyn Bergstra told Metro News the district will be looking for recommendations from administration.
"Although research data in this area remains somewhat inconclusive, it's my belief that we have a duty to act within an abundance of caution when it comes to the responsible use of technology in our schools as it relates, in particular, to the health of students and staff," said Bergstra.
Next month, parents across the province will have the chance to debate a resolution that could see control measures, such a installing switches that can turn off Wi-Fi in a classroom, or offering Wi-Fi-free schools.
If the bill passes, school boards and the government will be lobbied for change.
Some people are concerned that exposure to low-frequency magnetic fields can cause health problems like cancer, autism and leukemia in children. Others argue that some people have a heightened sensitivity to electromagnetic frequencies.
However, Tim Singer, director general of Health Canada's environmental and radiation health sciences directorate, told the Edmonton Journal that ""Wi-Fi equipment, including what is used in schools, emits radio frequency energy at very low levels and the scientific evidence tells us that it is not dangerous to anyone, including children."