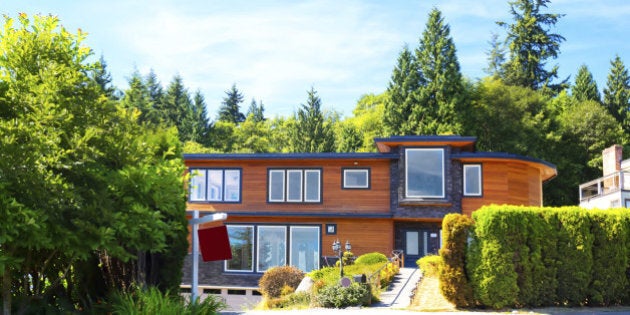 By this time next week, you will no longer be able to buy a home in Canada priced at more than $500,000 with a five-per-cent down payment.
Big deal or no deal? It seems to depend on what market you're in.
In December, Federal Finance Minister Bill Morneau announced the changes to the rules for government-backed mortgage insurance, designed to contain risks in the housing market, reduce taxpayer exposure and support long-term stability.
Effective February 15, for properties between $500,000 and $1 million, the minimum down payment for new insured mortgages will increase from five to 10 per cent for the portion of the house price above $500,000. The minimum down payment for properties up to $500,000 remains unchanged at five per cent, as does the minimum down payment of 20 per cent for homes priced at more than $1 million.
If you're first-time homebuyers buying a property of less than $500,000, the new rules won't affect you.
For those buying for between $500,000 and $1 million, you better get on it if you hope to buy before February 15 and still be able to put down five per cent. Otherwise, your options are to delay your purchase until you've saved the additional funds for the new, higher down payment or you come up with the additional funds.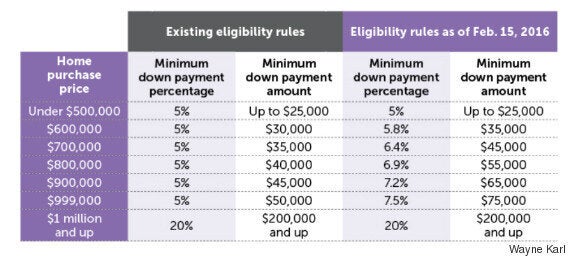 "We think the ramifications will be fairly minimal," says James Laird, president of CanWise Financial. "It will affect only a small number of buyers. People in the affected group may need to rent a little bit longer until they save the extra down payment required. They may still buy where they're planning to by getting help from family. Or they may still buy right away but buy a slightly smaller home than they were planning to."
While the new down payment requirement was intended primarily to slow the housing markets in Toronto and Vancouver -- where average home prices are $630,876 and $947,334, respectively -- those markets continue to hum along.
Figures for January 2016 indicate Toronto shows no serious signs of slowing. The average home price in Toronto grew to $636,728 in January 2016 from $583,084 in January 2015, according to the Toronto Real Estate Board (TREB). For the rest of the GTA, the average price grew to $627,871 from $536,139 over the same period.
Spike in homebuying activity
"We've seen a tremendous increase in sales month-over-month from last year, but I don't believe that has anything to do with the new mortgage rules," says Mark McLean, president of TREB.
"In early December there were a lot of buyers who backed away from the market because of buyer fatigue, and with more listings on the market now those buyers are jumping back in. In the residential freehold market, I don't expect to see any significant change in buyers' habits as the price point is significantly higher. The condo market is off to a record start in the downtown core, where in the east and west core of the city there are as many listings as there are sales which indicates continued support for the condominium sector. I don't believe that will change significantly with the new mortgage rules."
TREB expects home prices to continue to trend upward in 2016, with the average selling price forecast to settle between $655,000 and $665,000.
A recent Ipsos Reid survey showed a very small share of intending buyers in Toronto were planning on down payments of between five and 9.9 per cent.
"This suggests that only a small percentage of intending buyers will be impacted by the mortgage lending guideline changes announced by the federal government in December 2015," says Jason Mercer, TREB's director of market analysis.
Toronto-based mortgage broker and wealth planner Calum Ross expected the new rules to cause a spike in activity before the deadline, particularly on homes priced between $500,000 and $1 million.
"Market stats show there has been more action," he says.
At least one mortgage expert suggests that additional mortgage regulations could be on the horizon if this latest round of changes don't have their desired effect.
"User requests to ratehub.ca mortgage brokers are up almost 50 per cent, which indicates that buyers could be making a push to beat the February 15 deadline," says Alyssa Richard, CEO of ratehub.ca, a mortgage rate comparison website. "It's very important to keep an eye on whether this will actually slow the housing market. We could see more legislation introduced in the future if regulators are not seeing the cooling effects they are hoping for from this change."
CIBC Deputy Chief Economist Benjamin Tal says Calgary is among the markets to be hardest hit due to the large share of high-ratio mortgages in this city. The new measures are estimated to impact about 10 per cent of new sales there, while in Toronto the figure is five per cent; in Vancouver, just 2.5 per cent.
January figures from the Calgary Real Estate Board show that the market is indeed enduring tough times, whether related to the new rules or the state of the provincial economy. Sales and listings are down double digits, year-over-year, though the average price is holding its own, down just 0.71 per cent to $457,359. Days on market, however, are way up -- more than 24 per cent -- to 51 days from 41.
In Edmonton, things are even worse, with the average price falling 6.34 per cent year-over-year in January to $339,714.
Follow HuffPost Canada Blogs on Facebook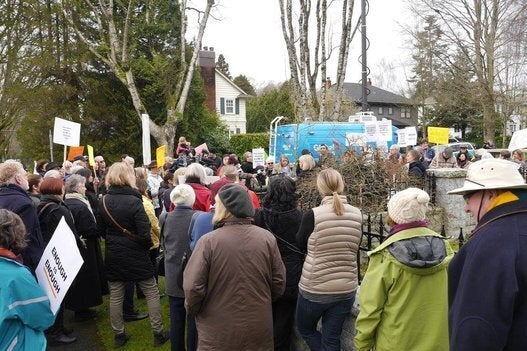 Vancouver Protest Against Teardowns
Popular in the Community