All of a sudden, there's a lot more interest in Carole Middleton, the Duchess of Cambridge's 58-year-old mom and the only biological grandmother of the littlest future king of England.
With Kate and her mom extremely close, and the new parents both eager to live somewhat of a normal life, you can be sure Grannie Middleton will want to be very hands-on in her new royal role.
There's been a lot of buzz about how the Prince of Cambridge will be the first high-ranking British royal to be raised with the middle-class values that his mother was brought up with. The baby may get more privacy, which is something Prince William would want to embrace, after experiencing first-hand how intrusive the public spotlight can be for a child.
So what kind of grandmother will Carole Middleton make? She's been described as both humble and ambitious (not to mention she looks more like Kate's sister than her mom), but also a pushy social climber, who was very involved in supporting Kate's relationship with William from their university days up until the royal wedding.
Story continues below slideshow: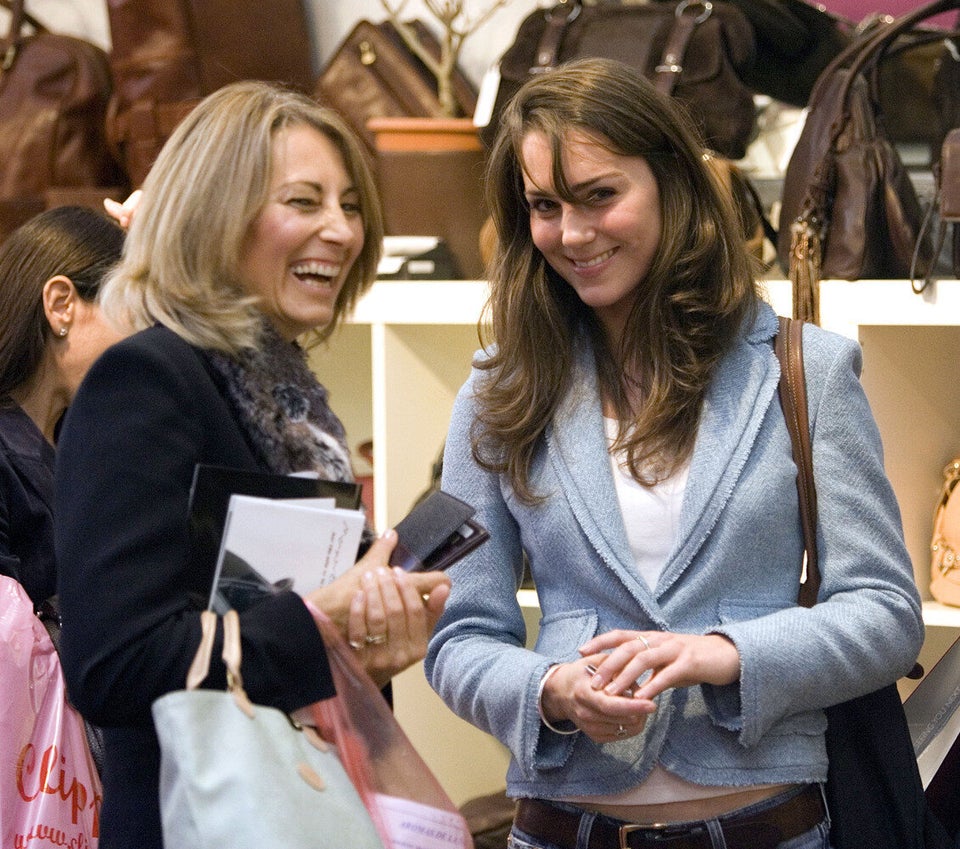 10 Facts About Carole Middleton
"She is certainly ambitious and industrious, qualities that some have sought to portray as faintly soiling, but could equally be regarded as to her credit," notes the Guardian.
According to the paper, her first home as a baby was her grandmother's tiny and condemned apartment in west London. She met her husband, Michael Middleton, when they were both flight attendants for British Airways, and they launched a successful party supplies company reportedly worth 30 million pounds today — which probably allowed them to afford very expensive private schools for the children and a big reno to their 4-million-pound manor in Berkshire.
Kate spent a lot of time at her parents' home before the baby was born and is reportedly planning to spend the first few weeks of her son's life there as well.
"She has already played a central role in helping her daughter to prepare for the birth of her son, and Carole Middleton will play a uniquely influential part in the upbringing of the future monarch as the Duke and Duchess of Cambridge break with royal tradition," says the Daily Telegraph.
This is especially true since Kate (unlike Prince William and Harry) reportedly never had a nanny and is not expected to hire one full-time, marking the first time in centuries that in-laws have been so integral raise a future king or queen, adds the paper.
Rosemary Albone, an expert on royal nannies at caregiver services site Ca.Care.com, says that says both Kate and Will will have to consider traditional Royal Family upbringing and blending it with their own modern touch.
Will and Kate have already set a precedent as a modern-day couple, becoming the most senior members of the Royal Family to live together before marriage.
And unlike the Queen Elizabeth II, who promised to "obey" Prince Philip when they married in 1947, Kate only vowed to 'love, comfort, honour and keep" him when they wed two years ago.
We may see more of the new baby as well. "The role of the parents has changed over the years, as nannies would watch the children while their parents toured countries for extended periods. However, the role later evolved as the nanny and child would tour with the parents. This evolution provides a more parent facing role for the modern royal nanny and a life of travel with the family themselves," Albone says.