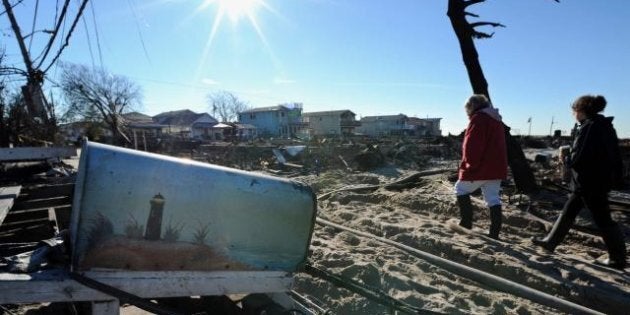 As Americans pick up the pieces and try to move forward with their lives in the aftermath of Sandy, the media have essentially shifted their focus and moved on to the news of the day -- the 2012 elections. This is generally the case with the media coverage after a natural disaster, especially the television news media. They seldom take time to explore the deeper connections.
Hurricane Sandy -- so far this year's worst natural disaster -- unleashed her wrath, and certainly left behind indelible scars in the hearts and minds of those afflicted and affected. In the past three years we've also witnessed some of the most devastating hurricanes including Igor in 2010 which killed over 275 people, Irene in 2011 which killed close to 70 people, and of course Sandy just last week, which killed more than 60 people in the Caribbean and 100 plus in the Eastern parts of the United States.
But the reality is, hurricane Sandy isn't the only extreme and unusual weather event we've experienced. We've had a year of record-breaking temperatures, and as of September 2012 have witnessed 329 consecutive months of global temperature above the 20th century average.
So would it be reasonable to say that something strange is going on with our planet? Is it even remotely possible that the drastic weather patterns could be connected to climate change?
As it turns out, extreme weather events are caused by climate change according to one of the most respected climate change scientists in the world. In an August 2012 opinion piece in Washington Post Dr. James Hansen of the NASA asserted,
"These weather events are not simply an example of what climate change could bring. They are caused by climate change. The odds that natural variability created these extremes are minuscule, vanishingly small. To count on those odds would be like quitting your job and playing the lottery every morning to pay the bills."
For a long time North Americans were oblivious to a problem taking place in geographically isolated places, because the images portrayed on the television media were those of the melting glaciers in Greenland and droughts in Africa. The television media thus neglected to bring the global climate change message closer to home, and in the process seem to have disengaged people emotionally from the issue.
But now climate change is knocking on our doorsteps. In the wake of hurricane Sandy, will the television media step up to the plate and provide effective coverage of climate change? Actually this is a perfect opportunity to reignite the topic of climate change and connect the dots, rather than squander away from an issue that could have devastating ramifications on our future generations and human civilization at large.
BLOG CONTINUES AFTER SLIDESHOW