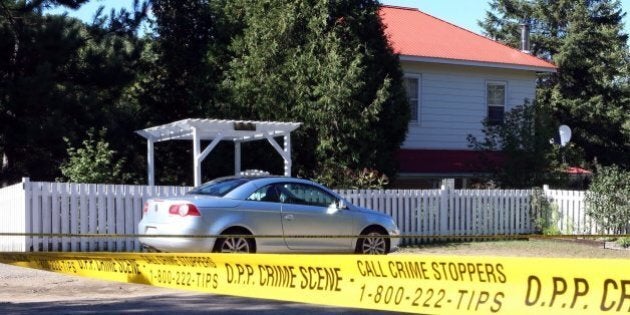 On Tuesday, three women were killed -- the suspect their former romantic partner. Basil Borutski, 57, is alleged to have killed Carol Culleton, 66, Anastasia Kuzyk, 36, and Nathalie Warmerdam, 48.
A mass shooting fueled by misogyny is no doubt a national tragedy. So why does it seem like those who want to lead this country are just not that interested in it?
To date, there have been no official statements from the leaders.
A day after Tom Mulcair and Justin Trudeau were broadcast by Up for Debate organizers waxing poetic about being feminists, three women were killed and they've had little to say about the shootings. Gilles Duceppe is still trying to tell women how to dress. Elizabeth May's silence is bewildering considering her commitment to ending violence against women. And just as missing and murdered indigenous women are not a high priority for Harper, his record shows, neither are other women. He shut down 12 out of 16 Status of Women offices during his term.
These shootings happened in Wilno, Ont. -- 180 kilometres west of Ottawa. And it can't be characterized as an isolated incident. A woman is killed by her partner every six days in this country, according to the Canadian Women's Foundation. That's about 60 women a year, certainly more than deaths by terrorism on Canadian soil -- a subject that has taken up much of the leaders' time and will likely be focus of Monday's debate on foreign policy.
So how many women have to die before this issue warrants the political attention it deserves?
We started this year with the news that 53-year-old Phu Lam went on a shooting spree in Edmonton, leaving eight dead -- including his wife, her sister, her parents and two children. Lam had threatened to kill his wife on multiple occasions and had a lengthy criminal record.
And there are those stories that don't make it past the local news -- like the Toronto mother of three, Suraiya Gangaram, who was stabbed to death in May, allegedly by her ex-boyfriend, Lascelles Allen. Her 14-year-old daughter found her lifeless body when she got home from school. Allen also had previous assault charges and had been ordered to have no contact with Gangaram.
From Borutski's past interactions with the law, it was clear the threat he posed to his former girlfriends was very high.
We know that Borutski had been accused of threatening to kill multiple intimate partners. That he had multiple convictions -- for threatening to harm Nathalie Warmerdam's son, threatening to kill an animal and assaulting a relative and an OPP officer in 2012. He served 33 days after being credited for time served of a 150-day sentence.
Less than two years later, Anastasia Kuzyk reported to police that her former boyfriend had stolen her car -- and then reported he had beat her viciously the month before.
"I thought he was honestly going to kill me. I could see the switch go off in his eyes," she said to police, the Ottawa Citizen reported.
He was convicted of assault, theft of a motor vehicle and possession of a weapon. He already had a weapons ban against him and this incident earned him a lifetime ban and a 19-month sentence. Twenty months later, Kuzyk is dead.
We know that women rarely report violence -- estimates vary, but show that only 10 per cent to 30 per cent of incidents of violence are reported. By the time women do go to the police, the situation has often escalated to the most serious forms of violence, such as being beaten, choked, or having a weapon used against them. And when women go to the police, it's because they want to stop the violence and receive protection.
We know women don't report violence for a number of reasons. Those given by women include they feel it's not important enough, that it's a personal matter, they didn't want their spouse to be arrested, lack of confidence in police and that they didn't want others to know.
"Kuzyk told the officer that she didn't seek medical attention [when beaten] because she was afraid of what people would think, according to court records," the Citizen reported.
Women in small communities aren't the only ones who hide the violence they are experiencing for this reason, but living in a rural area has its own unique challenges.
In a Q&A with Chatelaine, JoAnne Brooks of the Women's Sexual Assault Centre in neighbouring Pembroke, Ont. points to these issues.
"The patriarchal and religious values that are so entrenched. The access to weapons -- many men here are hunters. There's a lack of daycare, and because of the economic crisis, [women are] forced to remain in abusive relationships even when they would like to leave," Brooks told the magazine.
We know that women don't leave their partners for many reasons -- financial dependency, lack of social support and most harrowing of all, because they are afraid they and/or their children will be killed if they leave. One in four women who are killed by a spouse are murdered after leaving the relationship.
The reasons why women experience violence, choose not to report violence and stay with violent partners are rooted in societal problems -- not individual ones. As Kate Heartfield writes in the Ottawa Citizen: "Rates of violence against women -- and even changes in those rates -- vary widely across the country, which suggests it's not an inherent fact of the human condition but connected to what Stephen Harper might call, with a sneer, sociology."
Women need support now while we also need to do everything we can to prevent further violence. Why is there no national outcry? Where is the rage? Are Canadians that apathetic?
I'm not and I don't think most of us are. So please, let our leaders know women being needlessly killed in this country is definitely an election issue.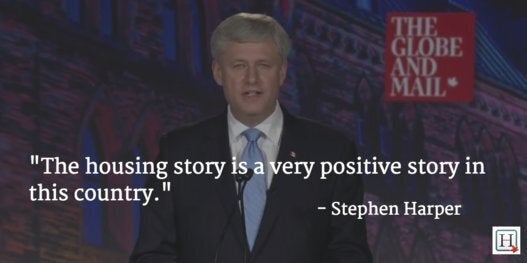 Best Quotes From Globe And Mail Election Debate