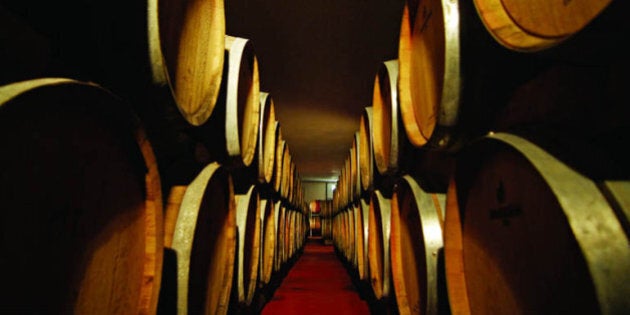 Fertile soil, a range of unique climates and an abundance of artisans transformed a corner of Ontario's Southwest into the birthplace of Canadian whiskey and a leader in the nation's wine industry. In partnership with Ontario's Southwest, Tourism Windsor Essex Pelee Island, and Ontario Tourism, we say "cheers" to the humble beginnings of these beloved beverages.
Thaddeus Smith might not be a household name, but he's the man we have to thank for the Canadian wine industry. He and his partner D.J. Williams quickly learned that Pelee Island was an ideal place to grow grapes thanks to its long growing season and unique microclimate.
They started with just 40 acres of land and built the Vin Villa Winery, the first commercial winery in Ontario, but others were soon drawn to the region. In 1919, Hamilton and Company launched a successful business, turning Ontario's Southwest into a leader in the industry.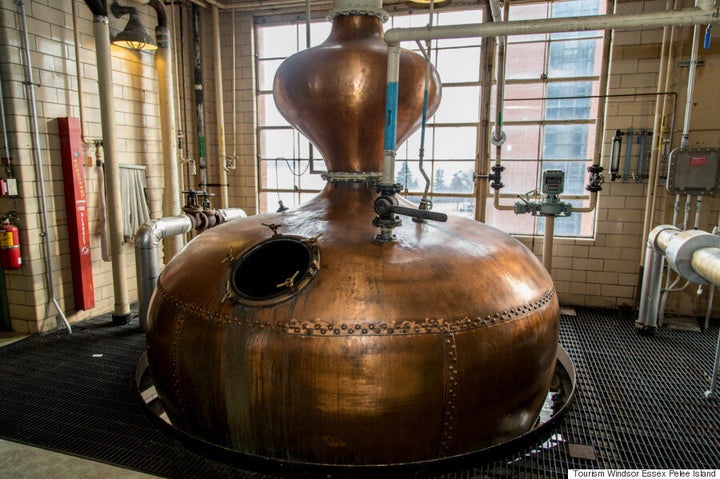 Pour us a glass of whiskey
Decades earlier, the area had made a name for itself in whiskey production. John Philip Wiser, the man behind the brand, took over his uncle's distillery in 1857 and in just five years the company was producing more than 100,000 gallons a year. Today, J.P. Wiser's is the oldest continually produced whiskey in Canada and is still made with pride in the city.
Around the same time of Wiser's rise in popularity, Hiram Walker launched a business destined to become Hiram Walker & Sons, the biggest Canadian whiskey distillery and one of the largest in North America. The Americans boosted the company's success during Prohibition when 75 per cent of the liquid gold imbibed stateside was smuggled to the U.S. via Windsor. It was an era that left its mark on the region. For well over a decade, the steady flow of income to the local distilleries from rum running made Windsor's economy boom. The notorious tales from that time come alive during The Rum Runners Tour, a popular, immersive experience that includes entertainment, live storytelling and lunch.
The time-honoured tradition continues
The Lake Erie North Shore wine region surprises many visitors, both for its beauty and for the quality of its wines. It's now home to more than 18 wineries with a distinct terroir that also happens to be located at 42 degrees latitude -- the same coordinates of California's Napa Valley, Tuscany and Burgundy. This, along with expert winemakers, explains why the wine in the region is so good!
Pelee Island is another favourite for wine connoisseurs. Visitors can tour Pelee Island Winery to see what's new in the modern age and taste crisp whites and tantalizing reds. Come with passport in hand too – one created especially for tourists in Ontario's Southwest. Purchase the EPIC Wine Country Passport online for just $10 and reap the benefits of its savings and exclusive offers.
When visiting Windsor, put a distillery visit high up on your to-do list. Hiram Walker & Sons, for the first time in 16 years, is now allowing guests in on a limited basis through WindsorEats and its Drinks of Walkerville Walking Tour. It's an Ontario Signature Experience that puts history and sipping front and centre with a tasting of five whiskies.
In Amherstburg, Wolfhead Distillery offers double barrel whiskey and small-batch vodka, available to sample through tours and onsite tasting, carrying on the region's proud tradition of finely crafted spirits.
Conveniently many of the best makers of fine spirits and craft beer have come together to form the Barrels, Bottles & Brews Trail. It's a celebration of Windsor and Essex County's commitment to excellence and tradition. Download the mobile app or pick up a free passport at participating locations.
This summer, follow your thirst to Windsor Essex Pelee Island. Sip, savour, smile and repeat. In this dynamic region, you'll see how the locals invented good times and carry on that tradition today. Plan your summer visit now.