Canada, grab a paper and pen, because there's one name you need to remember going into 2017. And that's Winnie Harlow.
Born Chantelle Brown-Young, the model, who was discovered by Tyra Banks, opens up to editor-in-chief Vanessa Craft about feeling confident and comfortable in herself. And even though she has the skin condition vitiligo, she's tired of having to address it all the time.
"I'm very sick of talking about my skin," Harlow said. "I am literally just a human. I have the same brain as you; there's a skeleton under my skin just like yours. It's not that serious."
"People try to put [pressure] on me — like I speak for women, for black women. There's so many other pieces to me. I'm not a vitiligo spokesperson just because I have vitiligo," she told Elle Canada.
"I'm just living life. And if that inspires you, I'm proud, but I'm not going to put pressure on myself to be the best person in the world and tell everyone I have vitiligo. If you want to know about it, you can do your research. Either way, I'm not in the dictionary under 'vitiligo.'"
"I feel like I am an inspiration. That's the word I prefer. I don't believe that I have to be a role model, someone to be emulated," she said.
For Winnie, it's all about loving yourself and doing what you have to do to make yourself comfortable and happy.
"I love myself the way I am, but people will always message me about other people with vitiligo who cover their skin," She said. "'Winnie Harlow, you need to tell them that they need to love themselves the way they are and stop covering their skin!' No! If that's what makes them comfortable and what makes them happy, let them be."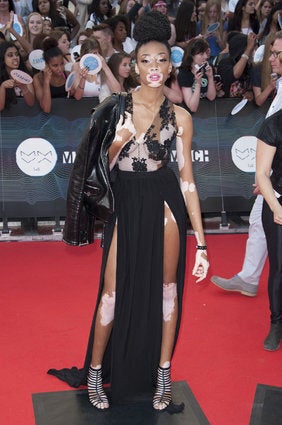 Winnie Harlow