Canadian model Winnie Harlow may be an advocate for body positivity, but she also thinks it's perfectly OK for people to want to hide their flaws — and they shouldn't be shamed for doing so, she says.
"Contrary to popular belief, I don't just stand for being confident," the former America's Next Top Model contestant, who also has vitiligo, wrote in the caption. "I also stand for doing what makes you happy."
"Why shame someone for what makes them happy?" Harlow added. "We live in a time of social media, where everyone with a keyboard thinks they have the right to a negative opinion or to judge each other when really the best use of our platforms are empathy, understanding & support. We all have insecurities, and we are different and yet so much alike."
And the runway star's 1.9 million followers seem to agree.
"Thank you so much for speaking up what others feel," one person replied. "I get made fun of all the time because I wear too much makeup, then when I take it off people say I'm ugly! I'm done living by societies standard and doing what makes me happy!"
"This is so inspirational, I've never like the way I looked," another user added. "In fact, I still don't. I've had psoriasis for as long as I can remember, psoriasis is a skin condition which gives you patches of dark and light skin. I have always been ashamed of it and tried to cover it up. But now I feel more confident knowing that this is how God made me special."
The post currently sits at over 1.1 million likes.
But this isn't the first time the 22 year old has spoken up about body confidence.
The model also shared similar sentiments about not forcing people to embrace their imperfections.
"I love myself the way I am, but people will always message me about other people with vitiligo who cover their skin," she said. "'Winnie Harlow, you need to tell them that they need to love themselves the way they are and stop covering their skin!' No! If that's what makes them comfortable and what makes them happy, let them be."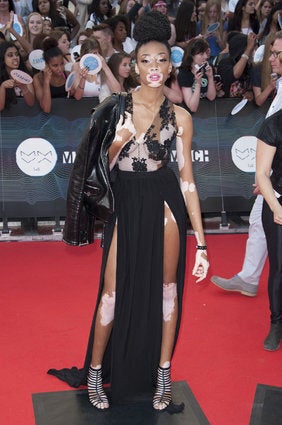 Winnie Harlow