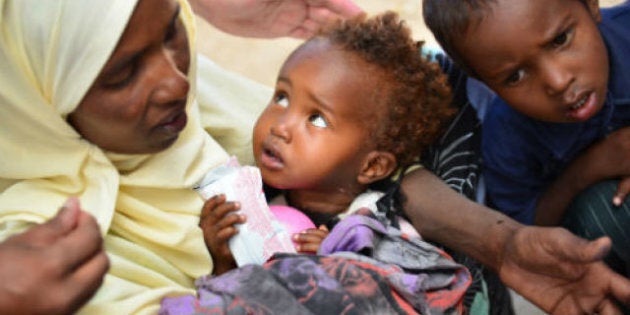 It's not often that you think of children in Ethiopia as "privileged." Any Canadian near a TV screen in 1984 will recall the country's famine. They'll remember images of emaciated children struggling for breath. Some were just hours away from death.
Yet on the eve of World Health Day this Sunday, girls and boys in Ethiopia are among the developing world's most fortunate. In the past 20 years, notes the country's prime minister, "Ethiopia has witnessed steady social and economic development, together with rapid expansion of rural health services."
In simple terms: more Ethiopian girls and boys go to sleep now without a monster growling in their bellies. More newborn babies live to be little kids, because their moms' bodies are making enough nourishing milk to help them grow. And more little kids get to turn five because they haven't died of -- perhaps haven't even contracted -- illnesses like malaria, pneumonia and diarrhea.
The United Nations notes that Ethiopia is making good progress toward meeting two key Millennium Development Goals (MDGs), objectives established following the Millennium Summit of the United Nations in 2000. The goals most directly affecting the well-being of children and their mothers are: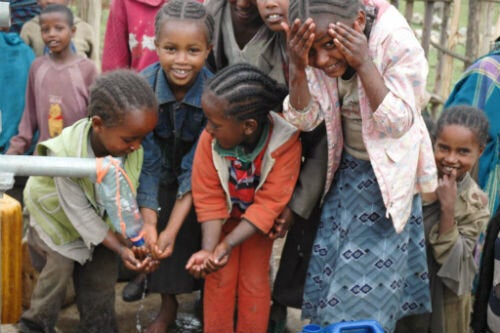 Ethiopian children in this rural village are well nourished, and drinking clean water.
Goal #4: To reduce by two-thirds the number of children dying before their fifth birthdays.
Goal #5: To reduce by three-quarters the number of women who die during pregnancy and childbirth.
The progress of "fortunate" countries such as Ethiopia, Laos, Liberia and Bangladesh is something to be enthusiastically celebrated. Millions more babies and young children are thriving; thousands more mothers are healthy and better able to care for their little ones.
But what about children in countries I haven't mentioned? What about those whose baby brothers and sisters are just as likely to be born dead -- or to die in the first week of life -- as they were at the turn of the millennium? What about children whose mothers won't survive pregnancy or childbirth? What about children for whom the buzzing of mosquitoes means infection with the lethal malaria virus, simply because they have no mosquito net? Or children who pay the death penalty, simply for drinking the only water available?
For children living in what we at World Vision call "fragile states" -- which include Afghanistan, the Democratic Republic of the Congo, Haiti, Pakistan, Somalia, Sudan and neighboring South Sudan -- life is marked by desperation and uncertainty. Their governments and economies simply aren't strong or stable enough to provide even the most basic healthcare. Simple, preventative, highly effective measures such as mosquito nets, Vitamin A supplements or checkups for pregnant women are unattainable luxuries.
In Somalia, a World Vision team met a little girl named Nimeo. Her father is a government soldier in Somalia's long-running civil war, and he's stationed on the other side of the country from his family. His subsidy of $35 per month is nowhere near enough to properly feed his five children, and two-year-old Nimeo is severely malnourished.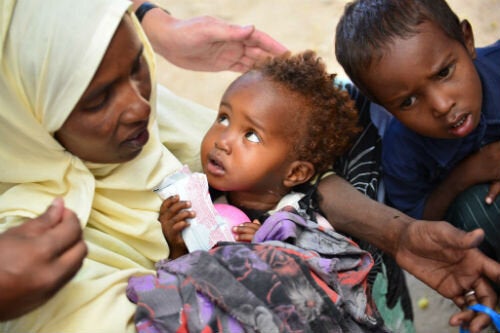 In Somalia, two-year-old Nimeo is caught up in the effects of a long-running civil war.
Working for the most vulnerable
With only 1,000 days to go until the 2015 target date for meeting the Millennium Development Goals, the UN says it's time to further accelerate action on issues such as hunger, access to education, clean water and maternal health. But what about those children who haven't benefited from the global push to date?
Here's what World Vision is urging the Canadian government to do:
Continue to lead and prioritize the work being done to improve child and maternal health around the globe. They must do this even after the commitments made at the G8 Muskoka Summit have been fulfilled.
In developing future government initiatives, take into account the success stories, where programs aimed at improving child and maternal health have worked well.
Look at the gaps -- and children who have fallen into them -- being ever-vigilant about reaching the world's most vulnerable children and women.
Our country has been a world leader in child and maternal health, providing the right interventions at the right times. Tremendous progress has been made. But for fragile states, there is still a long way to go. We can't abandon the world's most vulnerable children and mothers, particularly as we're seeing how well even the simplest health interventions can work to save lives.
We need to at least start by giving children in Afghanistan, the Democratic Republic of the Congo, Haiti, Pakistan, Somalia, Sudan and South Sudan a chance to live the 'privileges' of life in Ethiopia.