It's not the type of comment that usually gets said during an all candidates debate, but the race in Winnipeg Centre — and specifically NDP incumbent candidate Pat Martin — is far from typical.
Martin, the long-time MP, is well-known for his colourful language. He once called Conservative organizers "rat-faced whores" and recently made headlines for discussing his uncomfortable underwear in the Commons. So it was perhaps with a shrug that many residents in downtown Winnipeg responded to the NDP candidate's latest outburst towards an opponent, this time a local Green candidate who was prodding him on mental health issues in the riding.
Martin has held Winnipeg Centre since 1997. In every election since, he has increased his percentage of support. In 2011, he won nearly double of the votes cast for his closest opponent, a Conservative. Nationally, the NDP candidate is known for his campaign against the asbestos industry — he onced worked in an asbestos mine — as well as his quest to end trans fats and abolish the penny.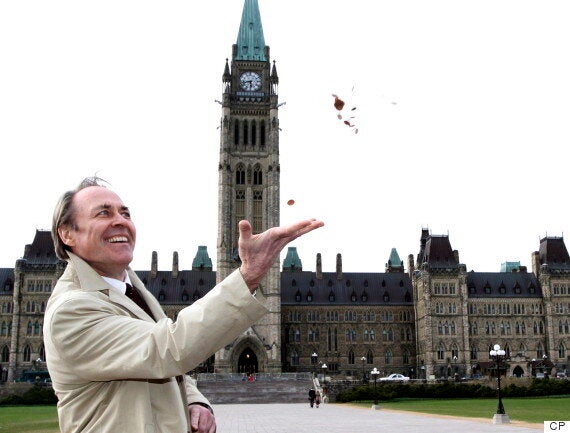 Pat Martin tosses pennies in the air on Parliament Hill in 2012. (Fred Chartrand/The Canadian Press)
This year, however, the Liberals have targeted his seat. They've pumped resources and tried to draw attention to what they believe is a star candidate that can end Martin's 18-year run.
Robert-Falcon Ouellette is a 38-year-old Cree, a married father of five, with a PhD and two master's degrees, and who served in the Canadian Armed Forces and the naval reserves for 19 years. He arrived in Winnipeg four years ago to take a position as the program director for the aboriginal focus programs at the University of Manitoba and launched himself into the city's mayoral race last year. He came in third, without any organization, and was deemed a Cinderella story.
He was courted by the NDP and met with leader Thomas Mulcair but decided last winter to run for the Liberals.
In a wide-ranging interview, Ouellette said he found Mulcair to be "very, very smart" but felt that Liberal Leader Justin Trudeau understood people better and that he'd be able to bring about more change with the Liberals.
"[Trudeau] was someone I would follow to the end of the Earth and go into combat with, if it came to it," he said.
Martin: 'He is full of shit, frankly'
Martin said his opponent is "deluded."
Ouellette began his campaign, according to the Winnipeg Free Press, by comparing himself and his run for office to executed Métis leader Louis Riel and the Red River Rebellion of 1869-70. He also suggested that Co-operative Commonwealth Federation leader Tommy Douglas would have voted for him if he could, because he's promoting policies that would make the NDP icon proud.
"The man seems to have more gall than Caesar … and he had all Gaul," Martin told HuffPost. "He claims to be like Louis Riel … [and has] a disturbing kind of messianic delusion."
"He is full of shit, frankly. I mean, who do you think you are? You show up, and three years later you are going to be the mayor of Winnipeg. And that doesn't work out, so, that's okay, I'll be the member of Parliament?" Martin told HuffPost.
Martin said his challenger settled on the Liberals only because he thought that party gave him better chances of winning. "That makes you a political slut, too."
Ouellette said he ran for Winnipeg's top job because he believed most people didn't have an "adequate understanding" of some of the important issues facing the city.
"There is this large divide that goes on in the city between indigenous people, francophones and people of European descent, but also some newcomers… . What I wanted to demonstrate is we actually have these common values that we share, but there's also many solutions to the large social issues facing each other," he said.
After the campaign was over, Ouellette said, he felt he had built up all this momentum and it would be a shame to let the opportunity to make change go by. So he turned to federal politics.
Ouellette raised in difficult circumstances
Ouellette's personal story is unusual.
He was born in Calgary, but his family is from Saskatchewan's Red Pheasant First Nation, northwest of Saskatoon. He was raised principally by what he described as a mother with little education who suffered from major depression. He said his father was a residential school survivor, an alcoholic who was in and out of the picture.
"There were times where we didn't have food on our table. There was no breakfast, there was no lunch, no supper."
He recalled once spending a whole summer homeless.
"We were camping out in city parks, travelling across the country, my mother looking for work. We ended up in Winnipeg, we did some couch surfing…. kids slept on the floor. It was on Colony Street.
"For me growing up, there was this realisation about what's really happening and going on in our country. And that a lot of people, perhaps in the middle class, don't, or sometimes fail to, understand."
When he was in Grade 7, his mother became concerned by his grades. He was flunking.
"She said we had to change the course for our family history … or you're going to end up just like your father," Ouellette recounted. "She saw an ad in the newspaper and said I'm going to send you to private school."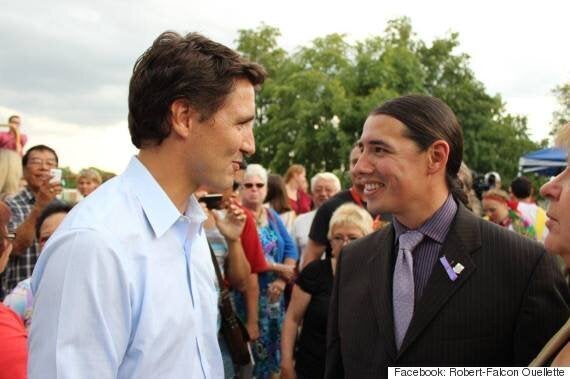 Ouellette chats with Liberal Leader Justin Trudeau. (Facebook: Robert-Falcon Ouellette)
Before taking the admission test, his mother bought him to Kmart. She borrowed $150 from her mother and bought Ouellette an Egyptian cotton shirt and a pair of MC hammer pants. She told him to "look people in the eye" when he got there.
"Show confidence. Demonstrate that you know who you are, and, when you look people in the eye, they think you have confidence, even if you're not confident."
Two weeks later, he received an acceptance letter from Strathcona-Tweedsmuir School — an elite Calgary private school where tuition was $10,000 in 1991, he said. It's now more than $20,000.
Ouellette said he asked his mother how she'd ever afford it. She told him she'd figure it out. She asked her employer for a letter stating that she made $50,000 — she was making $10 an hour — and had been employed for four years, he said, so she could get a bank loan. The employer reluctantly agreed.
"She paid the school fees and we went down to the school [where I] got myself a blazer, a tie, two shirts because that's all we could afford, and one pair of pants, and a pair of penny loafers and I was off into that school," he said.
"That was the greatest experience of my life. It was so hard, and it was hard because I didn't believe I belonged there but … these teachers looked at me no differently than any other student because they didn't know that I was living in a one bedroom apartment with my brother and my mother…. They didn't know that we went to a laundromat, that our apartment was in a kind of slummy little area of town. They didn't see that and neither did the other students...I never brought anyone home."
Ouellette said the experience taught him anything is possible. After he graduated, he went to the University of Calgary, and then joined the military.
He said he moved to Winnipeg to find a different way to contribute.
"People sometimes think that the poor don't work. It's hard to be poor…. I see them walking around Winnipeg, picking up bottles out of the garbage cans. That's hard work. It's hard on your spirit, because you know people look down upon you and they think less of you," he said.
When he looks at Winnipeg Centre, one of the poorest ridings in the country, the Liberal candidate said, he thinks people need change.
"A lot of people think they've been taken for granted," Ouellette said of his NDP opponent's record. "I respect his service to his country…. But still, after 18 years, being the poorest riding in the country and not to have affected change with [his] cousins in the NDP provincially would not be enough for me."
Ouellette is especially incensed by treatment indigenous children receive at the hands of Manitoba's Child and Family Services ministry. A report just last week noted that four out of every five missing persons cases in Manitoba concern a child in foster care.
"This is a coming tsunami. Not only from Manitoba but for the rest of the country about these indigenous children taken into the care of the state," Ouellette said.
Children are often taken out of their homes not because they are abused, he said, but because their needs might be neglected, as in there is a lack of housing or food. "My mother loved me and I'm thankful she kept me and didn't say 'I'm going to give you up to CFS,'" he said. "Even though it was so hard,she sacrificed her body, her spirit, for me and she sent me to private school to give me a better future. … I think more people deserve that."
Ouellette said he never expected that Martin would solve Winnipeg Centre's problems completely or that Winnipeg would be become the richest city in the country. "But I don't want them to be the poorest. I want them to do well."
'Pat Martin does not live on Salt Spring Island'
Martin acknowledged that his riding faces challenges.
"It's true, we have some of the poorest postal zones in the country, which I am not proud of," he told HuffPost. "But the child poverty rate when I took over was 52 per cent. It is now around 42 per cent. It is still appalling and it is outrageous, but as an opposition MP, I got more federal grants and contributions than almost any other riding in the country. I am trying to bring home the bacon."
One year, under Jean Chrétien's Liberal government, Martin said, he was No. 1 in terms of grants and contributions. Now, Martin said, he's No. 14 out of 308 for bringing money into his riding — $146 million dollars since 2011. (HuffPost was unable to verify these numbers).
"I work hard. Everybody knows I'm a hard-working MP," he said. "[Ouellette has] built a campaign on telling lies about me."
Martin is especially furious that Ouellette's campaign team is telling constituents that their MP doesn't live in the riding but rather on Salt Spring Island.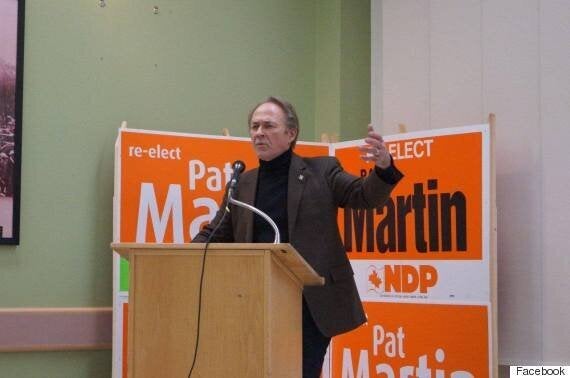 Pat Martin speaks at his nomination meeting in Winnipeg Centre (Facebook: Pat Martin)
"[They are going] around telling everybody that Pat lives in Salt Spring Island in British Columbia and that he just waves to Winnipeg when he flies over. I had to threaten to sue them. I went to the Winnipeg Free Press and I had an article saying if you keep saying that, that malicious slander, I'm going to sue your ass off."
This week, Ouellette responded with a cheeky press release stating all the possible reasons why someone might think Martin lives in the B.C. community — but asserting that his campaign team didn't think he did.
"On Friday, August 10, 2012, the Salt Spring Island NDP Club held a potluck featuring 'our usual stimulating summer presentation by Salt Spring's 'other' member of Parliament, Pat Martin'," the Ouellette press release states. "But Pat Martin does not live on Salt Spring Island.
"It is true that on July 30th 2013, the NDP Association in BC for Saltspring Island invited guests to hear 'an Ottawa update from Salt Spring's unofficial MP, Pat Martin.'
"This visit occurred during what Global News described as 'an extended sabbatical' during summer on Salt Spring Island, where Mr. Martin does not live."
Martin said he has a summer home in Salt Spring Island and spends a few weeks there each year. But he lives in Osborne Village, a Bohemian community across the Assiniboine River from his riding.
Ouellette doesn't live in the riding either. He lives in the upper-middle class suburb of St. Vital. But he said he has roots in the riding because his family lived in Red River before being driven out during the 1870 rebellion, and because the University of Winnipeg, where he also taught, and the naval reserve's HMCS Chippawa — where he still works — are in the riding.
Martin suggested Ouellette is raising the Salt Spring Island issue because "his wife is afraid that she'll have her hubcaps stolen" if she ventures too far into the riding.
The Liberal candidate told HuffPost he's confident he can beat Martin. He quit his university job in July to campaign full time.
The Liberals released a survey Friday that suggested a near tie — 26 per cent for Ouellette and 28 per cent for Martin. The Sept. 9-13 survey of 380 constituents has a margin of error of plus or minus six per cent, the party said.
An independent third-party poll HuffPost consulted, however, suggests the race is competitive but Martin has a sizable lead. Seat projections by the Laurier Institute for the Study of Public Policy's Barry Kay suggest the riding is solidly NDP.
Martin said his campaign is going great, signs are flying out the door, and his support is holding.
"You have to run against somebody, and I always have respect for my opponents. I hate political sluts and opportunists, but yeah, good luck. But you better pack a lunch, and you better have a hell of a good campaign because people are coming out of the woodwork to support me," he told HuffPost.
"The Liberals are a distant third," he added, referring to the 2011 election result. "Nothing short of a real sweep would cause me to lose any sleep."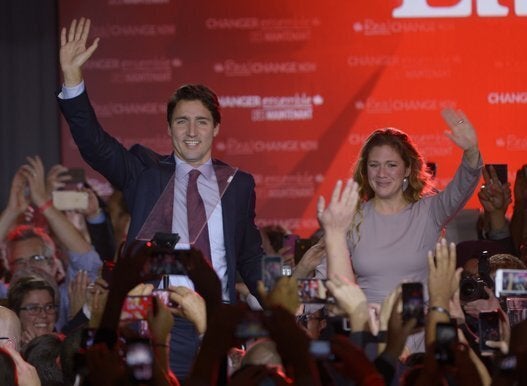 In Photos: Canada Election 2015