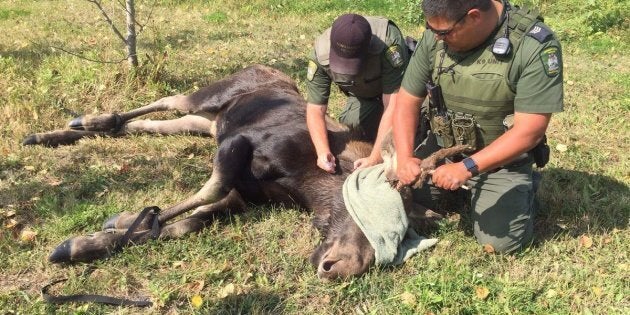 A stereotypically Canadian saga in Manitoba has come to a sad end.
A moose, which had been wandering around Winnipeg since last Friday, died after being tranquilized and moved by Manitoba Conservation officers. He even had his own hashtag, #LooseMoose, on Twitter.
Officials in the city had been looking for the animal since it was reported to them, and only captured it on Saturday before a football game, CBC News reported.
Fans waiting to get inside Investors Group Field for the Banjo Bowl, the game between the Saskatchewan Roughriders and Winnipeg Blue Bombers, were delayed by the massive animal's capture.
"We did have some fans who — potentially, they didn't understand what was going on — who were not overly supportive of what the officers were doing," police spokesman Const. Rob Carver told the Winnipeg Free Press. "We couldn't let people near the animal; this was an over 700-pound wild animal. We don't take these decisions lightly, to move people especially in light of one of the city's most massive sporting events of the season."
The animal was tranquilized with three shots, five minutes before the game's 2 p.m. start.
The moose, which was estimated to be two or three years old and weighed around 300 kgs, evaded conservation officers several times before being captured.
The animal died due to stress after spending two days running through a hot and highly populated area, according to CTV News.
Conservation officers were moving the moose to a remote location outside Winnipeg for release but it died during transport.