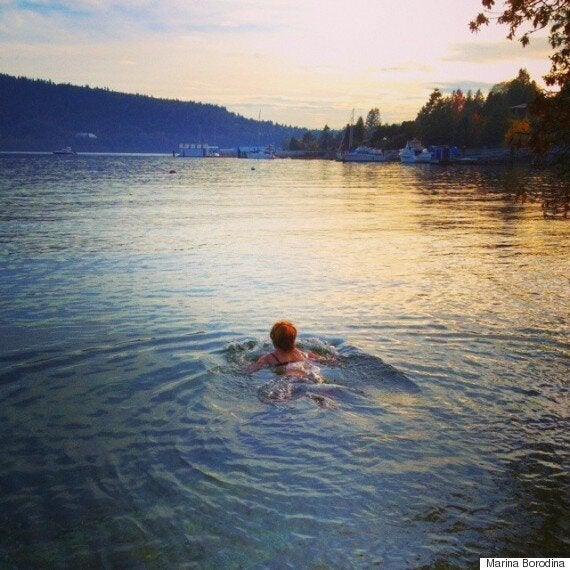 When winter hits Canada, many people grab their skis or indoor gym passes and put away thoughts of taking dips outdoors. But not Marina Borodina, who continues with what she calls "year-round swimming."
The North Vancouver woman grew up in Russia, where banya visits are popular. Like a sauna, people sit in steam baths — then cool off in cold water. They may even roll in the snow outdoors or take a plunge in icy lakes.
"It was a normal part of healthy living," Borodina explained in an interview with The Huffington Post B.C.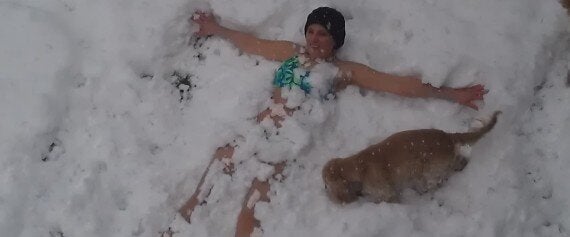 Marina Borodina rolls in the snow last winter.
In what's known as winter swimming in North America, Borodina takes a dip in Deep Cove two to three times a week with a handful of other women. She said there's a warm-up and then they go into the water for about 30 to 50 strokes. Their outdoor swims get longer and become daily outings from May until October.
Borodina brings a water thermometer with her and records the air and water temperatures. The coldest she's swam in B.C. so far was December 2014 when the water was two degrees Celsius, and the air was minus two.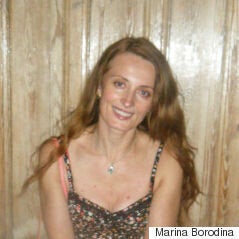 Borodina has a background in holistic health and fitness. She found cold-water swimming particularly therapeutic when she moved from London, England back to Canada in 2012.
"I found myself in a very low emotional state. I was very nostalgic. I lived there [London] almost 12 years. My kids grew up there. And that helped me immensely," said Borodina, who had previously lived in Vancouver from 1994 to 2001.
"This is my therapy. I go there, I do a little bit of yoga — sunshine if you're lucky — and the swim, and honestly you're good for several days."
Winter swimming, which shocks your system, is not recommended for people with heart or respiratory conditions or high blood pressure, nor for young kids or the elderly.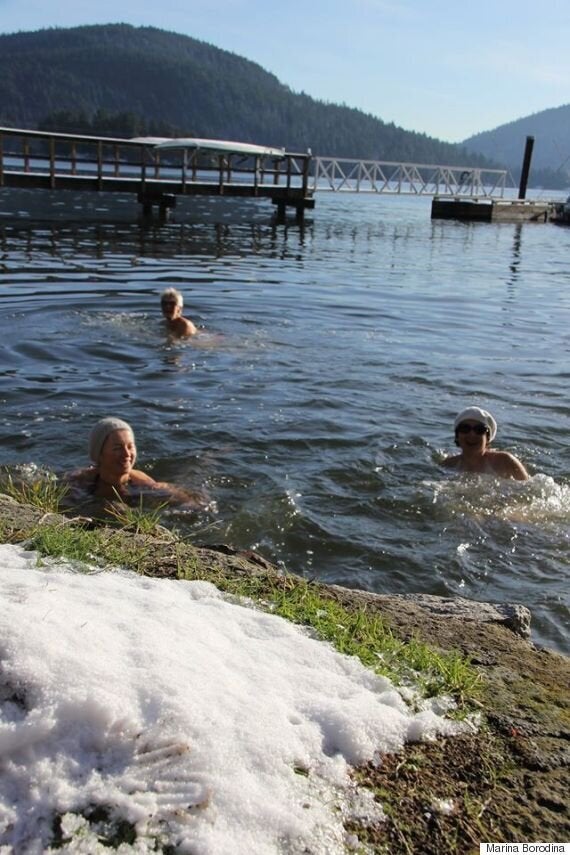 A few other women, seen here, regularly go winter swimming with Marina Borodina.
"I don't want to jinx it. My kids are never sick and neither am I. Same goes for the ladies who swim with me. You might have an occasional runny nose but it never goes on," said Borodina, who likens post-swim endorphins to a "runner's high."
Her two children, aged 13 and 15, are competitive swimmers who train daily indoors. But they go for outdoor dips with their mom on the weekend.
There are other people, usually of Eastern European descent, who also cold-water swim in the Vancouver area, including some Russians in their 70s who "aren't on social media," Borodina said.
"If you see a group of old people in English Bay, that's them."
But don't get this confused with the throngs of often costumed people who show up for polar bear swims every New Year's Day.
"Polar bear swim is a different kind of thing. I don't like the exhibitionism," said Borodina. "I don't believe in giant crowds of people, it has to be small. It's a holistic experience. It's stress relieving."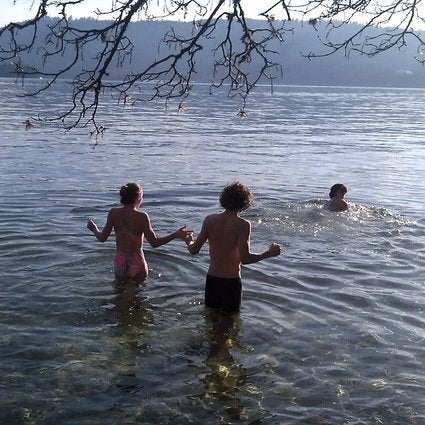 Winter Swimming In North Vancouver, B.C.