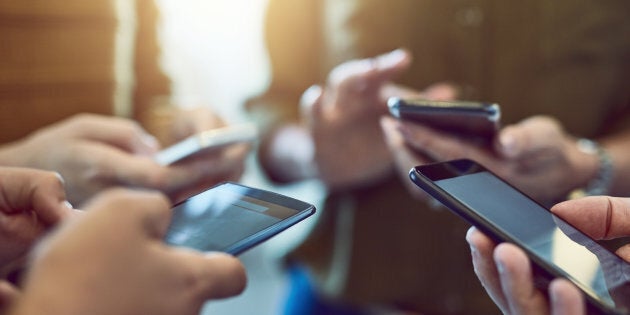 Are Canadian wireless prices among the highest in the world because of our low population density, and vast distances? Or are we just getting ripped off due to a lack of competition?
Two new studies reflect the tug-of-war between industry and consumer advocates over the causes for Canada's high wireless prices.
Canadians pay among highest rates for data
The first, from Finnish management consultancy Rewheel, found Canadian wireless customers are getting less for their money than consumers almost anywhere else.
Rewheel calculated how much data consumers get on their smartphone plans for the equivalent of 30 euros, or about C$46, in 41 countries.
At that price level, consumers in 10 countries — including the Netherlands, Finland and Switzerland — can expect to get unlimited data. In Canada, consumers can expect to get about 2 gigabytes of data. That's the fifth-worst in the world, behind only Greece, Malta, South Korea and Hungary.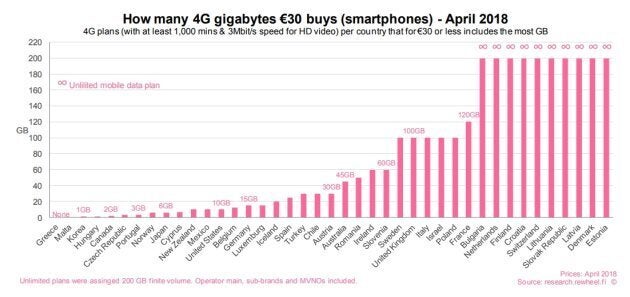 Michael Geist, the University of Ottawa professor who's become a prominent advocate on telecom issues, noted in a blog that the comparisons may not be entirely apples to apples, since "some offers can't be purchased in Canada at any price, as no one offers unlimited mobile data."
Geist calculates it would cost a consumer $405 (263 euro) per month to max out at 80 gigabytes of data on Rogers smartphone plans in Ontario.
"Meanwhile, Bell's mobile broadband service tops out at 50 GB of data for $150. At $3 for each additional gigabyte, it would cost $300 for 100 gigabytes," Geist wrote. "France and New Zealand have plans for 30 euros for 100 GB .... Israel has 500 GB for 30 euros."
Watch: Canadians' top complaints about telecoms
The Rewheel study makes the argument many consumer advocates have made for years — that increasing competition would bring down wireless prices.
It notes that in Germany and Austria, where there are three major players, consumers pay three and four times as much for 50 gigabytes of data, respectively, as consumers pay in France, which has four major wireless players.
HuffPost Canada has reported previously on data showing lower prices in provinces where there are four major wireless carriers, rather than three.
High prices justified, so scrap the CRTC: report
But another study, released Tuesday by the Montreal Economic Institute, says there is plenty of wireless competition in Canada.
It makes an argument the industry has been making for years: High prices are justified not only because it's difficult to set up and maintain a wireless network in a vast, thinly-populated country like Canada, but because Canadian telecoms have gone above and beyond in investing in their networks.
"Wireless carriers in Canada invested on average US$78 per connection between 2010 and 2016, almost twice as much as their European counterparts, which only invested $40," it noted.
The report went on to say Canada should consider scrapping its telecom regulator, the CRTC, as the degree of competition in the market means there is no need to regulate lower prices.
"Since Canada has successfully transitioned from monopoly to competition, there is a case to be made that the CRTC should be phased out as Canada's telecommunications regulator," the report said.
Under the leadership of former chair Jean-Pierre Blais, the CRTC implemented numerous pro-consumer policies that challenged the big telecoms' business models.
Among them was the Wireless Code of Conduct, which — among other things — limited wireless contracts to two years, down from the industry standard of three years at the time.
"Far from being 'pro-consumer,' (the two-year contract) reduced choice and limited the ability of carriers to develop innovative customer offerings," the report said in offering evidence for eliminating the CRTC.
The report didn't mention the U.S. or other countries where two-year contracts have always been commonplace, and their effect on innovation in those countries.
Under attack for unimpressive low-cost plans
Canada's big telecoms have taken flak from consumer groups and some politicians after unveiling "low-cost" data plans that amounted to roughly half a gigabyte of data for $30 a month
"It's embarrassing and quite frankly it's rude to think that these are functional plans," Laura Tribe, executive director of consumer watchdog group Open Media, told the CBC.
The telcos argued their proposed plans were competitive.
"We are proposing data-only plans at an economical price so our customers can stay connected," said a spokesperson for Rogers, which offered 400 megabytes of data for $25 a month as its low-cost data-only plan.
Popular in the Community