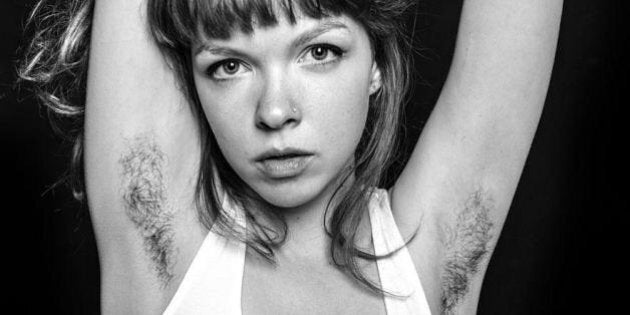 Beauty is influenced and defined by the media. While this is the reality, one photographer has decided to protest conventional standards of beauty through a series of images of women showing off their underarm hair.
London-based photographer Ben Hopper asked dozens of models, actresses, designers, and friends to grow out their body hair for his photography project called, "Natural Beauty." The images are a way to challenge the "brainwashing" Hopper believes the beauty industry has done.
"The whole point is contrast between fashionable female beauty and the raw unconventional look of female armpit hair," Hopper told The Huffington Post. "I expect [the photos] will surprise a lot of people and I guess, in a way, that is one of my intentions."
Hopper is certainly right when he says the raw images are startling. The photographs show women sporting their armpit hair proudly and unapologetically. And to reflect the idea of going au natural, the women appear to be wearing little or no makeup, truly allowing them to show off their real beauty.
Among the models were designer Alessandra Kurr and performer Cassia Tsura. While these women were courageous enough to partake in the project, not all who volunteered were. Hopper explained that he had one model drop out at the last minute because she was "grossed-out" by her own body hair. According to the artist, this perfectly demonstrates how intensely beauty standards have been ingrained into our consciousness.
"Although armpit hair is a natural state it has become a statement. Why is that?" Hopper wrote on his website. "For almost a century we have been brainwashed by the beauty industry, encouraging hair removal. 'Natural Beauty' could be classified as a type of protest. By creating a contrast between common 'fashionable' female beauty and the raw unconventional look of female armpit hair, thoughts are intrigued and a discussion is made."
In the past, we've seen female celebrities go against conventional beauty ideas and flaunt their armpit hair. Take Julia Roberts for example, who caused an uproar in 1999 when she flashed her armpit hair at the film premiere of "Notting Hill."
While female armpit hair is still uncommon today, it seems that the attitude towards it is beginning to change. Back in January, Cameron Diaz wrote in her new book that trying to get rid of pubic hair "is like saying, 'I don't need my nose.'" Then, a few months later, Madonna took to Instagram to post a selfie showing off her own armpit hair. She captioned the photo, "Long hair...... Don't Care!!!!!! #artforfreedom #rebelheart #revolutionoflove."
While Hopper thinks armpit hair is a beautiful, natural thing, he said he's not trying to impose his views on others. Instead, he's simply trying to open their minds.
"I don't want to say that I want women to start growing their armpit hair," he said. "I just think that it's a possibility and people shouldn't dismiss it. I'd like people to just question [beauty standards], the whole thing."