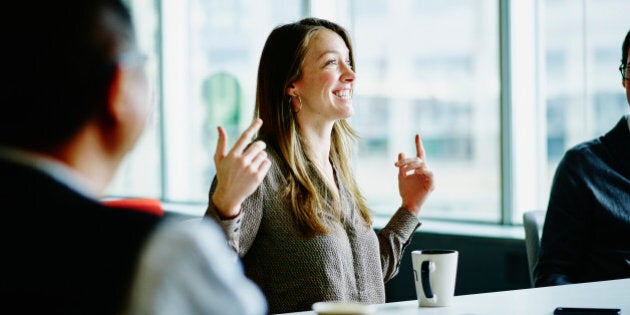 If you're a young woman just beginning her career, unfortunately there is no blueprint for success. No set of rules or guidelines to follow, no guarantee of "having it all." The truth is we all work at different companies and in different industries, report to different leaders, face different challenges and, most importantly, want different things.
Even the word success has been redefined. Your expectations of yourself and long-term life goals are simply not the same as the woman in the cubicle beside you. That's why my advice is less about getting to the top and more about maximizing your potential. Hopefully these four tips will help you start down the right career path and realize your own personal definition of success:
Be selective about where you work
You can't always find your dream job out of school, but if your company hasn't established employee networks that support diversity and inclusion or doesn't have gender diversity in its senior ranks, it may be time to move on to greener pastures. Your first order of business should be to find an organization that supports gender diversity and offers unique development and leadership opportunities.
When I was offered a position to join American Express almost 14 years ago, I was early in my first pregnancy. I chose to disclose this to a senior leader at the company before accepting the role and will never forget his reply: "We're investing in you long-term, not short-term. So, first off, congratulations, and welcome to American Express." Just three years later, while on maternity leave with my second child, I was offered a promotion to director of sales, my first leadership role within the company.
Obviously, these are not stories you often hear in the corporate world and I'm grateful for all the opportunities afforded to me throughout my career. But I think the important takeaway here is to give yourself a fighting chance and find a company that recognizes your potential and values diversity and inclusion.
Build strong relationships
While we all know what a mentor is, the concept of sponsorship isn't talked about as often.
A sponsor is someone in your organization who believes in your talent and is willing to put their brand, name and action behind you in support. Sponsorship is not asked for. It is earned over time by demonstrating exceptional leadership and exceeding results.
I've had strong mentors throughout my career and credit sponsorship with helping me identify opportunities and go after those next steps in my career. That's why I was concerned when new research commissioned by Amex Canada and Women of Influence revealed that mentorship and sponsorship are still rare among female entrepreneurs and corporate workers (with only 27 per cent having a mentor and eight per cent a sponsor).
If you don't have a sponsor, do what you can to earn one. As a woman, you simply need to build those key relationships with decision makers at your company. A sponsor can offer you unbiased career advice, expand your network, increase your confidence and provide you with access to job opportunities that otherwise may not be available to you.
And don't just take my word for it -- the research shows that that corporate workers with a sponsor are almost twice as likely to believe reaching the c-suite is achievable (61 per cent vs. only 32 per cent overall).
Stay true to your core values
While nearly three quarters (73 per cent) of women identified as being primary breadwinners or contributing equally to the household income in the previously mentioned survey, almost half (44 per cent) said they take on more household responsibilities than their partner. Furthermore, 47 per cent feel they've made career sacrifices to benefit their partner/family, compared to the just 24 per cent who said their spouse made sacrifices.
If one of your goals is to start a family, stay true to what's important to you. Be honest with your partner about your career goals and make sure you're both ready to pull any extra weight at home.
At work, make sure your employer is aware of your non-negotiables when it comes to work-life balance. Strong talent is at a premium in business today and leading organizations are more than willing to provide flexible work options that will allow you to fulfill your commitments at home without giving up your career aspirations.
If you're lucky enough to work for a forward-thinking organization and achieve the success you've always sought, remember to pay it forward by mentoring or sponsoring a promising young employee in your organization.
Act as a sounding board, provide advice and help them build up their confidence. When you identify talent in your organization that you can cultivate over time, you'd be surprised how passionate you get about their development. It really becomes a two-way relationship where you're learning and growing from every interaction while inspiring them to take that next step in their career.
Success may be undefinable, but for women in business, it's certainly not unattainable.
Follow HuffPost Canada Blogs on Facebook