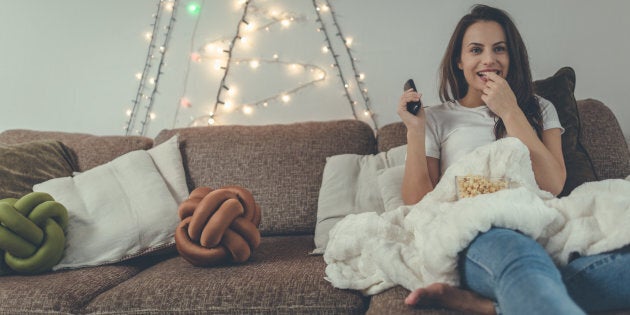 Turns out women are a lot happier not putting a ring on it than guys are.
The survey also found that single women aren't looking to change their relationship status anytime soon; 75 per cent said they hadn't been searching for partners in the past year, compared to 70 per cent of singles surveyed overall.
That's jump from the 15 per cent of men who never married in 1981.
But the Mintel study found that people still see being in a relationship as a symbol of maturity — 25 per cent of singles think that people who are spoken-for are more grown up than they are.
The reason women don't want to partner up could be simple: Relationships are a hella amount of work. One expert said it takes a lot more effort for women in heterosexual relationships than it does for men.
Women spend longer on domestic tasks than men and I think they also do more emotional work.Dr. Emily Grundy, Univesity of Essex
And let's not forget the money factor.
A 2017 study from RateSupermarket.ca looked at the cost of love in Canada and found that, on average, a new fling leading to marriage can set you back $66,444. That comes from paying off dates, gifts, rising restaurant prices and a wedding.
Stigmas changing for older singles?
The survey showed that the single status trend was strongest for women older than 45 — 32 per cent of single women aged 45 to 65 said they were very happy to be flying solo.
Only 19 per cent of men in the same age range were thrilled about it.
But the growing percentage of single people could dismantle the stigma surrounding so-called spinsters and bachelors.
Grundy told The Telegraph that single women surveyed were just happier than their male counterparts.
She further mentioned studies which showed that unattached women are more inclined to partake in social activities than unattached guys were.
Singles not where they thought they'd be in life
Mintel analyst Jack Duckett said that young singles are focused on other things besides relationships.
"It is easy to assume that all singletons are actively looking for a partner; however, our data shows this is far from always being the case."
But it's not all sunshine for singles. The study found that 54 per cent of singles say they aren't where they expected to be at this point in their life.
In general, surveyed people say they worried about loneliness, financial security and social pressures from family and friends to find a partner.