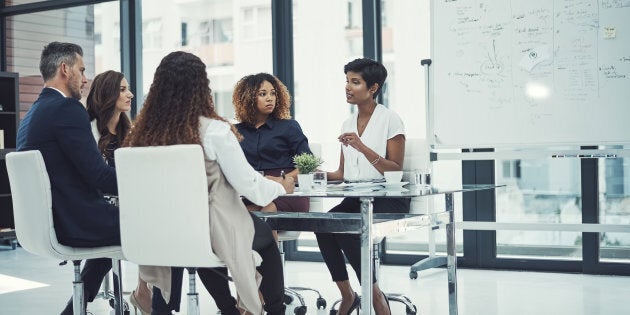 It's International Women's Day, 2018. Do you know how much women have contributed to your economy?
Probably not, because it's a pretty tough number to nail down. But economic analysts at the Bank of Montreal (in this case, a team of three males and two females) decided to give it a try, assessing Canada's economy over the past 40 years to see how women in the workforce have changed things.
Here are some of their findings.
The economy would be a quarter trillion dollars smaller without women
The participation rate for women — meaning, essentially, the percentage of women with a job — has been on the rise for decades.
In 1976, 45.4 per cent of women in Canada were in the workforce; by 2017, that had risen to 61.5 per cent.
It's not easy to quantify exactly what this means for the economy as a whole, but BMO senior economist Sal Guatieri estimates that if the share of women with a job had stayed the same since 1976, Canada's economy today would be 12 per cent smaller than it is. (Comparable data is not available from before 1976.)
That's a difference of about a quarter trillion dollars, equivalent to the entire economy of Vietnam, Guatieri says.
Watch: Chloe Kim, Frida Kahlo are now Barbie dolls
And he says that's a "conservative" estimate because it doesn't take into account the fact that women have been attaining higher levels of education and increasing their skills, making them more productive workers, which in turn grows the economy even more.
"If women didn't enter the workforce over the past four decades (like they did), there would be fewer skilled workers and therefore lower productivity growth," Guatieri told HuffPost Canada.
Canada's near the top on female participation
When it comes to women's participation in the workforce, Canada is a world leader, but still falls behind — you guessed it — Europe's Nordic countries, which somehow always manage to top the rankings of anything even vaguely progressive-sounding.
Canada ranks eighth among 40 countries surveyed by the OECD on female participation.
More women, fewer men working
Looking at the working-age population, aged 15 to 64, BMO found that the participation rate for women is still lower than it is for men.
Among women, it soared to 75 per cent last year, from just over 50 per cent in the mid-1970s. But the share of working-age men in the workforce has shrunk slightly, to 82 per cent, from a peak of 86 per cent in the early 1980s.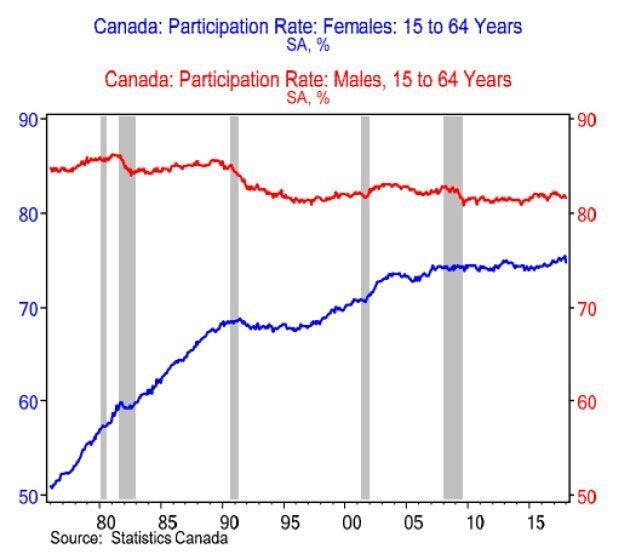 Many economists have suggested that the decline in working men over that time has something to do with the decline of well-paid, unionized blue-collar jobs (think steel mills and auto plants).
For Canada's youth, there is no participation gap
The chart above showed that women are still less likely than men to be part of the workforce in Canada.
But look at just at the youngest workers in the economy — those aged 15 to 24 — and the numbers tell a different story. In this group, the participation gap between men and women has disappeared entirely. In fact, as of January, StatsCan data shows that in this age group, females are slightly more likely to be in the workforce — 63.7 per cent, versus 63.5 per cent for men.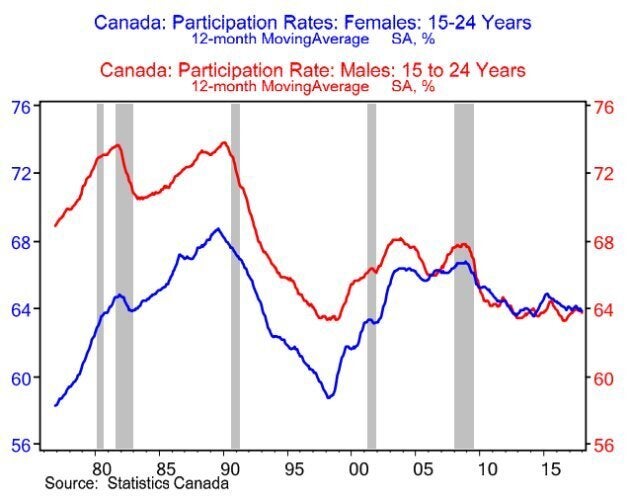 That "points to a further narrowing in the years ahead" in the overall participation gap, said BMO chief economist Doug Porter.
The chart also shows that workforce participation among youth is lower today than it was in the 1980s, for both genders. But Porter says that is the result of choices young people are making today; a larger number stay in school longer, entering the workforce later.
Quebec leads the pack (thanks, subsidized day care)
Quebec's participation rate for "prime working age" women (25 to 54) is about four percentage points higher than the national average, notes BMO senior economist Robert Kavcic.
"To put that in perspective, if the rest of the country saw female participation in that age group rise to Quebec levels, roughly an additional 400,000 women would be added to the labour force."
So what's the key to Quebec's success? According to Kavcic, it's the province's $7-a-day subsidized day care program, not unlike the sort seen in some of those Nordic countries that lead the world on women in the workforce.
If you doubt that affordable day care can make such a big difference, Kavcic notes that Quebec's female participation rate shot past the rest of Canada about the same time that subsidized day care came into effect.
According to Statistics Canada, Quebec has the country's lowest day care costs, averaging $152 per month, while Ontario has the province's highest, at an average of $677. So it should come as no surprise that Ontario also has the country's lowest female prime working age participation rate, at 80.6 per cent to Quebec's 86.2 per cent.
"Other provinces are looking down this path," Kavcic noted.
"Ontario introduced full day kindergarten (which is far from the same thing, but a step nevertheless), while B.C.'s 2018 budget spends heavily on subsidizing childcare costs (though the benefit is steeply tilted toward lower household income levels, which can negate the incentive for females to work in many cases)."
Women still dominate part-time work
If there's one way women's role in the workforce hasn't changed much in recent decades, it's in part-time work. Women hold 70 per cent of Canada's part-time jobs, a share that "hasn't changed much over the past four decades," wrote BMO economic analyst Priscilla Thiagamoorthy.
"There are many reasons why women would opt for part-time employment including lack of subsidized all-day child care (except in Quebec and now B.C.) and simply personal preference," Thiagamoorthy added.