A video of the women singing an a cappella version of the song "Quiet" was posted to Facebook on Saturday by bystander Alma Har'el.
"These women are from different states and never met till today," she wrote. "They practiced this song online. I was crying the whole time I filmed this. Show them some love."
In the clip, the women are heard singing the inspiring words, "I can't keep quiet, no... A one woman riot."
The beautiful song was originally written by Los Angeles singer MILCK as a way to cope after experiencing sexual abuse, anorexia and depression. But because of the song's theme of empowerment, the singer thought it would resonate with people at the Women's March.
"I thought it would be really powerful if there was a group of women singing it together," MILCK told Buzzfeed News. And she was right.
According to the BBC, the musician got in contact with 26 singers from L.A. and Washington — including George Washington University's GW Sirens all-female a cappella choir — to help make the performance happen.
"Everyone was scattered, so I couldn't really control it, all I could do is give the music I wrote and recordings to each girl," MILCK explained to Buzzfeed. "At the end of the day, all I could do is relinquish control and trust people."
The harmony of the group of strangers and the beautiful song has since resonated and inspired people everywhere.
On Twitter, some even called the song the anthem of 2017.
After receiving such overwhelming support and positive feedback from her music, MILCK admitted on Twitter: "Tears of gratitude keep streaming down my face. Thank you everyone for sharing the art and beauty that grows from pain."
MILCK's song "Quiet" is also part of a larger movement called #ICANTKEEPQUIET, which celebrates "our unique voices and identities, in an effort to break the cycles of oppression perpetuated by today's media."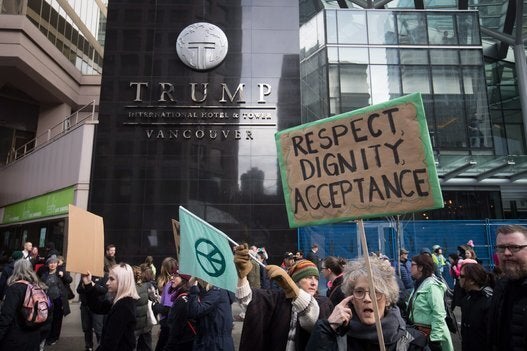 Women's March In Canada, January 2017