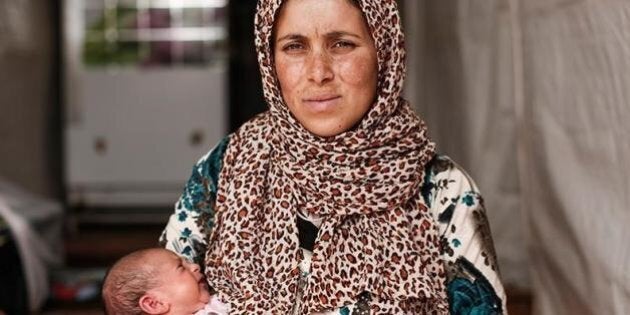 Hanin Al Halayal, 26, sits with her four-week-old baby, Sana, in the tent in which they now live in an informal settlement for Syrian refugees in north Bekaa Valley, Lebanon, on Sept.10, 2015. Hanin and her husband Jemaa fled their home in Hama province in Syria two years ago. Jemaa said he wants to go to Europe because he can't find work to look after his girls. Oxfam is advocating for better legal rights for Syrian refugees in Lebanon and provides them with legal advice and education.
By: Julie Lafrenière, Women's Rights Knowledge Specialist for Oxfam Canada
On September 15 in Ottawa, there was an important event featuring three female Nobel peace prize laureates: Shirin Ebadi (Iran), Mairead Maguire (Northern Ireland) and Jody Williams (USA). These women have spent decades actively promoting peace and non-violent struggle in conflict-affected countries. They were joined by prominent Canadians for a much-needed pre-election conversation on the potential for feminist ideas and approaches to reshape foreign policy.
The number of conflicts -- especially intra-state conflicts -- is on the rise worldwide, contributing to record numbers of forcibly displaced people in 2014. Many of these conflicts are marked by violent extremism and acts of gender-based violence and abuse. The practice and policy of war and security have traditionally been dominated by men. Women and girls are almost always excluded from the political processes that are essential for peace and security: between 1992 and 2011, less than four per cent of signatories to peace agreements and fewer than 10 per cent of negotiators at peace tables were women.
Yet, there is solid evidence that women's participation in peace negotiations contributes to more lasting peace. For example, a recent Oxfam report found that in some parts of Somalia, peace began to take root in large part because of the role women and women's groups played in peace negotiations. When women are included, peace processes provide a forum where gender relations can shift substantively. When that happens, everyone's rights are well served.
It is time for women and their organizations to be included systematically and proportionately in all peace processes.
Yesterday's event took place during a key year for women's rights. 2015 is the 15th anniversary of a United Nations Security Council Resolution (UNSCR) -- Resolution 1325 -- which upholds women's rights in conflict and promotes their participation in peace and security processes. Another report produced by Oxfam details the progress of Resolution 1325 and highlights several transformative actions states can take to support the full implementation of UNSCR 1325:
Ensure that women's roles and demands are effectively integrated into all international, national and regional peace and security processes and institutions.
Ensure that a greater proportion of overall peace and security spending is invested in initiatives that support gender equality.
Sign the Arms Trade Treaty, which sets global standards for controls on arms transfers and requires exporting governments to stop shipments when there is a risk weapons would be used to violate human rights or commit war crimes. This is crucial because every day conventional arms are used to commit unspeakable acts of violence against women and girls, including rape.
Yesterday's discussion led by internationally renowned Nobel laureates generated positive ideas that can be incorporated into Canada's evolving foreign policy by the government that will be elected on October 19. Let's make the needs and demands of women and girls a meaningful priority in every aspect of foreign policy.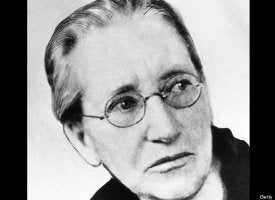 Women Nobel Peace Prize Winners